Just as connected homes and smart cars have taken off on the ground, Airbus is eager to see this megatrend enter the aircraft cabin.
"IoT is happening in your car, in your homes and now you can remote control your window blades, your heating temperature. Whatever you can do and see, [there is] a big potential to apply that also to aircraft," said Airbus vice president of cabin marketing Ingo Wuggetzer.
But while sensors can be added to aircraft seats, galleys, lavatories, overhead bins and other interiors to create self-aware cabins, most of the collected data does not need to be transmitted in real-time over inflight connectivity pipes. Instead, it can be moved over cellular links when the aircraft is parked at the gate, Wuggetzer told Runway Girl Network.
The backbone is Airbus' open aviation platform, Skywise. Developed in partnership with US data analytics technology company Palantir, the Skywise interface has already been adopted by a number of airlines, including Delta, for its aircraft health monitoring capabilities and advanced predictive analytics. It effectively serves as a prognosis system, enabling operators to predict potential issues about aircraft systems and engines before they arise. But it can also collect and share smart cabin data.
In a sensor-laden cabin environment, an airline can proactively address issues before they become headaches, said Wuggetzer. "If you see the statistics and how often these things [seats, for instance] have been moved, what is the stress on it? Okay, now you have to remove it because it might be, in the next two to three flights, that it might break. So we move it just in time before it breaks, increasing reliability" and ensuring airlines do not have to block off seats.
This is part of the appeal of Skywise, he said. Data is downloaded when the aircraft lands, and the operator can use that information, transmitted via 3G and 4G cellular links, for its trend monitoring.
Keep it simple
Predictive maintenance generally doesn't require that messages be transmitted via inflight connectivity, with Wuggetzer noting that real-time transmission via satellites is "costly". But there can be exceptions, such as when a cabin maintenance issue arises while airborne.
"So, there might be some information that needs to move faster," he said. On these occasions, Skywise can transmit via ACARS, enabling an operator to start troubleshooting before the aircraft lands.
Even so, ACARS is used "sparingly", stressed an Airbus spokesman to RGN.
Improving #PaxEx, #CrewLife and sustainability
But what does the IoT of the cabin really mean for flight attendants and passengers? Crew members will know right away if seats are in the upright position for takeoff and landing and if everyone is buckled in, said Wuggetzer. This saves time and means they don't have to "run through the aisle and check" so that is one important operational aspect to it.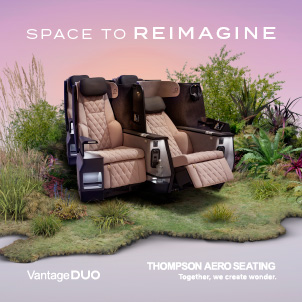 As outlined in a prior RGN article, smart galleys could help reduce food waste and improve product offering. With data on the food and beverage selections in highest demand on a specific route, they can allocate the right quantities for each flight and even market test menus, dramatically reducing wastage on board. Wuggetzer said this is one of his favorite use cases, noting "that's a triple win" for sustainability, for the crew "because they can deliver what you want" and for the passenger, who is happy that he or she is getting to eat what they want in-flight.
The IoT of the galley also means airlines no longer have to overstock on meals and risk not being able to satisfy "the last 10 rows" of the aircraft because "there was no choice, you just get what's leftover", he said.
Crucially, Airbus makes the information transparent to the operator and doesn't try to dictate what it does with the data. "What you do with it is up to the airline or maybe third parties, you can easily apply whatever app and run it" in tandem with Skywise. It's "an open-app platform", said Wuggetzer.
Moreover, an arrangement can be brokered whereby the seat manufacturer or other interiors firms get access to the data. This arms them with information that can improve future designs. Wuggetzer said Airbus can package the data and sell it back to the seatmakers.
Cameras on board?
Airbus also sees the potential for bringing cameras into the cabin to further improve efficiency, such as to speed up boarding and reduce lines at lavatories. But to quell passengers' privacy fears, the airframer would blur out faces. The cameras could be used to "just count how many bodies are in front of the lavatory and how fast are they moving. That information goes directly back [to the crew] and also to the passenger. You get it in your in-seat screen or on your mobile device." If a lavatory is listed as red on the IFE screen, for instance, you would know you've got a 10-minute queue ahead of you so maybe use another lav.
Said Wuggetzer: "So it is just about guidance directly, and it also goes to the crew to give them the same information so they can help passengers…"
He noted that the cabin camera use case is different than those proposed for controversial cameras in embedded IFE system.
Airbus is not alone in wanting to smarten up the cabin. An eclectic group of aviation companies, including Boeing, Diehl Aviation and Zodiac Aerospace, in 2018 joined forces to research how to make future aircraft cabins more intelligent and communicative. The intelligent cabin project, dubbed iCabin, seeks to connect and gather real-time data from the seats, the galleys, the lavatories and other parts of the cabin. In November 2019, Boeing's ecoDemonstrator aircraft type, a 777, took to the skies to carry out tests of various new technologies, including iCabin.
Related Articles:
Featured image credited to istock.com/tonefotografia