Jessica Fisher has what it takes to launch a new business aviation company, joining the small pool of women entrepreneurs who run businesses in the industry. The journey she took to create FlyJets, a digital platform that will match passengers to private aviation flights, not only reflects a grit to create something new but to prove you can do well by doing good.
Fisher has created an eco-conscious, on-demand platform incorporating sustainability by enabling carbon offset purchases among booking flyers from the outset and providing funding for aviation education via The Fly Foundation. The platform is presently in the testing phase.
"It seemed, with the introduction of very light jets like the Embraer Phenom, the industry had reached an inflection point that was driving change and we wanted to be a part of that," Fisher told Runway Girl Network. "We wanted to develop a company that encourages not only access to air travel but to also fly green by providing a platform that is an easy way to achieve that."
FlyJets will essentially be a jet aviation marketplace, mapping engine, and travel planning system enabling information to be shared among users for flights with Part 135 certified companies, according to Fisher. It will only take a booking fee by setting up users with providers without third parties.
"We want to remain close to our users," Fisher explained. "It's Airbnb for things that move, functioning like a marketplace. It shows flyers the different options on costs based on the distance, timing of their flight and other factors. Ultimately, we intend to streamline the process of flying, owning, operating storing and maintaining aircraft."
A graduate of University of Pennsylvania and Columbia University, Fisher has financial smarts and contacts, having worked for Goldman Sachs and Monroe Capital in the financial industry where she gained experience in the renewable energy field. Innately entrepreneurial, she enrolled in Columbia for a business degree specifically to find out what she didn't know about launching a business. She also loved aviation, deciding to combine her interest in becoming an entrepreneur with that love.
Still, that was not enough. As her team developed the FlyJets platform, she realized she did not have the skills needed to troubleshoot all the problems she encountered. So, she enrolled in a coding boot camp to ensure what she envisioned was embedded into the platform.
Passion and smarts
Fisher's class project, FlyJets, became the blueprint for the launch of a direct-to-consumer business aviation company with a twist – creating a company that would calculate the carbon footprint of a passenger's trip and allow the passenger to offset those emissions. In the future, an app will enable the use of Sustainable Aviation Fuels (SAF) as its availability increases and costs come down.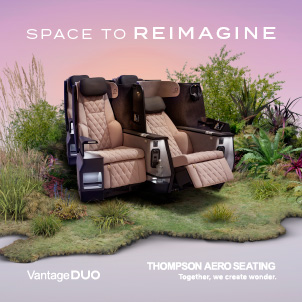 The 33-year-old also created the Fly Foundation, which will be funded by a portion of revenue from each flight booked. Currently in the process of becoming a non-profit, the Fly Foundation's key goals are to promote aviation education and subsidizing flight lessons.
FlyJets seeks to be a pioneer in developing a green energy subsidy system whereby users will be rewarded with FLYRewards. Rewards – points toward booking fees on future trips – will be granted on a sliding scale to encourage users to fly green with carbon offsets and/or SAF.
"We expect to deliver positive impact and our environmental, social and governance goals are inherent in everything we do," she said. "We hope this will be a blueprint for [a] business model for the future."
For now, it is testing its systems with a friends-and-family soft launch but expects the system will be launched in the next few months, rolling out push route alerts and bid offers.
Related Articles: