Last month's issue of Satellite Mobility World magazine went for OneWeb's jugular, suggesting that major investor Softbank's emphasis on profitability, not growth, is bad news for the forthcoming LEO constellation.
Noting that the maritime and aero markets "are already feasting on a glut of low-cost HTS bandwidth" the publication posited that it is "highly unlikely" enough mobility market opportunity will be available to OneWeb when EIS rolls around.
"With little hope to generate the revenues it requires to justify its enormous build costs, time is almost up for OneWeb. Once it falls, Starlink will not be far behind," the publication claimed.
During an interview with Hughes Network Systems national sales manager aeronautical business Royce Hernandez, your author took the opportunity to seek comment about Satellite Mobility World's cold-water treatment of OneWeb (and indeed Starlink).
In short, what are their true prospects?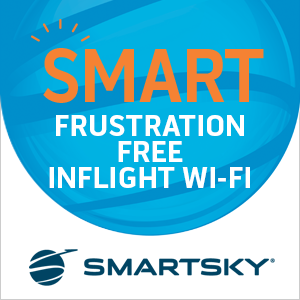 Stressing that he cannot speak about some of the speculation referenced regarding OneWeb or other NGSO constellations, Hernandez said Hughes, which is both an investor in OneWeb and will provide the gateway sites, is committed to that technology "and we do believe it will succeed".
And while he said he cannot comment on OneWeb's public statements about its rollout and the schedule overall, "I'm more familiar with our component of that, our ground equipment and gateway equipment we're deploying around the world, and I feel very confident about Hughes' contribution to that."
OneWeb is using Ku-band spectrum for service links, and Ka-band for its global gateways.
Growth in ground equipment
Overall, Hughes has enjoyed some nice momentum on the ground equipment front. It recently announced that SES will employ the Hughes Jupiter System to enable services on its SES-17 satellite. The agreement calls for Hughes to supply its next-generation ground network system, including data centers and hub equipment, which will operate over the all-digital, high-capacity satellite.
Hernandez enthused that Hughes is excited about this new partnership, and that it reinforces the company's belief that Jupiter "has been de facto standard for broadband and aero platforms and we continue to believe that we will continue to be the de facto standard".
Hughes integral to FlytLIVE
Hughes provides equipment service to SES on the Spirit Airlines IFC program. SES in turn provides the service to Thales InFlyt Experience, which acts as the primary service provider for Spirit. The same arrangement is believed to be in play for Air Canada's Boeing 737 MAX aircraft, though none of the parties have formally confirmed, and the program is less prominent now given the protracted MAX grounding.
RGN contributor Jason Rabinowitz, who recently ventured to Detroit to attend Spirit's new A320neo cabin reveal, reported that the Thales antenna continues to have problems, and will require a rip and replace.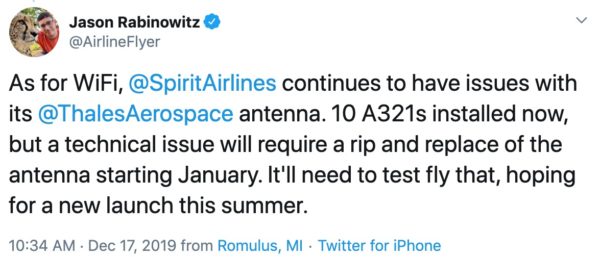 When Rabinowitz asked whether ThinKom hardware was involved in the replacement program, Spirit said that 'it's a like-for-like swap to the same Thales traditional antenna, no change to ThinKom.' That meshes with the comments previously provided by Thales to RGN.
While hardware problems are biting, the service side is not. Regarding Hughes' role in powering the Thales' FlytLIVE network for North America in advance of the launch of SES-17, Hernandez said the company feels like the capacity it has made available "is an integral part of that success. And our capacity enables SES to provide a better solution."
"We've been very proud of our relationship with SES and Thales to date as they entered the market. We believe in their growth. We believe this SES satellite [SES-17] is very strategic for all of us, in hopefully driving our partners' growth and hopefully the overall industry. The satellite brings unique capabilities and coverage to the market, and having the Jupiter platform part of that will only enhance the experience."
GEO/MEO interoperability
Hughes also played a role in the recent validation of an interoperable GEO/MEO connectivity platform for aero, as its Jupiter airborne modem and ModMan supported Thales' high-speed transmissions on a Gulfstream G-III business jet whilst seamlessly switching between SES's GEO and O3b MEO satellite beams. Hernandez said Hughes is "very pleased with the results", noting that Hughes is very focused on the future of the NGSO constellations and believe they're important to aero and other types of verticals in the future.
We were very proud of the demo. We think the results were fantastic. It was very seamless on our end. A lot of engineering went into that happening [and we] appreciate all the support from ThinKom and SES in making that possible.
This, too, shows Hughes' capability "and sincere interest" in driving the Jupiter platform forward to be compatible with MEOs and LEOs in the future, he told RGN.
When it comes to whether an ESA is required for LEO- and MEO-supported inflight connectivity, Hughes "is agnostic as far as the actual antenna designs made out there," said Hernandez, though it is serious about ensuring Jupiter is compatible with NGSOs at an engineering level, in addition to various GEO aero programs.
Our goal is to make sure the Jupiter technology is deployed across all of these different gateway technologies and our partnership with OneWeb speaks to Hughes being the right partner to power all satellites going forward.
It's true that Hughes and the Jupiter platform have been focused on Ka-band, including through Hughes' partnerships with Eutelsat and Yahsat. And Hughes will continue to align itself with satellite providers as it wants the Jupiter platform "to be standard everywhere", said Hernandez.
But as a technology provider in the aerospace industry, Hughes views its tech as absolutely compatible with Ku and Ka, and both are "relevant and important and we haven't lost sight of that", he said, declining to comment on whether there is a glut of Ku capacity in the market at present.
As for the loss of Intelsat 29e, that event "was sad for all of us". As an industry, such situations bring negative connotations, regardless of operator.
Related Articles: