Relaxing on the way to paradise just got a little easier. Fiji Airways has two brand new Airbus A350 XWBs in its fleet, giving business class passengers the chance to lie completely flat, as well as offering more legroom in a new economy class segment called "Bula Space".
The new A350s, on lease from Dubai Aerospace Enterprise, will ply Fiji Airways' flights from Nadi, Fiji to Sydney, Australia and Los Angeles.
One of the twinjets, christened "Island of Viti Levu", was on display last week at the Flight Path Museum at Los Angeles International Airport. Your author received a walk-through of the A350 before it made its inaugural trip to Nadi.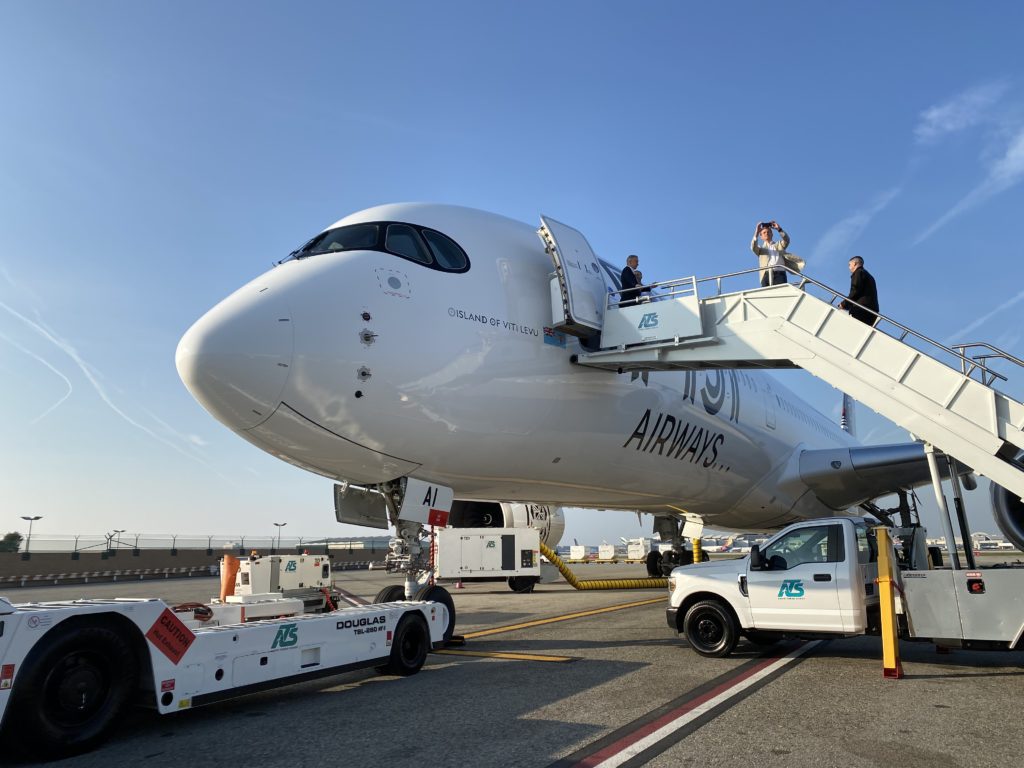 The most anticipated offering aboard these new A350s is the fully flat seat in business class. (Fiji Airways' existing Airbus A330-300s and -200s only offer angled seats.)
The 33 Super Diamond seats, made by Collins Aerospace and arranged in a 1-2-1 layout, offer direct-aisle access, have a full-flat pitch that ranges from 60" to 62", and feature Thales' latest generation inflight entertainment system with 17″ screens.
Thales also provides the inflight WiFi on this plane; the French firm presently offers Inmarsat's GX Ka-band satellite service on aircraft flying over oceans.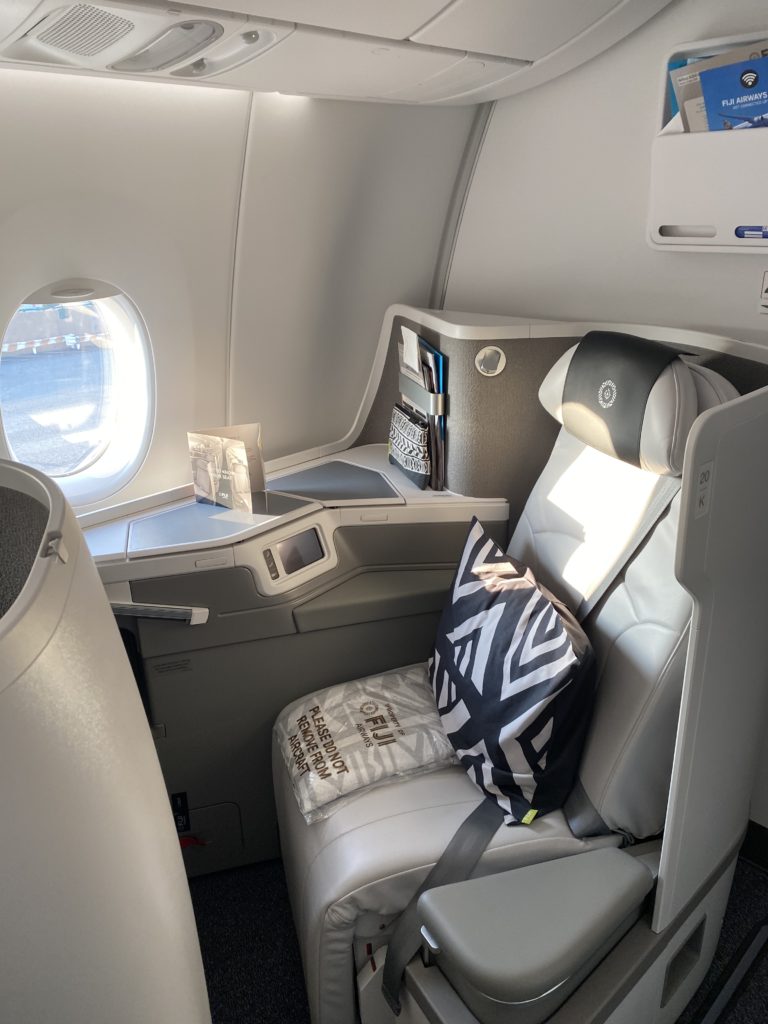 The Super Diamond business class seat comes with a helpful card on how to work the seat controls, locate the lights, find the power ports and other technology including the IFE remote, which looks similar to an iPhone.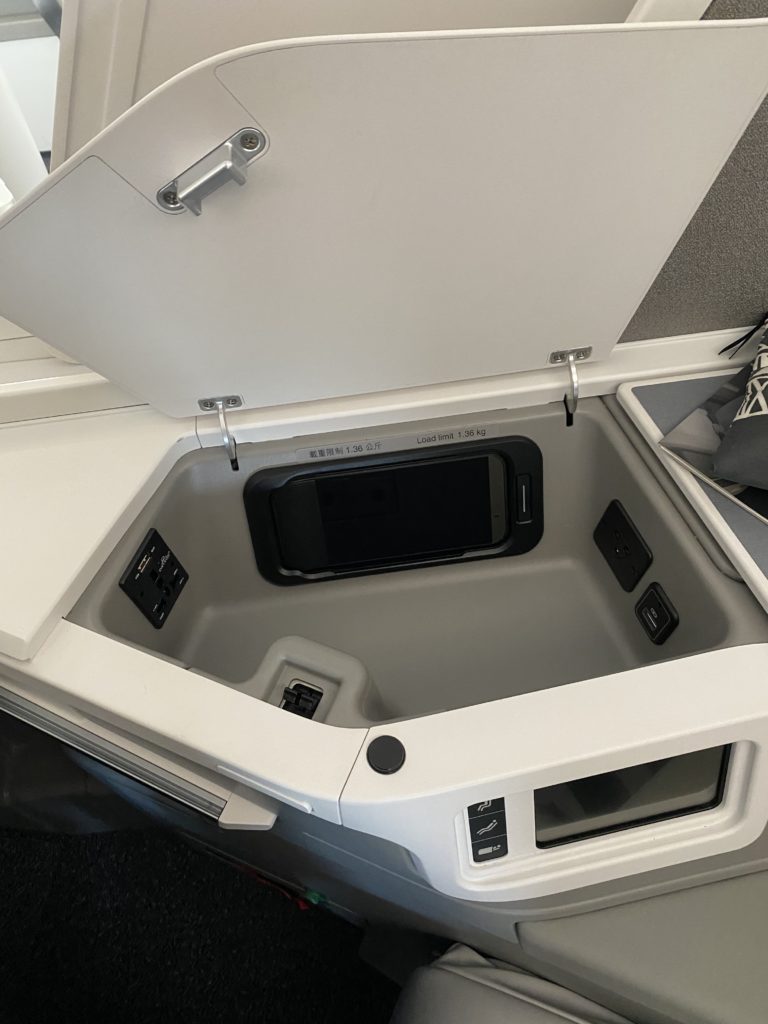 The color scheme remains the same as on the A330, with neutral and light grey material on the seats, accented by blankets and pillows with a black and white Masi art design.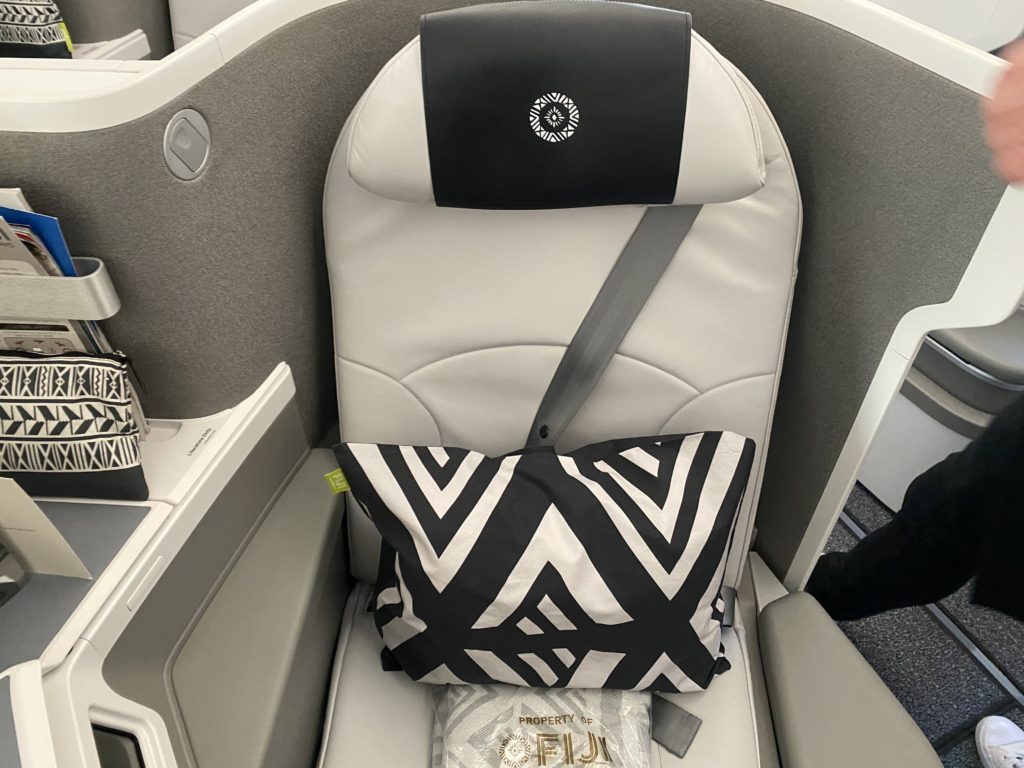 A Charcoal amenity bag made from biodegradable bamboo starch includes an eyeshade, socks, black pen with Fiji Airways logo, bamboo toothbrush with toothpaste packed in recycled paper, earplugs in recycled paper packaging, Pure Fiji Noni hydrating lotion, and a Pina Colada lip balm. Sustainable amenity kits such as these are truly a thing of beauty.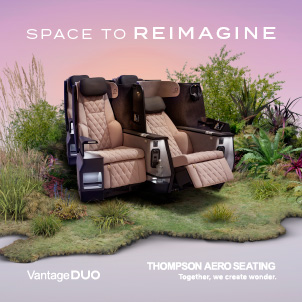 Economy class is fitted with 262 Recaro CL3710-model seats with six-way headrests and 31″-32″ of seat pitch, in a 3-3-3 arrangement. The modular design offers what Recaro claims is the "lightest seat weight in its class".
In the first five rows of economy (rows 31-35), Fiji Airways offers the same seats but with extra legroom. This new "Bula Space" section is advertised as offering a pitch of 34".
The Thales seatback IFE screens in economy measure 12", and Thales WiFi can be accessed via passengers' personal devices.
Contrasted with neutral colors in business class, the economy seats are upholstered in a faded turquoise with a subtle Boi-Yawa design which symbolizes the natural fruit and flowers of Fiji.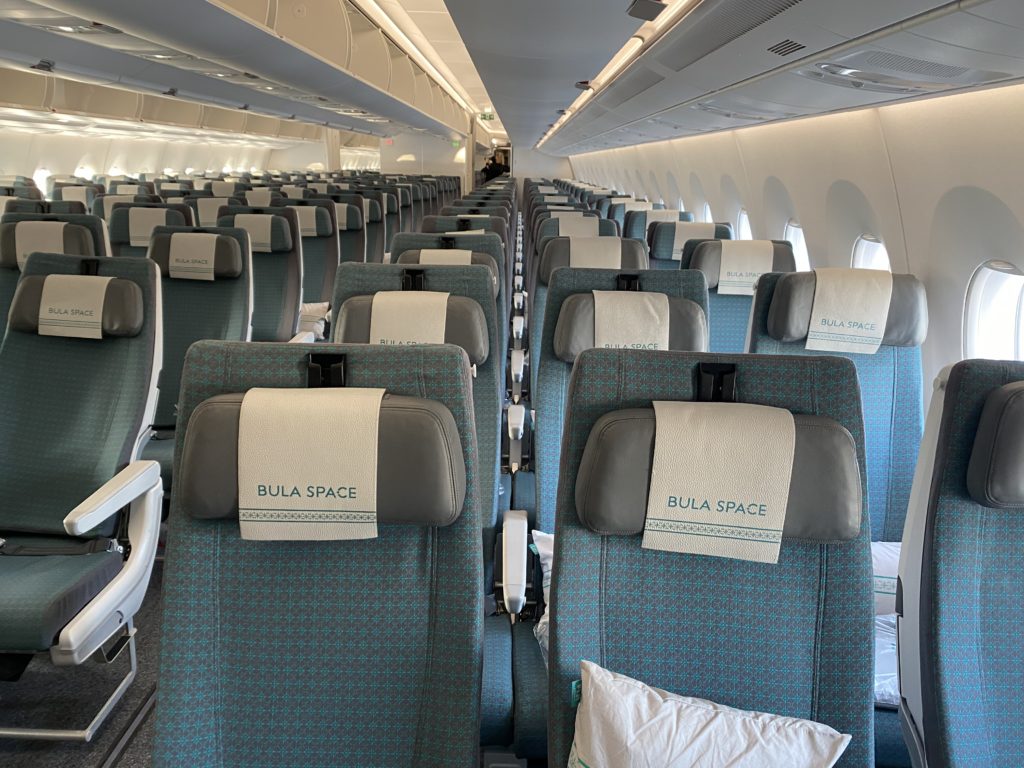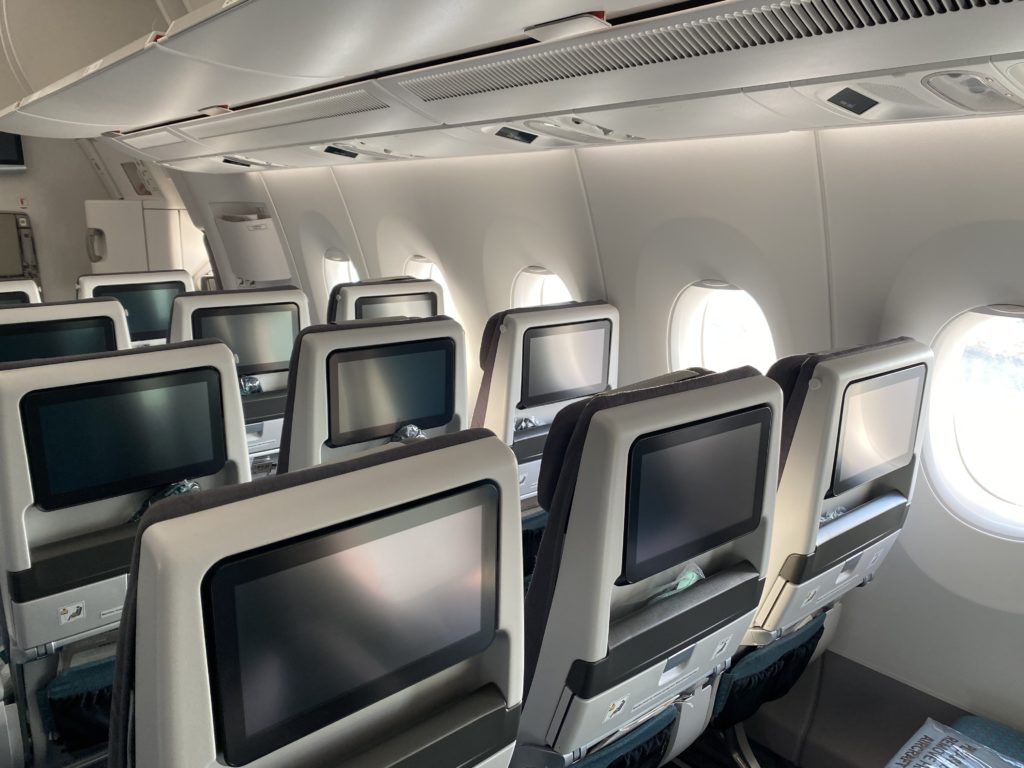 Symbolism is heavy on the A350's livery as well. The tail is anchored by the airlines' Teteva logo, which encompasses five hidden meanings.
The open circle represents the Fiji people's promise to always look after each other; the diamond is the love for Fiji; a small circle represents Fiji's kindness and caring; four crosses represent the interconnection of people and space; and the inner circle symbolizes the Fijian people coming together to work hard for their nation.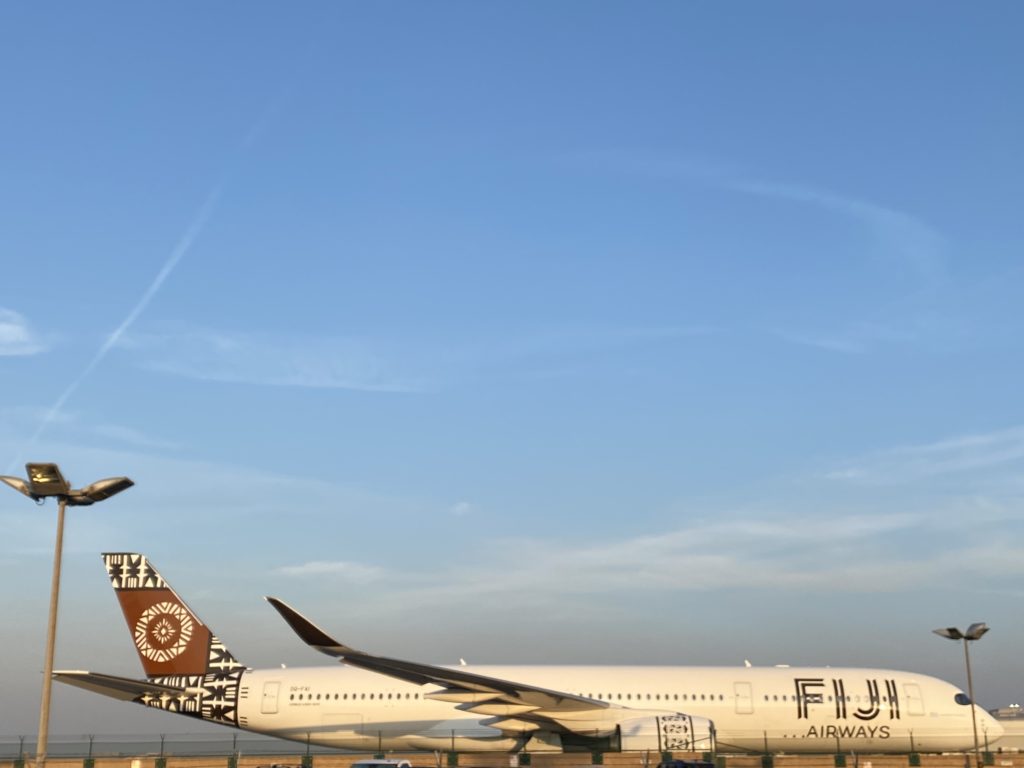 Surrounding the Teteva is the Makare motif which represents clear water flowing on a sandy beach. Wrapped around the Rolls Royce Trent XWB jet engines is the Rova, which symbolizes the welcome a visitor receives in a Fijian village.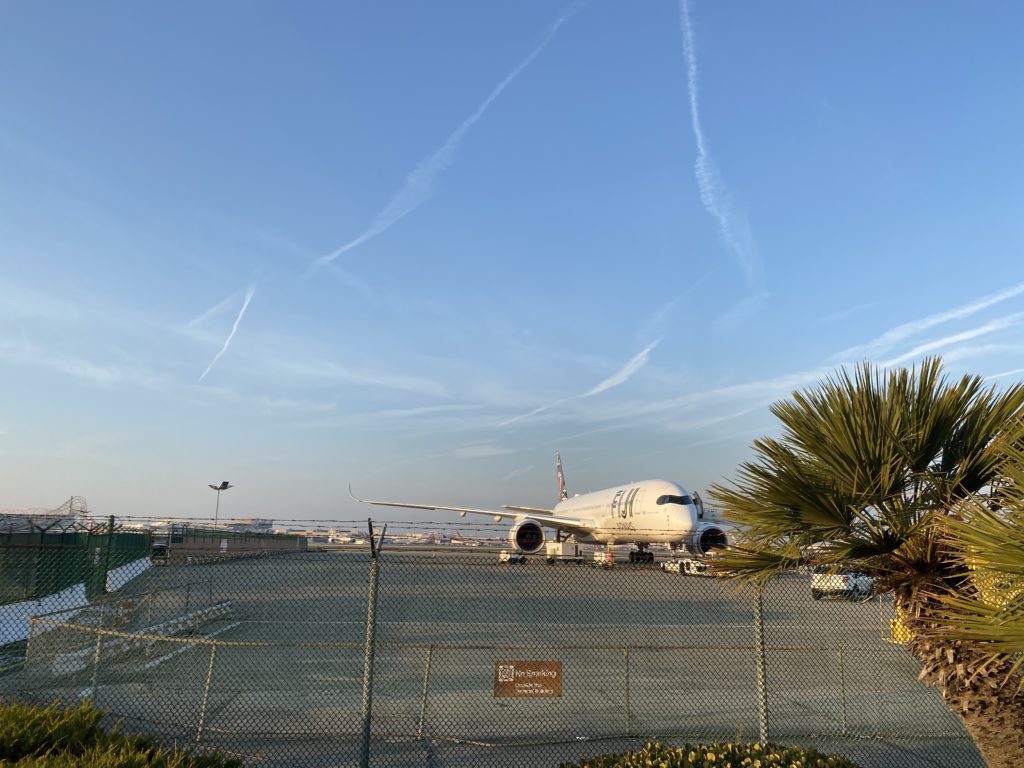 Coupled with the other highlights found on any A350 – large overhead bins, air that's renewed every two to three minutes and a ceiling height of 95" – Fiji Airways' new widebody aircraft should give the carrier a boost in customer satisfaction for those 11.5 hour flights from Los Angeles.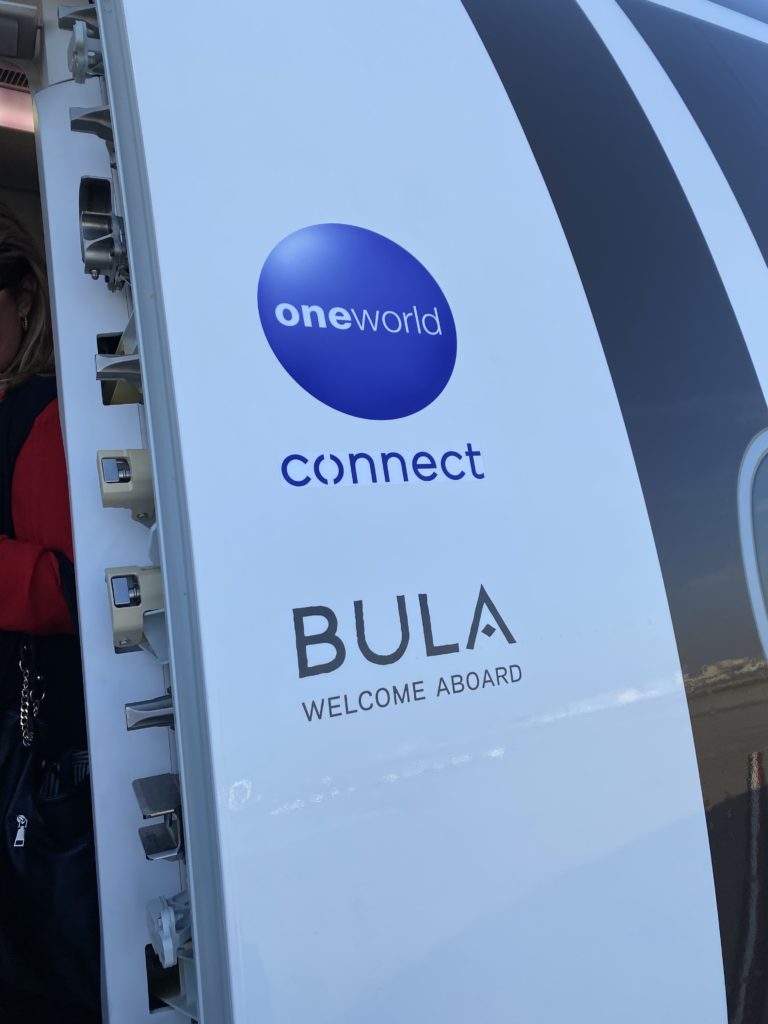 All images are credited to the author, Juliana Shallcross
Related Articles: