It's a blustery, gray day as our rideshare rolls up to a hulking industrial building on the outskirts of Newark, New Jersey. Sandwiched between an unassuming working class neighborhood and a series of multi-lane highways and rail yards, little about the former steel plant suggests that it has anything to do the latest in sustainable food. And yet inside lies the next big step forward for Singapore Airlines' inflight catering. In short, goodbye sad, limp lettuce.
Welcome to AeroFarms, a 70,000+ square foot certified farm that looks more likely to house servers than living plants. Yet row upon row of leafy greens and herbs stretch upward to the ceiling some four stories above. Even for a non-traditional farm, this facility is missing some of the basics that one might associate with growing food.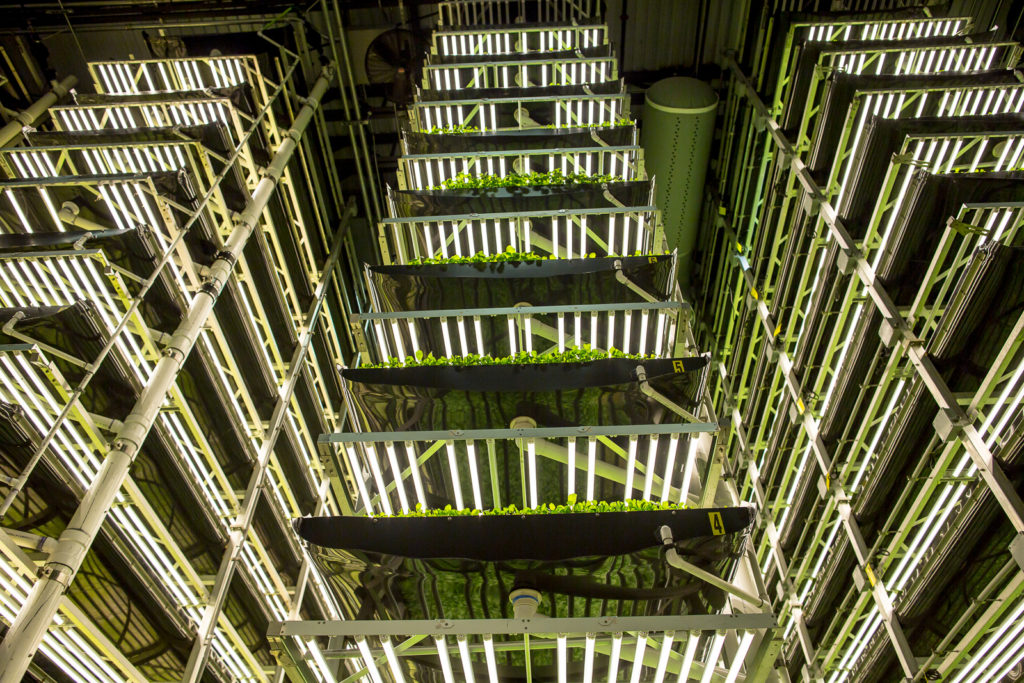 There's no windows, and thus no sunlight, for example. There's no pesticides and no weeds. Bugs are virtually unheard of. But perhaps most noticeably, there is no dirt to be found. Anywhere.
"We started with the premise of thinking about the plants. How do we create the perfect environment?" said AeroFarms co-founder and chief marketing officer Marc Oshima during a recent tour.
Exactly how they do create that perfect environment is, predictably, a closely guarded secret, but here are the basics. Rather than being rooted in dirt, each plant is rooted in, well, air. Suspended through a thin cloth mat made from recycled water bottles, the roots extend down into a shallow misting chamber where they're gently sprayed with a mix of water and nutrients.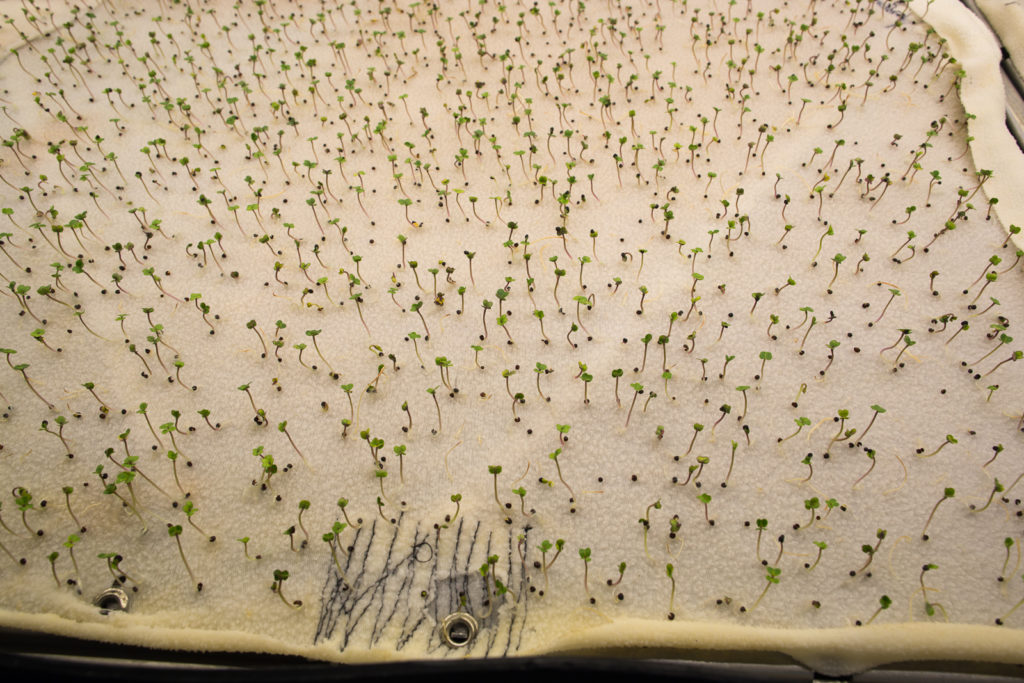 LED lights replace sunlight altogether, providing an energy efficient way to manage light intensity, bugs, and nutrient levels. It can also help control for flavor, Oshima says, noting that changes in light intensity, duration, and spectrum can turn kale sweet and tender or add a pinch more peppery heat to arugula.
Algorithms determine seeding patterns and density, while computers monitor sensors and even adjust the room's air pressure. Put all the technology together and you've got a recipe that allows for an extraordinary level of control and precision for the 700+ types of plants the farm is currently able to produce.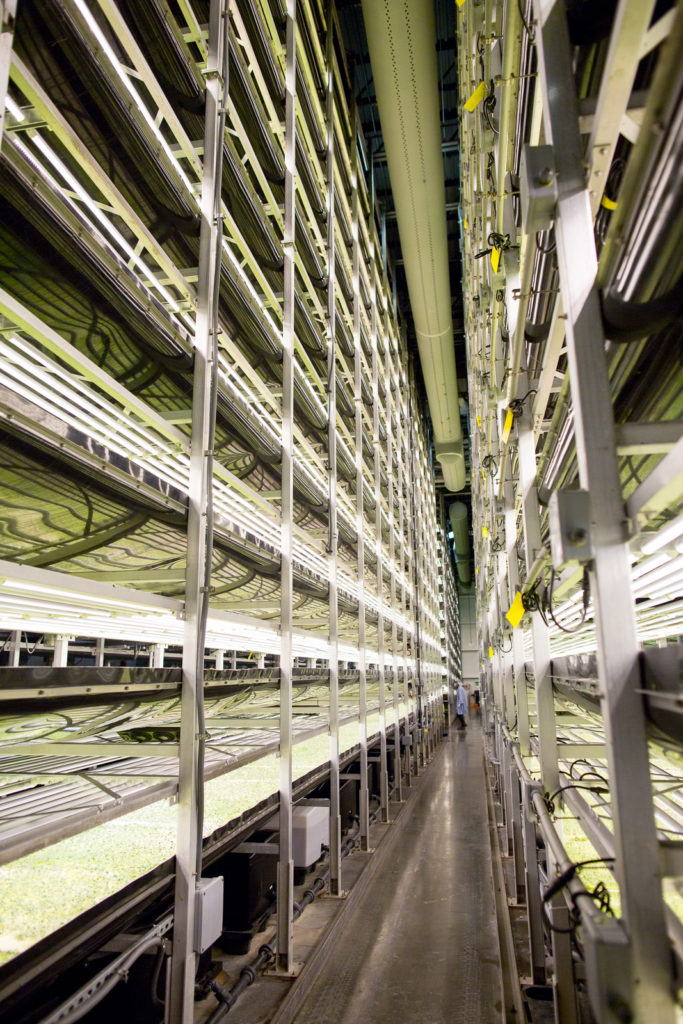 All told, AeroFarms says its process uses 95% less water than traditional field farming while expanding per-acre yields by orders of magnitude. And it slashes growth times as well, with plants growing from seed to harvest in 12-14 days, versus 30 to 45 in the field.
Enter Singapore Airlines, which first met up with AeroFarms in 2018 as the airline looked to expand its farm-to-plane program. "We look for freshness, we look for seasonality," says Anthony McNeil, Singapore's director of food and beverage, during a recent visit to this author's home base of Seattle.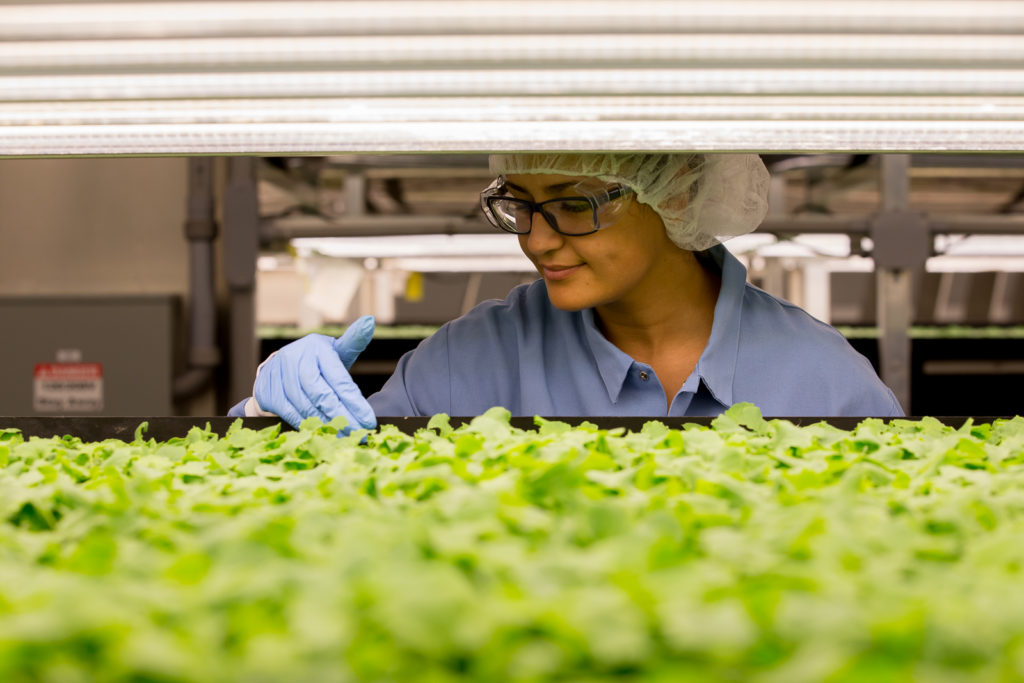 On most flights today, even in premium classes, produce is often harvested days to weeks in advance before being served up on board. AeroFarms cuts that time, at least for the greens in this case, down to hours.
"The produce that we use for a meal experience is actually picked the day before the flight," says McNeil. The result for the passenger is a fresher, tastier product.
"Plus, we can grow out of season because it's in a controlled environment," notes McNeil. That means more freedom in menu planning, adds McNeil, and less food waste. "When they grow to your needs, they're not growing additional stock on the off chance you might take the extra at the end of the month."
For now only passengers traveling in business class between Newark and Singapore  – the world's longest commercial flight – will have the opportunity to try the greens. The first dishes include an heirloom tomato ceviche using AeroFarms arugula, or soy poached chicken with farm-made baby bok choy.
For all the oohs and awws, however, it's fair to suggest that all this talk about sustainable food is a bit rich. After all, as an airline Singapore specializes in burning fossil fuels, and the program is thus far limited to greens in salads in one cabin on one flight in one direction only. But McNeil is quick to counter: "We look for opportunities to reduce our carbon footprint where possible."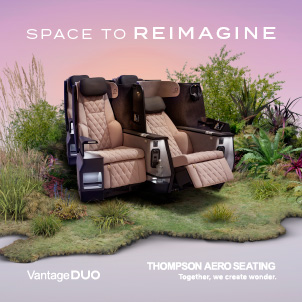 To his point, the move to AeroFarms has already begun to cut down on shipping waste. Previously salad greens and herbs were flown in from California or Mexico. Now they're only driven the five miles that separate the farm from the caterer and Newark International Airport.
Singapore Airlines is also actively looking to expand its vertical farm-to-plane program well beyond its current reach. It expects to roll out the greens to all of its New York region departures soon in both business and premium economy. And then from the Big Apple onward.
"We're looking at other opportunities within the US and then also in Singapore," says McNeill. Exactly which destinations hasn't been settled yet, but the short list includes Los Angeles, San Francisco, and the recently-added Seattle.
This also isn't the only space that the carrier has been active on the sustainable catering front. It ventured into the territory a few years ago.
"There's no point going to one supplier and you know, taking all the fish out of the ocean," says McNeil. He cites the airline's work in supplier diversification, as well as in utilizing fisheries certified by Best Aquaculture Practices.
Plus, as always, McNeil believes that sustainability efforts and improvements to the passenger experience go hand-in-hand. "Those smaller batch opportunities allows them to not overstretch themselves", says McNeil, but it also increases the "product consistency and experience".
And Singapore Airlines is far from the only airline in this space. While AeroFarms currently claims to hold the title of world's largest vertical farm, Dubai-based Emirates and its partner Crop One Holdings are looking to unseat AeroFarms with a new $40 million facility currently under construction.
Korean Airlines, meanwhile, has owned and operated its own farming operation for years. Though not as advanced as the latest crop of vertical farms, the airline uses hydroponics for its veggies and raises cage-free organic proteins.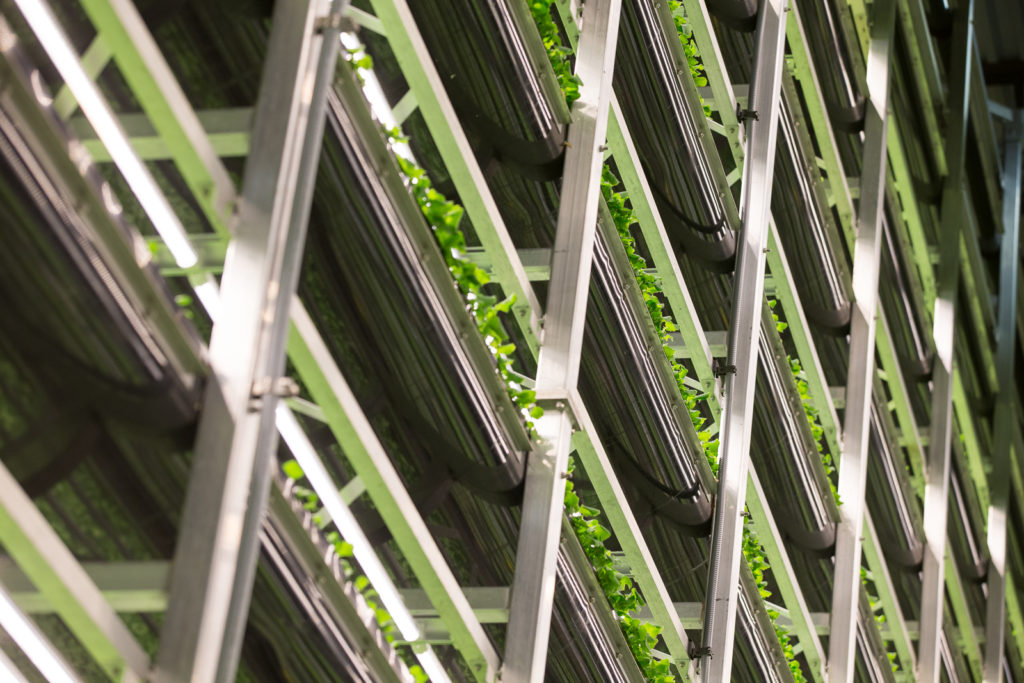 All images credited to the author, Jeremy Dwyer-Lindgren
Related Articles: