In a move that could change the game for mobile connectivity on board aircraft, SITAONAIR is developing a new system that will be 4G-capable, positioned as 5G-ready, but notably is not expected to require a leaky feeder cable to be installed down the length of the aircraft.
Noting that the current assumption is that 5G will not require a leaky feeder, SITAONAIR VP customer programs, Yann Cabaret told Runway Girl Network at the APEX EXPO: "Actually, we're going to go through a number of onboard coverage tests to validate all those assumptions. Indeed, leaky feeders are a pain. They are a pain obviously in the retrofit model, but actually even linefit. We were in discussion with Boeing yesterday and even linefit they don't like it because it's a huge constraint."
He continued, "And it's very likely again that no leaky feeder will be needed neither for the 4G option. So that makes a big difference in the ability to retrofit aircraft with a 4G solution because leaky feeders have always been a pain."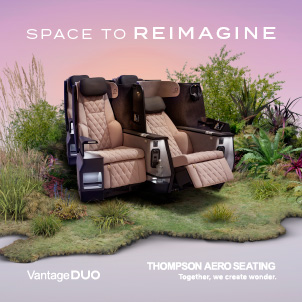 Leaky feeder cable provider W. L. Gore & Associates confirmed to RGN that it is operating under the same assumption that 5G will not require its leaky feeders (Gore is making aircraft content gains elsewhere, however).
So what replaces the leaky feeder for a 4G inflight cellular network, and ultimately for 5G? "To start, multiple antennas and actually, with the current studies and so on, you can cover the cabin pretty well without having the leaky feeder," said Cabaret.
Some readers are no doubt aware of the complexity of the leaky feeder installation. Outside the United States – which responded emotionally to the matter of inflight GSM given that voice functionality can easily be disabled – the cost and complexity of equipage have been big inhibitors to adoption. Taking the leaky feeder line out of the equation seems like a monumental step forward.
"And I like you saying that because actually that's our view at SITAONAIR that that's going to change the game. The day you can actually retrofit an aircraft with cellular connectivity to bring a totally different service proposition to the market and you need a couple of days to retrofit an aircraft if it's already fitted with a satcom and IFE connectivity, then I think that can be a game changer," said Cabaret.
SITAONAIR has long offered mobile connectivity to airlines, though like Panasonic unit AeroMobile, its penetration has not been terribly deep. At the end of 2017, SITAONAIR had fitted more than 550 aircraft with inflight GSM, per a SITAONAIR press release in RGN's archives.
"So, what we do today is we've been in a 2G, 2.5G business for a while. And obviously it's still a key part of our proposition. We are developing a new box today. And it's not all going down to hardware, but now we're developing a new box with a different spirit, a different mindset, which is, it's light chip and it's a box that we intend to be able to install on any IFE connectivity supplier. So it's an offer to all our colleagues around, which is if you want to monetize better investments, there is one additional revenue stream that you can feed into the industry, which is 4G cellular revenue," explained Cabaret.
Admitting that there is obviously "a finite amount of money that comes in", the SITAONAIR executive urges rivals and would-be partners "to think about how do we make it acceptable for all of us and for airlines and passengers. And I think bringing more revenue with the cellular, with 4G roaming services, I think that's something that the industry needs overall."
A black label unit, a version of an IP access system which will also happen to be 3G capable, is expected to be ready by the end of the first half of 2020.
5G is "going to be very relevant in countries like the US or in Japan", said Cabaret, but it will not be relevant everywhere. For instance, it will probably be less so in Africa where SITAONAIR has been pretty successful. So the firm needs to offer 4G cellular capability and prepare for 5G for specific parts of the world.
Related Articles:
Featured image credited to istock.com/hapabapa