Every few years, a major media title declares that seatback IFE is dead or dying. But the truth is that seatback IFE is not going anywhere on widebody aircraft.
These death knell predictions began to emerge "when connectivity first started being bandied around and that was like the end of IFE; then nothing happened. Then wireless [IFE] came along and seatback was going to disappear then; it has not happened. So, it's clearly got a role to play in the future," says Valour Consultancy senior research consultant Craig Foster.
Valour, which provides market research on the #PaxEx industry, reports that "97% to 98%" of all new widebody aircraft are still delivered with seatback IFE.
"I think we will see a bit of a drop off in the narrowbody segment – we are starting to see certain airlines make that decision – but whether that gets reversed again [remains to be seen] because we have seen some airlines on the widebody side go wireless and then come back to seatback," notes Foster. Indeed, Philippine Airlines adopted a BYOD model for its A330 aircraft, but later reversed course in a bid to change the perception of its #PaxEx and cabin interiors.
Among the reasons why seatback IFE has staying power is that Hollywood continues to disallow the streaming of early window movie content to passengers' own devices. Moreover, new wireless seatback solutions coming to market offer a cost-efficient way to equip aircraft. But it goes far deeper than that. "I think passengers have come to expect that they will have a seatback screen on those longer flights. And when you think about the way that in-seat power has been integrated in the past, it has been through those USB ports on the seatback screen. You want to charge up your device, don't you, on the longer flights? People have that low-battery anxiety now where they are fearful of getting off the aircraft without any power," says Foster.
In short, seatback IFE is a comfort factor, a distraction that a large portion of passengers – including children – cherish, especially when seated in tight seating configurations. That's why industry stalwarts Panasonic Avionics, Thales InFlyt Experience, Safran Passenger Innovations (formerly Zii) and Burrana (formerly digEcor) have stayed the course and continue to innovate in the sector, and why a new crop of suppliers are entering the market.
Among the new breed is Irish start-up Mythopoeia, which is offering a tablet-based wireless seatback IFE solution. The Air Cloud-branded offering is certified and flying on Air Greenland's Airbus A330-200.  Mythopoeia also offers a "PowerStream" USB power solution, which has just been selected by VivaAerobus; as well as a streaming wireless entertainment offering and a passenger service system (PSS).
Runway Girl Network sat down with Mythopoeia CEO Terence Bonar at the APEX EXPO in Los Angeles to learn more. "We designed it to meet HIC [head injury criterion], says Mythopoeia CEO Terence Bonar in reference to firm's tablet-based IFE. That alone is an accomplishment, as HIC testing is notoriously challenging.
"So what we've done is if you look at the display, the display is fully integrated with PSS so it has all passenger services, reading light, attendant call functionality built into it. It's got USB charging," explains Bonar. He notes that the content "is stored locally on the device but pushed over a wireless network to the devices".
So why jump into seatback IFE? "Opportunity," explains Bonar. "Gaps that we saw in the marketplace in terms of delivery of service." Mythopoeia's pricing for its wireless seat-centric offering is "very competitive", he notes. "If you look at the deals we are winning, we are winning them based on being extremely competitive."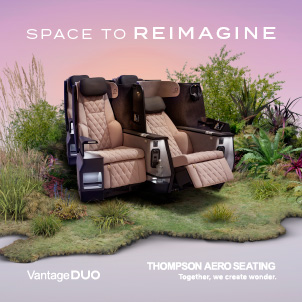 Mythopoeia can offer its products bundled or unbundled. So, for instance, "if you are removing an old IFE system and you need to put back reading light/attendant call functionality, we have a standalone product that we can give you just to meet that functionality. So you have a mixed bag of airlines, some airlines are taking seatback IFE out, some airlines are keeping seatback IFE. So if you are taking it out, you need to then deal with some of the interaction with the aircraft system so we can give it as a standalone system or as a complete system."
On the inflight connectivity front, Mythopoeia remains agnostic at the moment. "But obviously there's players that don't have seatback and need seatback," says Bonar, so the firm has entered talks with IFC stakeholders to package its wireless seatback IFE hardware with connectivity. "Those discussions are underway and very active," he says.
In a further testament to the staying power of seatback IFE, German multinational company Kontron is also evaluating the seatback market again. "We did some work, oh five to six years ago with a US airline but in the end it wasn't deployed," says Andy Mason, Kontron's VP system and program management, avionics, transportation and defense. But Kontron learned a lot from the project, and given that technology is advancing in terms of wireless, processing and what can be done in a sort of semi-tablet form, Kontron is "thinking about it," he says.
Related Articles: