Before a recent trip to Southeast Asia, I'd never heard of Bangkok Airways. Passing through Bangkok's Suvarnabhumi Airport for the first time, I couldn't help but note the carrier's near ubiquitous presence, especially in the domestic terminal. But with a roundtrip itinerary on Thai, I didn't think much of Bangkok Airways.
Yet a few days later I wound up with the sudden need to get back to Phuket after a surprise trip to Bangkok. I almost booked Thai out of instinct, stopping only when I realized I could cross off another new airline instead. And then I remembered Bangkok Airways. With a competitive price of $54US, it was a pretty easy sell.
The airline has been around in one form or another for several decades, and was the first private airline in Thailand. Its fleet of 40 aircraft, split between ATRs and Airbus A320 family jets, serves several dozen destinations throughout Southeast Asia.
It positions itself as "Asia's Boutique Airline", and it earns its award-winning reputation with a number of fantastic touch points throughout the experience.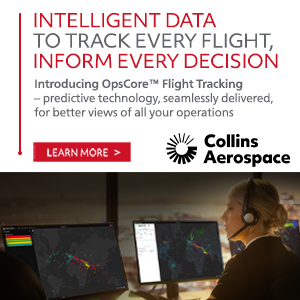 The trip began in the bowels of the airport, where I was hoping to find a transfer desk and avoid leaving the domestic secure area after arriving off of a Thai Airways flight. I wasn't in luck, and trudged my way out to the check-in desk on the departures level at the sprawling airport.
With most of its flights timing in either at or less than one hour, the airline traffics in frequency and keeps its planes busy. Even for the normally slow mid-afternoon, a healthy line had built up at the airline's domestic check-in queue. Thanks to proper staffing, though, it only took a few minutes.
I had selected a window seat, 5F, when purchasing my ticket off the airline's website. For whatever reason the choice didn't stick, and I was allotted a middle seat in the back. I mentioned the lapse, and the friendly agent placed me into the window seat of the exit row.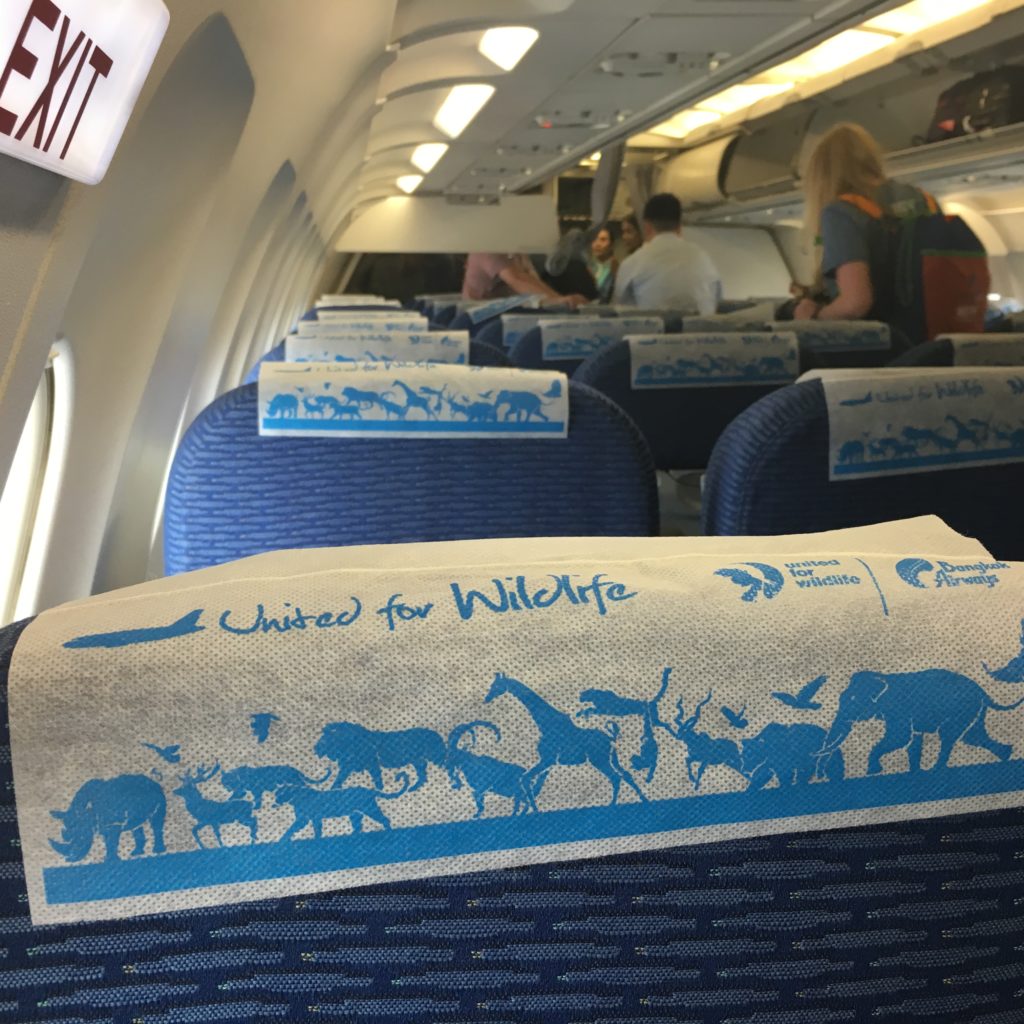 The airline also offers a free checked bag under 44 pounds. I didn't have anything to check, but it's worth noting: I can't think of too many airlines left that offer that allowance to every passenger.
Once on the secure side, I noticed that the airline has two lounges. One called the Blue Ribbon Lounge, and the other the Boutique lounge. I recalled that the airline offered me a pay-up opportunity during the purchasing process for a lounge pass, and I had assumed that both were off limits. The assumption was accurate for the Blue Ribbon lounge, which was open to business class, frequent fliers, and folks who took the upsell opportunity at check-in.
To my pleasant surprise, however, the Boutique lounge is open to every passenger. It was filled with pleasant seating, free WiFi, and even a kids' play area.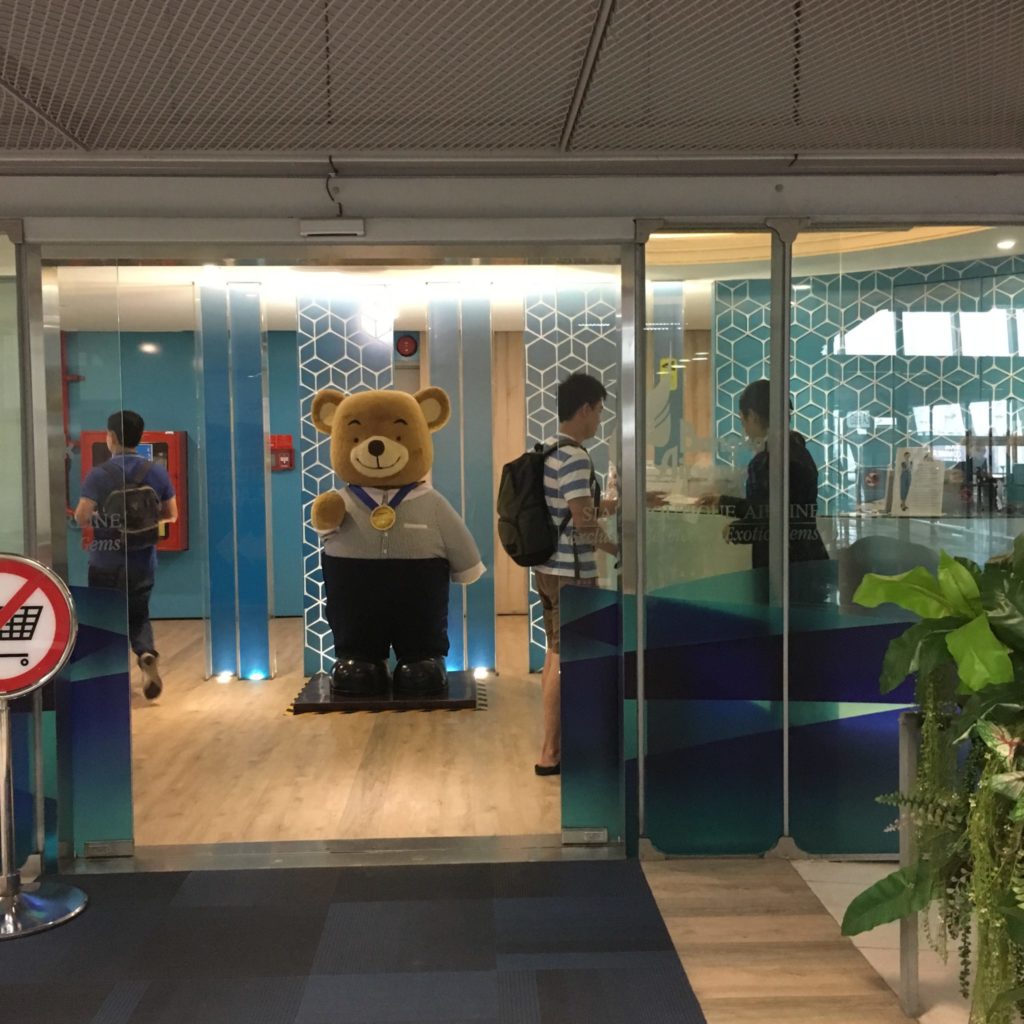 A food spread of savory pastries, salty popcorn, and sweet sticky rice wrapped in banana leaves, along with fruit juices and soft-drinks was an absolute delight. And this is free to every passenger.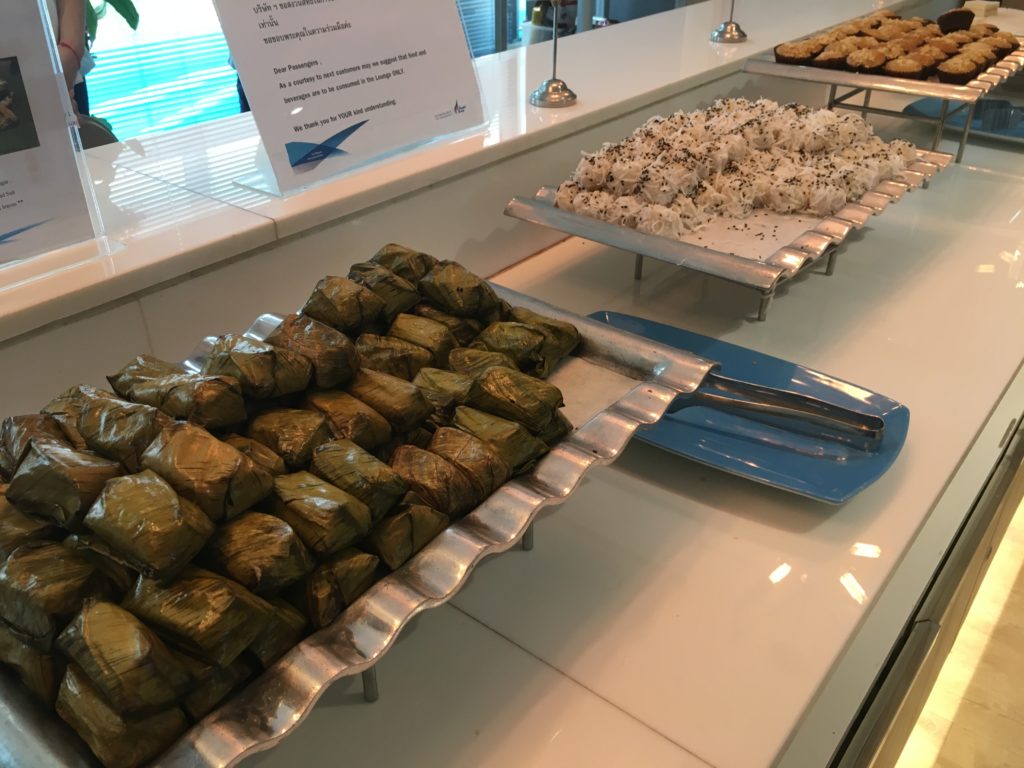 I've seen lounges not even half as nice that required expensive annual memberships or pricey premium tickets for access.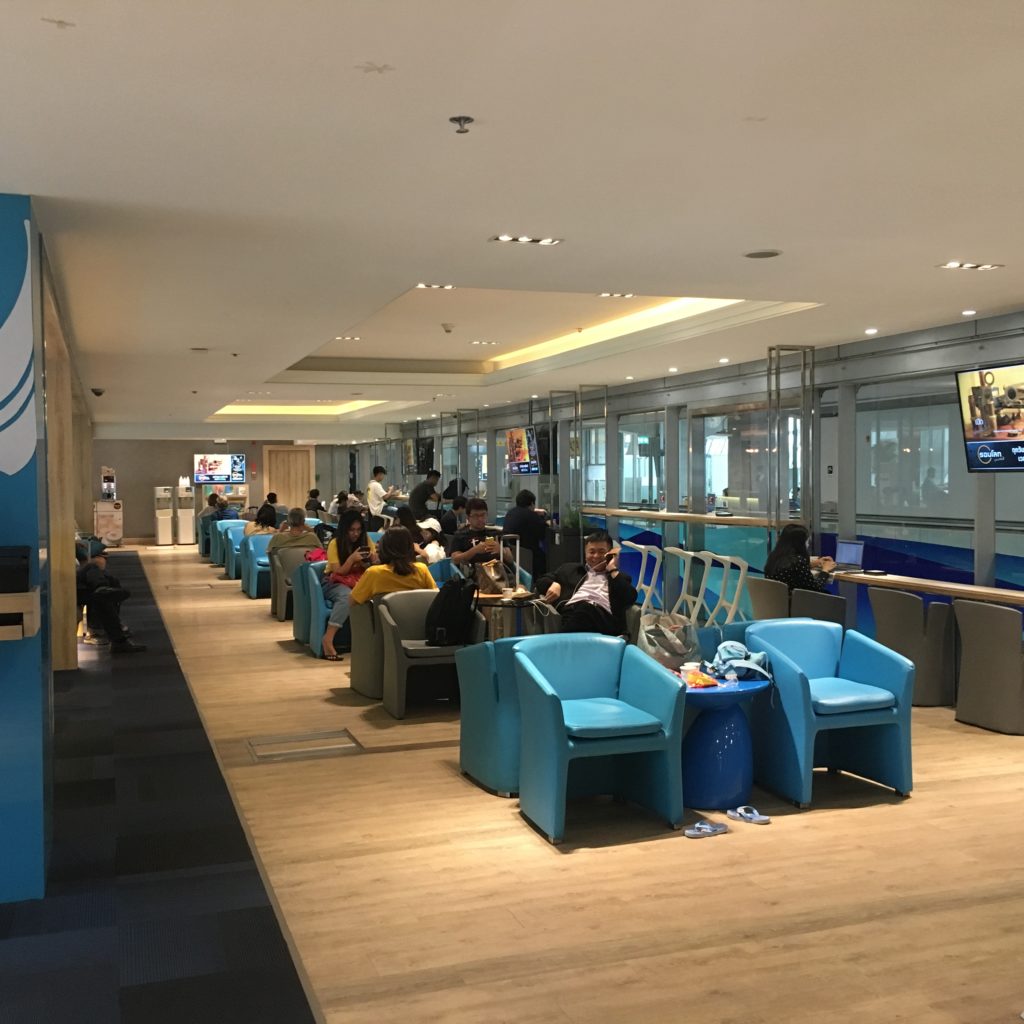 Boarding began on time, and I settled into 11A on the Airbus A319. The airplane was configured in an all-economy, 3-3 layout, with 31 inches of pitch.  The seat reclined more than anticipated. There are no power ports, no Wi-Fi, and no inflight entertainment. Just a window and your seatmate to keep you occupied. Thankfully, both the view and my seatmate proved interesting for the short flight.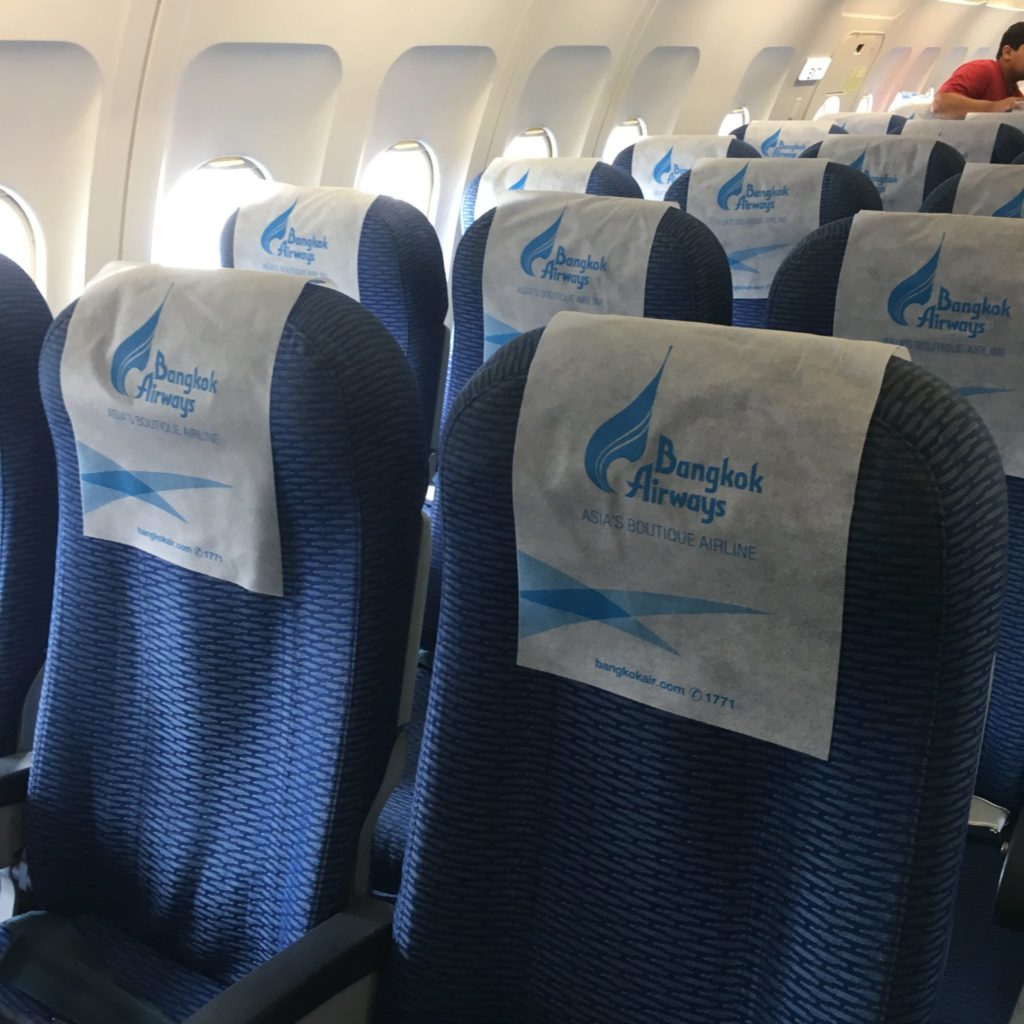 The airline does have a business class on some of its aircraft, called Blue Ribbon class. Obviously I didn't get to see it.
A meal service began literally minutes after departure. I inadvertently selected a special vegetarian meal during the purchase process, and the crew delivered the cellophane-wrapped tray almost immediately.  The meal was excellent, with beans in a sauce along with curried chickpeas and lentils. A dollop of jasmine rice help cut the spicy heat down. A bottle of water was welcome too, though the crew also offered a coffee and tea service after the meal.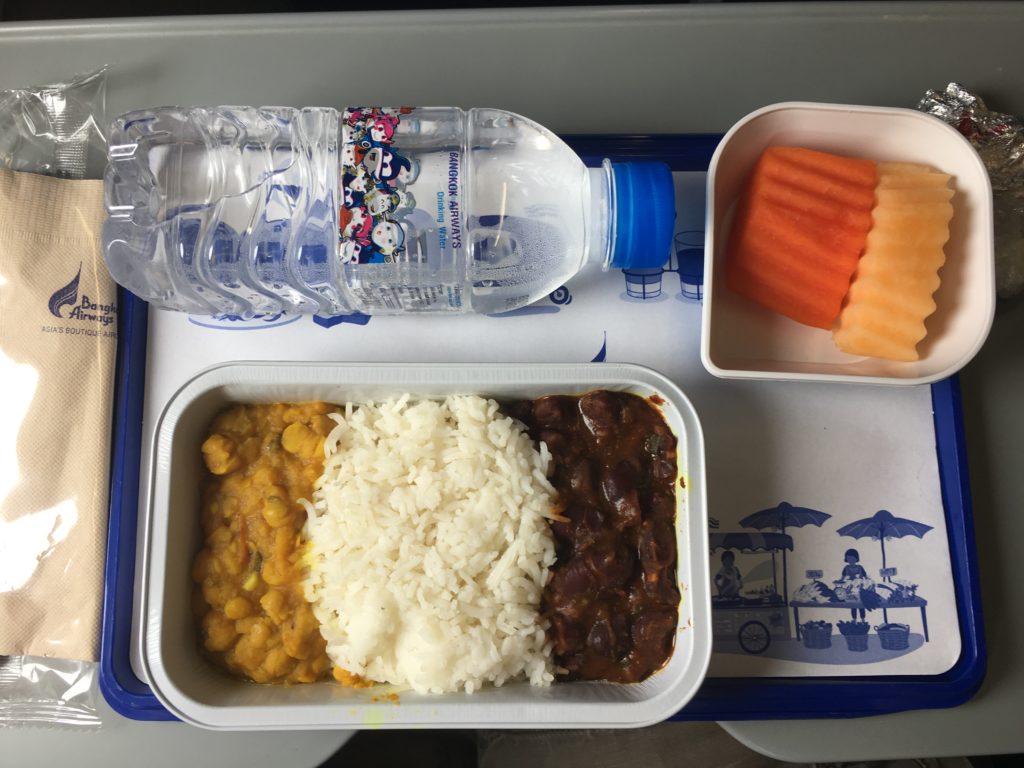 The aircraft landed in Phuket on time, and quickly deplaned. Bags – though again I didn't have one – were already beginning to circle the carousel as I made my way outside.
My only regret is that I won't have the opportunity to fly this unique little airline more often. With competitive prices and service that exceeds their full service competitor, I can't see a reason why I wouldn't fly Bangkok Airlines again at every opportunity.
All images are credited to the author, Jeremy Dwyer-Lindgren
Related Articles: