All Nippon Airways (ANA) has begun equipping selected Boeing B777-300ER aircraft with SITAONAIR's state-of-the-art Internet ONAIR Wi-Fi portal, powered by GX Aviation.
In partnership with JSAT MOBILE Communications Inc. (JSAT MOBILE), SITAONAIR has boosted ANA's major upgrade for passengers, through the deployment of its Internet ONAIR Wi-Fi portal over Inmarsat's ground-breaking Ka-band satellite network. The solution will provide ANA passengers with seamless, reliable and secure internet connectivity, anywhere in the world.
Passengers flying on corporate-heavy business routes will now be able to keep in touch with the office, even at 35,000 feet, as well as continuing to connect with their lives on the ground, from browsing and shopping to emailing and chatting with loved ones.
Working together with JSAT MOBILE – which is dedicated to providing the Japanese market with the latest mobile satellite services – has enabled SITAONAIR to establish and expand its relationship with ANA. This significantly enhances the airline's offering to tech-savvy passengers.
JSAT MOBILE's President & CEO Eiichi Yoda comments: "We're pleased to have the opportunity to work with our partner SITAONAIR to support ANA in providing Wi-Fi services to its demanding base of connected passengers. JSAT MOBILE's regulatory expertise and close customer coordination, together with SITAONAIR's industry-connectivity solutions powered by Inmarsat's reliable and expanding GX Aviation network, enables ANA to benefit from a seamless and future-proof solution."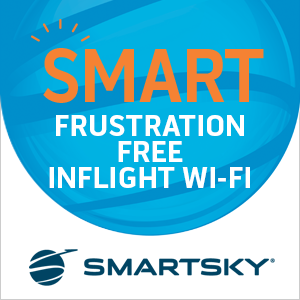 "SITAONAIR has taken huge strides to deliver a next-gen experience for passengers," says SITAONAIR's CEO David Lavorel. "Internet ONAIR draws upon our expertise as a provider of inflight technology, to provide an 'always-on', convenient Wi-Fi solution that is ahead of the game."
"We are proud to partner with All Nippon Airways to deliver our award-winning inflight connectivity to its fleet." SITAONAIR's VP Customer Programs, Yann Cabaret adds: "With the installation of Internet ONAIR, ANA passengers will be guaranteed smooth and seamless connectivity, now and into the future."
About SITAONAIR
SITAONAIR is the air travel industry's trusted connected aircraft service expert, powering innovation with recognized expertise and future-proof solutions. With our unrivalled industry-backed heritage, SITAONAIR delivers the promises of the connected aircraft, empowering 400+ airlines, 60+ ANSPs and 17,000+ aircraft to navigate the complexity of connectivity with our best-in-class solutions and services for passengers, cockpit and cabin crew, flight operations, aircraft big data and air traffic management. We believe that embracing a digital shift will reinvent the operation of aircraft, flight and on-board experience – making it safer, more efficient and enjoyable.
SITAONAIR is a subsidiary of The SITA Group, the communications and IT solution provider that transforms air travel through technology for airlines, at airports and on aircraft.