RAVE ULTRA is bringing a next generation entertainment experience to the skies, with 4K Ultra High Definition displays, a slim lightweight design and integrated Bluetooth audio connecting every passenger in the aircraft with their own personal wireless headsets.
RAVE ULTRA is the evolution of the Crystal Cabin Award-winning IFE system from Safran Passenger Innovations, formerly Zodiac Inflight Innovations (Zii). The RAVE system continues to provide a reliable and cost-effective solution with seat-centric architecture and dockable displays, lighter-weight hardware and unique software for remarkable 4K Ultra High Definition passenger displays. The slimmer and lighter weight design achieves a 30% weight savings from previous generation IFE systems. RAVE ULTRA comes in various sizes: 13.3, 15.6, 17.3, 24, 27, and 32 inches.
The smaller borders and thin profile of RAVE ULTRA helps seat vendors embed the screen within the seat frame which increases passenger space whilst offering an immersive entertainment experience and helping airlines produce elegant and seamless cabin designs.
Complementing the RAVE ULTRA display line is a software platform engineered for the future, allowing airlines to run multiple 3rd party applications, including HTML, Android, and QT. Included is a flexible graphical user interface (GUI) that can be configured to meet unique airline branding requirements and offers features of a modern personal entertainment device such as intuitive interface design, multi-window and multi-touch capabilities. In addition, by utilizing the latest video compression and Digital Rights Management (DRM) technologies, Safran Passenger Innovations makes bringing 4K content to inflight a reality, all without the need for costly aircraft backbone upgrades.
As an industry first, RAVE ULTRA brings Bluetooth audio to every seat in the entire aircraft. Typically, only 20 airline provided headsets can be connected at one time due to frequency interference. Safran Passenger Innovations has cracked the code for congestion of Bluetooth audio on the aircraft. All passengers onboard can now enjoy Bluetooth audio without limitations, including using their own headsets.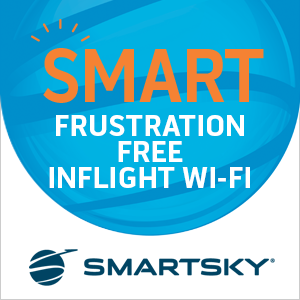 Safran Passenger Innovations CEO, Matt Smith states, "Our team vigorously seeks ways to improve the passenger experience in the seat. Passengers desire a seamless transition on board as they experience at home. RAVE ULTRA displays with edge to edge viewing, attractive design and integrated Bluetooth audio creates an enhanced, home entertainment experience during flight."
Safran Passenger Innovations is the first to market with 4K displays and Bluetooth audio for the entire aircraft with committed orders delivering in 2019 and in operation by 2020.
Safran is an international high-technology group, operating in the aircraft propulsion and equipment, space and defense markets. Safran has a global presence, with more than 92,000 employees and sales of 21 billion euros in 2018. Safran is listed on the Euronext Paris stock exchange, and is part of the CAC 40 and Euro Stoxx 50 indices.