An upcoming panel session at the Aircraft Interiors Expo in Los Angeles, called Flying for All, will review the topic of accessibility in the cabin. While there seems to be a consensus in industry that something must be done, airlines have failed to move forward on solutions. Some of the delays can be attributed to a lack of understanding of the issues, lack of awareness, and to financial considerations. But the delays are also technical, caused by real design limitations, perceived design limitations and the industry's stringent regulatory hurdles.
We spoke to two panel participants who shared their insights on what it will take for airlines to overcome these technical challenges.
Michele Erwin, founder and president of All Wheels Up, has made it her business to engage the industry directly – from airlines to regulators and legislators – to advance accessibility policy. All Wheels Up has been working to certify wheelchair fasteners on aircraft so that disabled passengers who use electric and properly-fitted manual wheelchairs can use their own equipment in-flight, rather than have to be transferred to a standard aircraft seat and risk that their checked equipment might be damaged en-route.
All Wheels Up determined that existing wheelchair restraints from Q'Straint used in accessible cars and buses can exceed the FAA requirement of 16Gs. The organization's activism helped influence the call for the FAA to explore the feasibility of restraint systems introduced in the recent FAA Reauthorization Act of 2018, specifically Sec 432, which calls for this study to be completed "not later than two years after the date of enactment of this Act."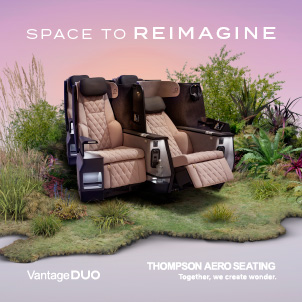 The scope of the mandate is that the FAA must determine whether restraint systems are feasible, and, if feasible, the ways in which they could be introduced on aircraft to accommodate wheelchair users, including those who use power wheelchairs. The FAA has to file a report on its findings "no later than one year after the initiation of the study."
Erwin is actively pushing for progress on this study through her work with the US Access Board, the federal agency that promotes equality for people with disabilities, and tells us that progress is slow and results are mixed.
While All Wheels Up offered the Access Board two proposals for FAA-approved contractors they could use for testing, the Board appears to have selected a separate contractor who, according to their bid, would not be able to complete the study within the timeline and scope of the FAA Reauthorization Act.
"They had two years to conduct the study, and this October will be one year of nothing done," she tells RGN.
Rather than wait to see what happens, All Wheels Up is working to fund an independent feasibility study that can be presented to Congress.
Working with science and technology company Calspan, All Wheels Up has already conducted 16G dynamic testing on the fastener system, with passing results. The problem is that the test results cannot be recognized  for certification because there's no standard to support certification.
"We're working under the criteria of the FAA … to be sure we're not wasting money," she says. "But there are no blueprints for testing wheelchair tie-down systems and there is no standard to crash-test a wheelchair. We're working with the aviation industry to create a blueprint."
All Wheels Up is also petitioning both Congress and the President to push the FAA to establish regulations requiring airlines "to provide designated wheelchair accessible spaces on every commercial aircraft."
But while Erwin is persistent in advocating for regulation, she also believes that the best way to ensure change is to work with the industry on solutions. And, she tells us, airlines are by-and-large receptive. They are engaged with the All Wheels Up Working Group.
"The airlines are already working with us and coming to our meetings. They wouldn't be spending money to attend working groups if it's not eventually going to take place. They are investigating," she says. "We haven't asked any airlines for funding. We don't think that it's something that an airline should fund. We'll fund the work that no other for-profit will. What I'm looking for out of this is to raise awareness. All of the airlines in the US know about our work and we are looking to expand globally. We're now in Australia and Canada and expanding to other countries with major hubs. We want more people who have an interest in this area to be part of the working group; bringing the engineers to help us come up with solutions."
The next All Wheels Up Working Group meeting is scheduled for 23 September. The goal is to drive engagement in the practical aspects, gain expertise from the industry, and raise awareness that there is a public interest.
"Our organization is focused on positive messaging and we understand that change cannot happen without all of the stakeholders involved," Erwin says. "We want them to come with an open mind and prepared to have a discussion … We believe that, with all of the airlines, the FAA, all of the organizations, it's more about them coming to the table. It shows that they are actively investigating."
She adds, "We know it's not going to happen tomorrow but we feel very positive because of the level of interest that the airlines are taking."
Erwin also wanted to address concerns from others in the disabled community that having airlines accommodate passenger wheelchairs might somehow affect access for those who would rather transfer to an airline seat and have assistance from the airline.
"The work we are doing would never take away the right for a wheelchair user to choose a wheelchair spot or airplane seating, and we have addressed that publicly," Erwin says. "Airlines would prefer the wheelchair user to use the airplane seat because they will make less money on the wheelchair spot. I do believe this is not even a consideration as an issue."
Another option would be for airlines to give passengers onboard access to wheelchairs that would allow them to move freely about the cabin, even without assistance.
Tom Lipscomb of Priestmangoode spoke to us about the design firm's long-proposed Air Access seat. The design integrates narrow wheelchairs – which could easily fit through aircraft aisles and which could be deployed independently by the passenger – into standard passenger seats. This way, airlines do not lose revenue seats on flights when there is less demand for wheelchair access.
Introduced around the 2012 Paralympic games in London, this proposal has not yet made it off the drawing board. "The initial hurdle is an economic one. The cost of R&D to develop a solution that would meet all safety standards for aviation is considerable," Lipscomb tells Runway Girl Network. "But we are seeing airlines investigating these products so believe it will only be a matter of time."
One argument against adoption may be that it's difficult for airlines to decide which aircraft should have these seats on board and just how many are needed. Lipscomb suggests that airlines might reference current demand for wheelchair support as a guide to installation.
"As a frequent flier, I have seen three or four chairs in the jet bridge on a number of occasions, not all of these are for profound mobility issues but it seems a decent guide to the requirements," he says. "Installing these products is no harder than installing a standard seat. It's about good design. It's about involving all stakeholders as part of the development process – passengers, seat manufacturers, airline crew, ground services staff and designers – to ensure that the product is fit for purpose and meets the needs of all separate parties in the best possible way."
While Lipscomb believes that airlines are taking accessibility seriously and genuinely interested in solutions, the timeline for development and introduction of any new product in aviation creates a sense of urgency. "It's important that we think in the long-term," Lipscomb says. "Demographics are changing, people are living longer, which will lead to new mobility challenges. It's important that we acknowledge the importance of accessibility not only in terms of our current needs, but in anticipating future ones as well."
Related Articles: