Adient Aerospace, the new joint venture between leading automotive seatmaker Adient and aircraft manufacturer Boeing, appears to have, pardon the pun, gone from zero to sixty in three seconds in aviation. And with good reason. Known for the quality of its seats in the auto world, Adient has translated its design ethos to aircraft interiors.
The result is that Adient Aerospace has already won admirers for its impressive mock-ups and real-design seats at the annual Aircraft Interiors Expo in Hamburg, and more importantly a launch customer in the form of Hawaiian Airlines for its modular Ascent seating platform.
Selecting a 1-2-1 outward-facing herringbone layout for its Boeing 787-9 twinjets, Hawaiian this spring boasted that Ascent would delight leisure guests such as couples and families "who value a blend of shared and private experiences," while providing enhanced functionality for business class travelers.
That makes sense because longhaul business class seating is presently the primary focus for Adient Aerospace, and thus far airlines "are really liking" the JV's message of better quality, craftsmanship, and comfort, according to Adient Aerospace CEO Alan Wittman. The Ascent design was tweaked based on feedback received at the 2018 Aircraft Interiors Expo.
On the quality front, and in the context that business class seats take a beating but airlines nonetheless expect them to be lightweight, Wittman confided that the JV is using some different material technologies than are typically seen in aerospace, though it isn't publicly detailing the secret sauce. "And then the other thing that we are spending a lot of time and energy on is design for the craftsmanship from automotive. There are some techniques of how you can design for and tool for the type of quality that you are looking to create. [We're] also spending a lot of time and energy on testing. Cycle testing, abuse testing … you know, you think you do your best and it is surprising how things get used and abused in the airplane."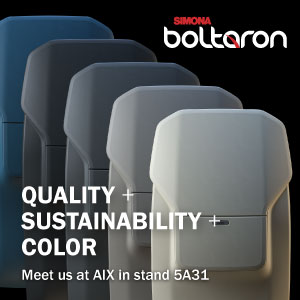 Adient Aerospace is disrupting in other ways, ensuring easy access to the guts of the seat – a win for crew and technicians (and passengers who lose their phones) – while maintaining a clean, modern, premium look and feel. And, as highlighted by RGN during a recent In Conversation podcast, consent can effectively be baked into the platform by ensuring the privacy divider for the middle pair in lie-flat mode only goes fully down if both passengers push a button at the same time. Having experienced this functionality, your writer can confirm it felt like a 'wow' moment.
But Adient Aerospace also has its eye on possibly offering premium class seating for narrowbodies. At the Aircraft Interiors Expo, the firm was quietly showing select guests a narrowbody lie-flat seating concept. "It's more of a prototype concept and kind of like we did last year, just collecting customer feedback and then we will see what it means and whether we launch an actual product, project or not," explained the firm at the time.
Economy class seating is also on Adient Aerospace's radar. "Ultimately our business plan is long term and we intend to be tip-to-tail. We want to take it carefully. We want to make sure we don't overcommit ourselves," said Wittman.
For now, Adient Aerospace has a joint marketing agreement with Boeing-owned EnCore, and indeed the JV showed off Encore's LIFT economy class seats on its stand at the exhibition. It also has a strategic partnership with LIFT "where they are our partner on the furniture. So working with them on both design and then ultimately the manufacturing of the furniture will be done by LIFT and EnCore in California," explained Wittman.
Header image is credited to Hawaiian Airlines.

Related Articles: