If you need to fly between Seoul and Jeju Island in South Korea, you have a smorgasbord of airlines to choose from. As the world's busiest air route with around 130 departures each way everyday on seven vastly different airlines and aircraft types, the selection is impressive indeed.
Passengers can book on traditional mainline carriers like Korean Air or Asiana, or with any of the low-cost carriers operating the route for about the same price. I chose to book a Jin Air Boeing 777-200ER because who doesn't love a domestic widebody short-haul flight for a sweet pricepoint?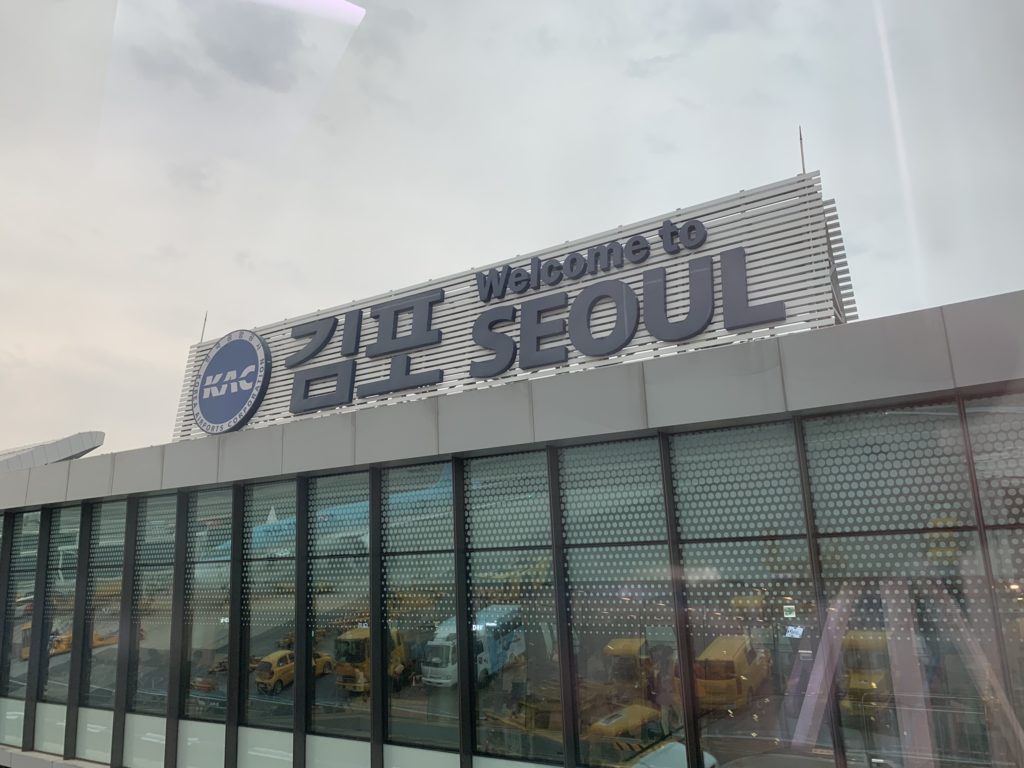 The Seoul-Jeju Island route is fascinating. Aircraft depart every few minutes from the early morning to late in the evening, and they appear to be rather full. Many flights seem to depart with a routine delay of a few minutes, but I observed several with more lengthy delays. There's a good chance that if your flight is delayed even an hour, the following flight could depart before yours.
While the bulk of Jin Air's fleet consists of Boeing 737-800s, it operates four 777-200ERs for a few longhaul routes to Australia, Guam, and Hawaii. My 777-200ER flight between Seoul and Jeju Island is in fact a regularly scheduled short-hop sandwiched between Jin Air's long-hops. These are dense aircraft, with 393 seats in a 3-4-3 configuration.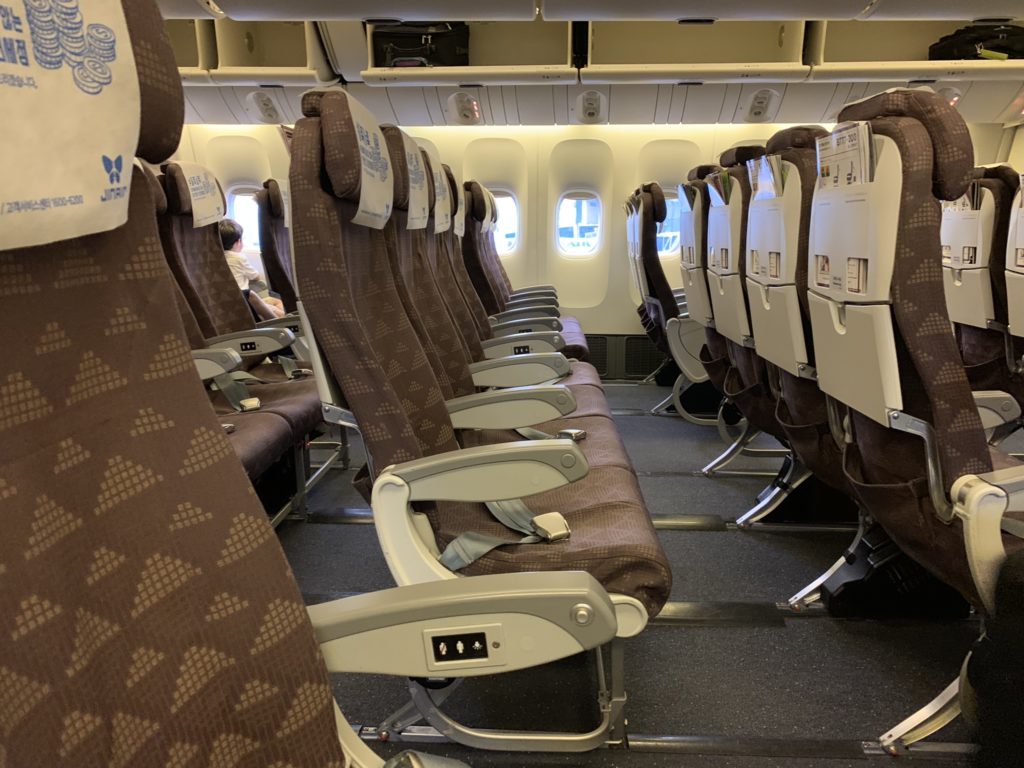 The first few rows offer extra legroom, which cost an extra $10 on top of the $30 fare. As I would be coming directly off of a 12-hour longhaul flight in business class, I figured I'd splurge for the extra legroom seat.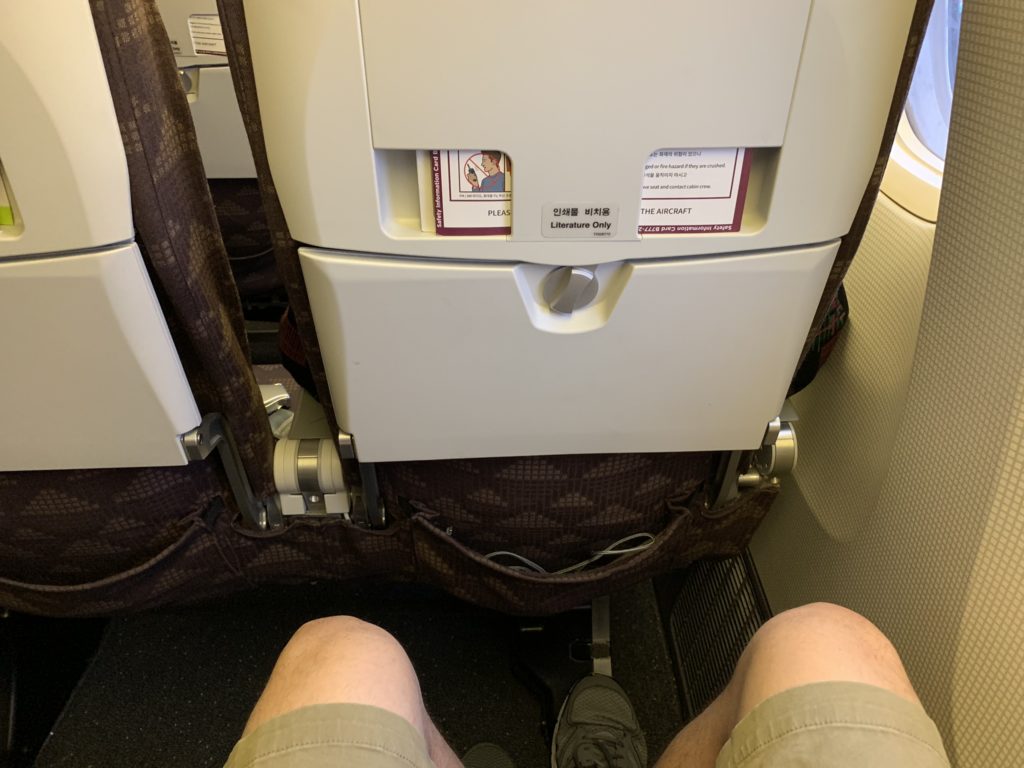 I also downloaded both the Jin Air and Jin Air Play iOS apps before flying, but the former wasn't able to download the mobile boarding pass. It's annoying that the Jin Air Play entertainment app isn't integrated into the main app, but Jin Air is hardly alone in this oversight.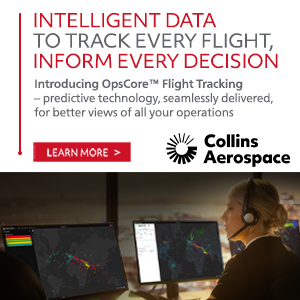 Once on board I was delighted to find the extra legroom rows were indeed exceptionally roomy at about 36 inches of pitch, compared to a still-respectable 30 inches of pitch down back.
Yes, width-wise the 3-4-3 seating layout is tight, but thankfully there were only a few takers for the extra legroom section and I found myself with an entire row to myself. The rest of the aircraft, however, was absolutely packed.
Unlike United's high-density Boeing 777-200, Jin Air has placed the passenger service buttons on the inside of the armrests rather than on top of them, so passengers do not accidentally hit buttons from gate to gate.
While Jin Air Play and the carrier's onboard wifi kit supports streaming entertainment, the content library is sparse. I'm not sure if this is due to the short nature of the flight or if it's the norm for all flights. The available content was free for this flight and worked as expected.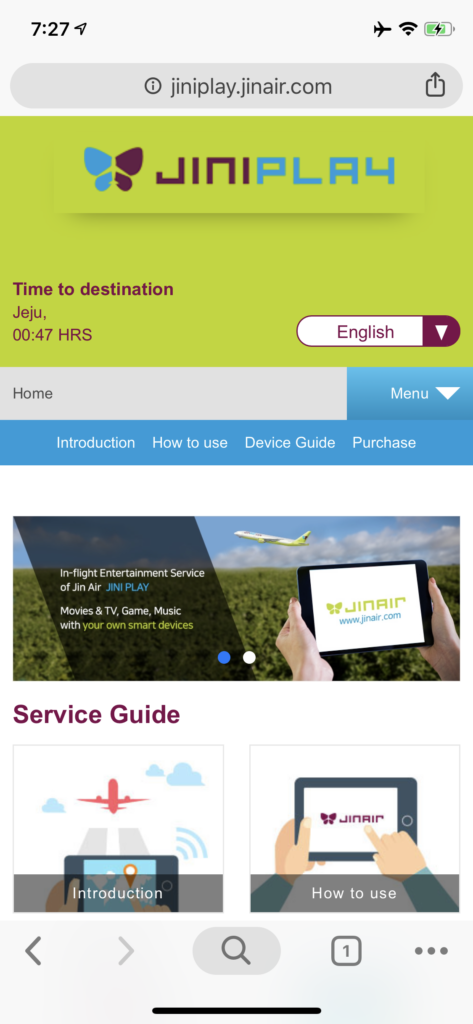 Prices on longer flights range from $2 all the way up to $20 for content on services to Hawaii or Australia. The portal provided some extremely basic flight information, but did not provide a functioning flight progress map.
Each row has AC power outlets under the seats, a fantastic and somewhat unexpected perk to have on a low-cost carrier.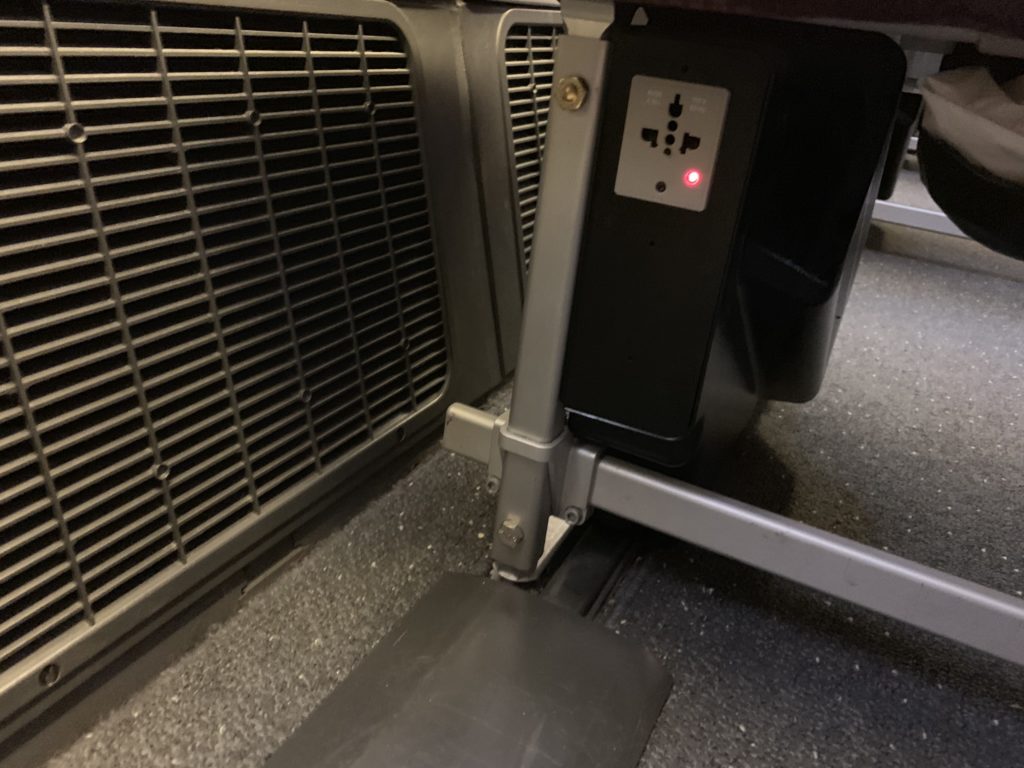 The crew was able to offer a rushed buy-on-board service on this short flight. Options ranged from a $2 can of soda and a $4 Starbucks Doubleshot iced drink to a $5 Pale Ale from The Booth Brewing Co. (this beer is brewed in collaboration with the Denmark-based Mikkeller microbrewery).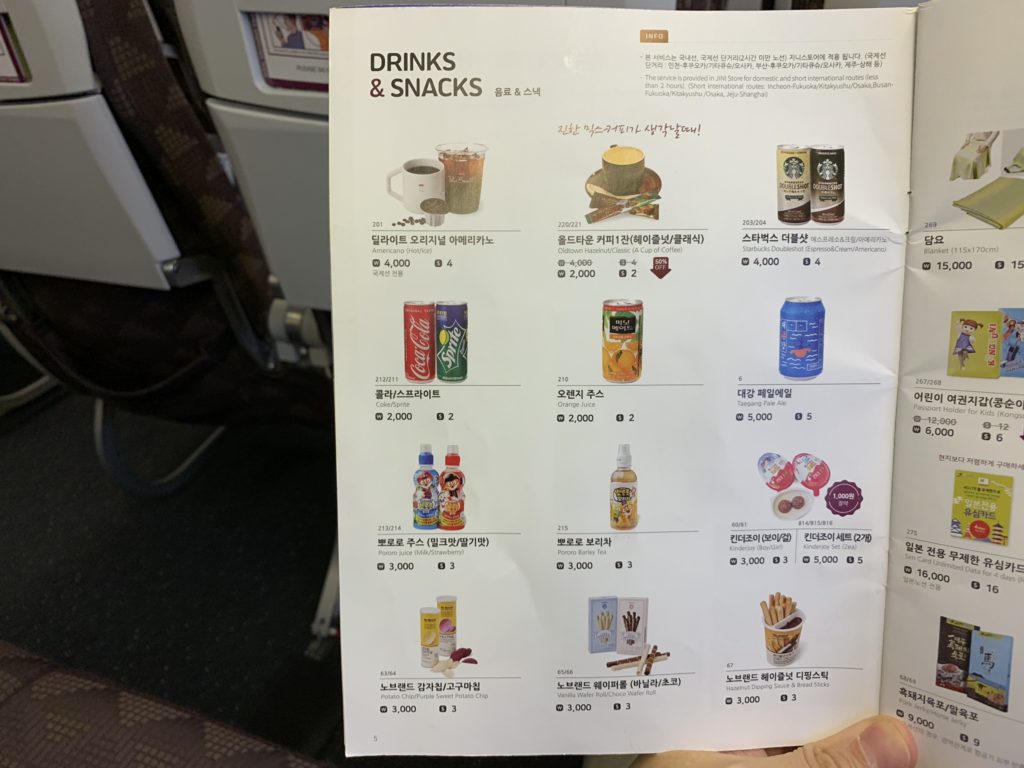 I was simply floored to see this small airline offer a signature beer and advertise it prominently. Far too many airlines offer an uninspired selection of drinks, or do not list all of them on their printed menus. Some small snacks were also available for purchase, but I ordered only one beer for this evening flight.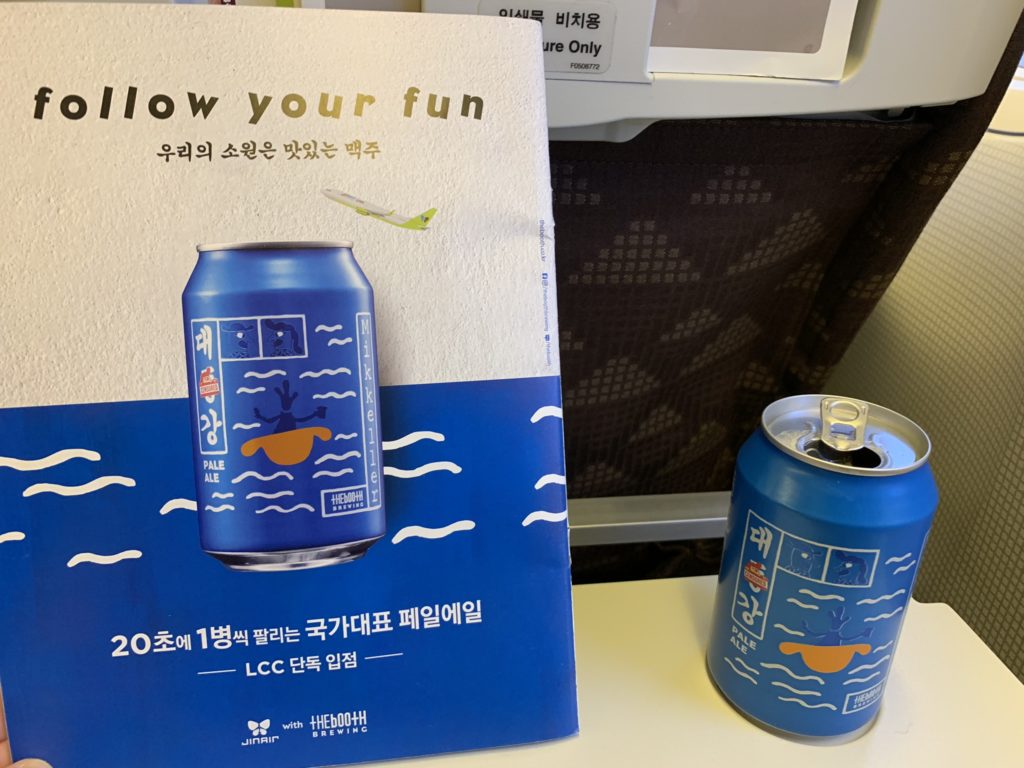 There's really not much more I could ask for on a domestic hop on a low-cost airline. My expectations were exceeded in regards to seat pitch and the buy-on-board product. I would not hesitate to fly a Jin Air 777 short-haul again.
Related Articles: