As any mother who is juggling a career will tell you, achieving a "work life balance" can be incredibly difficult.
Before joining travel technology specialist and global distribution system operator Travelport, Erika Moore served as SVP of international sales at Aeromexico, leading the airline's sales, marketing and distribution strategies. There she managed Aeromexico's integration into the SkyTeam Alliance, and took a leading role in forging the bilateral alliance between Aeromexico and Delta Air Lines.
"It was wonderful," Moore says of her time with the airline, but when she decided on a sabbatical to have a baby, she believed it to be the end of her 'professional calling'.
"That didn't last long! I wanted to be back in the corporate world. But I also wanted to be home more, with my daughter, so in 2010 I took a Travelport position as country manager for Mexico. I thought it would be like a part-time job, but there's really no such thing. My responsibility steadily expanded across the rest of Latin America and the Caribbean, and then I moved to the US."
Now she's Travelport's vice president and general manager for commercial business in the US. The company's high-tech strategy employs a B2B platform to connect travel buyers with travel suppliers. But it's not an airline, so what's the attraction?
"I'm extremely driven and curious about life, about people, always willing to learn and broaden my horizons. But I think more particular to me is that I'm a huge fan of understanding different cultures, points of view and ways of looking at things, and I get a real thrill from implementing new ideas."
Is she the person in the strategy meeting who, just as agreement is reached, suggests a better way? Laughing in acknowledgement, she says: "Yes. But I am very good at execution. I don't just throw the abstract out there and walk away, I stick around to see it through.
"Our primary vision is to make the experience of buying and managing travel continuously better," she explains. "We want to ensure we're delivering technology that satisfies the needs of the travel industry across an entire journey, from when the customer first thinks about a trip to when they get the taxi home."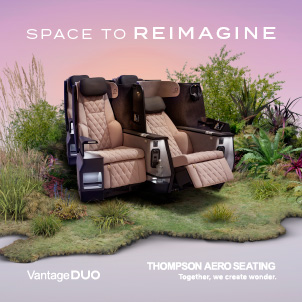 An enthusiast of culture and alternatives, and naturally inclined to embrace diversity, Moore is a great role model. Now nine, her daughter need look no further than home for inspiration. "I asked her recently if she'd prefer me to travel less. 'No Mom, I like telling my friends where you've been. I don't like it when other moms only travel for their holidays.' It made me really proud, although she thinks my working day is 'talking on the phone'," notes the Travelport executive.
"As a professional woman I see that a lot of work still needs to be done to fully realize opportunities for women. In Latin America women are more aggressive – it's expected and accepted. But the US has a corporate etiquette that needs to be followed and it requires care to ensure everyone's included and taken along on the journey."
Moore believes the key to encouraging girls and young women into the aerospace and travel industries is education.
"I think few colleges understand everything the travel industry has to offer in terms of careers or how diverse it is. There's a lot more that can be done to showcase the possibilities – particularly for women," she says.
"Female role models are a must. I'm an active supporter of coaching, enabling and mentoring women across the industry. I do it to help the individual and as an example for my daughter. I see our younger generation becoming stronger and less inclined to assign particular language, preferences or even sports, to boys or girls. It's generating a culture in which girls are more often encouraged to try things, where in the past they'd have found a less uncertain path."
Travelport, meanwhile, is not just talking the talk, but is walking the walk when it comes to embracing diversity. The GDS on 1 June implemented a new booking code for non-binary gender airline passengers. The new code offers the option to choose "X", rather than "M" or "F", when a passenger is required to provide such advance passenger information. 
"As a company committed to diversity and promoting travel for all, we are delighted that the new code for nonbinary gender passengers has now been introduced," says Travelport president and CEO Gordon Wilson. "We hope more airlines will provide this option to ensure their customers are fully respected and welcomed. For us 'X' marks a vote for diversity, dignity and respect."
Related Articles: