Satcom Direct, master distributor for Intelsat's new FlexExec inflight connectivity service for business aviation, is temporarily suspending new FlexExec service installs following the in-orbit failure of the Intelsat 29e high throughput satellite, and as performance restoration is validated in specific regions.
"Following the total loss of the Intelsat 29e spacecraft on April 18, existing customers in the North America, South America and North Atlantic regions have continued to retain connectivity through the inbuilt layered wide-beam coverage offered by the network. However performance has been slightly degraded and SD is working with Intelsat to implement revised network configurations," said SD Business Aviation president Chris Moore in a statement provided to Runway Girl Network.
"The open architecture design of Intelsat's network allows Intelsat to quickly bring other assets into the network to restore, and even improve, performance capabilities. However, the anomaly of IS-29e is unprecedented in the commercial satellite industry, and thus, still poses significant challenges. Business aviation aircraft are also among the most challenging systems to deliver connectivity and as such, it is taking due time to implement, validate, and release new configurations."
Consequently, SD has made the decision to temporarily suspend near-term installations of FlexExec while the restoration plan continues to develop, and the system is extensively validated before further installations are conducted.
Last year, at the NBAA convention in Orlando, Intelsat launched the new managed FlexExec end-to-end service for business aviation, representing its foray into offering the BizAv community a specific service. Intelsat vowed at the time that the new service will not share capacity with airlines.
Satcom Direct was chosen to serve as master distributor of FlexExec, as part of the new SD Xperience platform. "SD will have immediate access to Intelsat's global, flexible and proven Ku-band satellite fleet, including the Intelsat EpicNG high-throughput satellite (HTS) platform," Intelsat said. The FlexExec architecture is supported by satcom products from Astronics, including its latest tail-mount antenna in the Ku-band. FlexExec offers speeds of up to 10 Mbps, supporting streaming video, cloud-based services, email, voice and text.
Yet with capacity on other key satellites helping to fill the void left by Intelsat 29e, it's understandable why SD's growth plan for FlexExec is presently cloudy.
Moore said SD believes the firm's temporary suspension of FlexExec installs "is in the best interest of our customers, allowing SD to test and confirm performance before moving forward with additional sales. Both SD and Intelsat are committed to full restoration of the FlexExec service and anticipate performance recovery by the end of this year."
Asked by RGN if Intelsat is updating the market on its restoration efforts for customers who relied on 29e capacity, company director, investor relations & corporate communications Michele Loguidice said: "The resiliency, redundancy and reliability of our network – resulting from a large fleet of wide-beam and high-throughput assets, the open-architecture nature of Ku-band as well as an existing restoration agreement that we have with another operator – enabled us to provide and implement a path to restoration for our aero customers.
"We continue to be in close and active communications with our customers and are committed to providing them with the level of service that they have come to expect from our network. In terms of Satcom Direct, they are a valued partner of Intelsat's and we continue to work closely with them."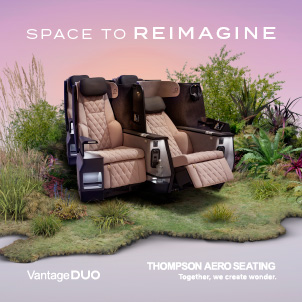 The challenges created by the loss of Intelsat 29e beg continued questions about the broader impact of the loss on commercial airlines.
Panasonic was anchor tenant on 29e, and supports inflight connectivity on a variety of carriers crossing the Atlantic. RGN has sought an update from Panasonic about what contingencies have been employed, if the IFEC firm is satisfied with the result, and if any aircraft are flying dark.
During an interview with RGN to discuss TAP's growth strategy and his interest in the newly-launched Airbus A321XLR, TAP co-owner David Neeleman said he recently used the Panasonic Ku-band service aboard a TAP A330neo and it is "working good". He noted that travel journalist Peter Greenberg was on TAP's recent San Francisco A330neo inaugural and the Internet worked for him as well.
Related Articles: