More than ever, airlines are educating themselves about inflight connectivity hardware and not solely relying on service providers and integrators for that education.
There are a variety of reasons why more direct conversations between airlines and suppliers are taking place. Some operators are disappointed with the performance of first- and second-generation antennas and modems, and quite simply want to make sure they know about all replacement options.
Data protection rights are also evolving, so carriers may consider moving aspects of their connected aircraft activity in-house to ensure greater controls.
Additionally, a more direct approach from airlines could ultimately be driven by financial considerations. Certain service providers covered the cost of first- and second-gen connectivity hardware for airlines in exchange for revenue-share on passengers' paid sessions and advertising, and are now grappling with the financial consequences of those decisions. It may behoove airlines to – if nothing else – see what the unbundled financials and guarantees look like for comparison purposes or to steer service providers and integrators in a particular direction.
Lufthansa and Delta Air Lines already play a material role in maintaining the connectivity hardware on their fleets, via their behemoth MRO operations, Lufthansa Technik and Delta TechOps, respectively. As a result, they are intimately familiar with their connectivity systems, across suppliers.
Whether these and other airlines will go even further in terms of in-house connectivity work remains to be seen. But Delta is already taking an in-house approach to its new wireless seatback IFE system, which was originally developed in partnership with inflight connectivity service provider Gogo for the Airbus A220. Delta's still-new Delta Flight Products unit has since taken full ownership of delivering seatback wireless IFE to the carrier's brand new Airbus A330-900neo and A321neo fleets, and when retrofitting the system to its Boeing 767-400s.
The DFP solution, which features Hitachi tablet displays, is completely Delta-sourced. Interestingly, as American Airlines is rumored to be reconsidering seatback IFE for its domestic fleet, as reported by View From The Wing, Delta Flight Product's lower-cost alternative might even be under study, though readers should file this nugget in the "seriously unconfirmed rumor" category. An American spokeswoman tells RGN the carrier is "not rethinking" its decision to focus on wireless solutions for domestic aircraft.
As for what Lufthansa Technik is seeing in the market, head of connectivity Lukas Bucher tells RGN, "It is certainly smart to think about how could it be done differently and whether that would include having more parts done internally and be more vertical or not. I guess that is an open and maybe only starting discussion."
At a minimum, says ThinKom Solutions chief technology officer Bill Milroy, "on the stuff that they're going to put on their aircraft for 10-plus years, they [airlines] want to do their due diligence". That's why the antenna maker is having more direct talks with airlines including at the big annual #PaxEx shows – the Aircraft Interiors Expo (AIX) in Hamburg and the APEX Expo, which will return to Los Angeles this year.
"[W]e're more excited than in years past particularly because more and more airlines are seeking to consult with us," says Milroy in reference to ThinKom's experience at AIX. "We are not aware of any airlines that are pending – there are no pending press releases where an airline is going to be buying our antennas – but it seems like things are moving in that direction. And certainly, we feel like we're being successful in the sense that if we're talking to airlines and we believe the airlines are very proactive and liking our tech…"
Delta is among the carriers pleased with ThinKom's technology, says Milroy. "So we're building up on that, and we think there may actually be these conversations that we just sort of fantasized about before, where maybe the airlines are going to service providers and saying, 'we really like that ThinKom antenna, how can we have that antenna work with your service.'"
Many options
ThinKom's Ku3030 antenna was white labeled by inflight connectivity service provider Gogo as 2Ku. In addition to flying on Delta's domestic fleet, the system is equipped to aircraft operated by Air Canada, Alaska Airlines, carriers within the IAG group, Japan's JTA, Virgin Atlantic and others.
While there is exclusivity to ThinKom's arrangement with Gogo as long as Gogo meets certain Ku3030 order requirements – and they are doing so, assures Milroy – ThinKom does have an opportunity to grow Ku3030 business with regional jets, business aircraft, and government aircraft, "and there are a few other details in terms of antenna size".
But ThinKom is not constrained in how it sells its new, smaller Ka2517-branded Ka-band antenna, which it has packaged with a radome. The Ka2517 system is also being positioned as Ka-band satellite service agnostic, with Milroy noting, for example, that Ka2517 is compatible with Inmarsat I-5 and I-6. The system has also been flight-tested over North America in preparation for its much-teased forthcoming commercial adoption. And earlier this month, ThinKom announced the completion of successful live demo tests of the Ka2517 antenna with Newtec next-generation satellite modems over Avanti's HYLAS 4 satellite.
Unlike electronically steerable antennas (ESAs), ThinKom's phased array antenna is mechanically steered, a distinction that meets IEEE professional standards, notes Milroy when pressed by RGN.
One of the misperceptions about phased array, he says, is that phased array can only work in low latitudes. But ThinKom's antenna is "closing links pretty routinely at 5-degree elevation angle. These are flights going polar up into 77 north, generally from Asia to London Heathrow or into Scandinavia, very high."
During AIX, stakeholders also showcased full-fledged ESAs on the show floor – among them, Safran (former Zii), which has built a nextgen antenna for Inmarsat's Ka-band-supported GX service; and Astronics AeroSat, which has collaborated with Phasor on an ESA. Astronics AeroSat expects to deliver its first generation ESA – in the Ku-band – in late 2021.
Astronics AeroSat president Matthew Harrah explains why the firm is attracted to Phasor's efforts: "The big driver behind that is I think just the overall technical maturity that we've seen out of the development team at Phasor has really been very good. And so, from an engineering discipline standpoint, from the way that they're approaching the engineering process, and the fact that we've seen systems working on the range – transmitting live data – so the you know, the maturity of the product that Phasor has today is exactly in the kind of space where we feel like you know okay, 'this is something real' and we want to make sure like everybody else that you've got a sure bet in the market in terms of technology and Phasor was certainly in the front of where we saw that piece being."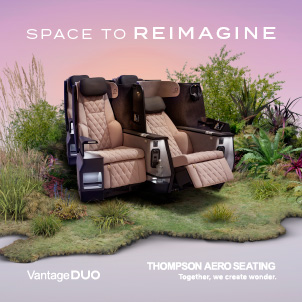 The other piece with Phasor "that really pulled us in", says Harrah, is the fact that on the technology front, the system "has a single array that's doing both transmit and receive and that's really critical. Where you see a lot of separate TX and separate RX, we're doing dual channel receive and a single channel transmit out of one array so when you look at the size, the weight, the power, the things that really matter on top of the airplane, phased arrays are always questions, and that was one of the things we think is a key differentiator in the market that is actually a great benefit to the an airline because it does simplify the installation."
Other messaging that might tempt airlines? Harrah notes that Astronics AeroSat in partnership with Phasor is starting with a Ku-band ESA, and suggests that Ku high throughput satellite (HTS) performance "is rivaling Ka and they're going toe-to-toe so it's really a matter of customer preference".
With more choices comes more homework for airlines and indeed their service providers.
Related Articles: