While United Airlines is the odd man out in offering an East Coast "shuttle" service, it operates the New York LaGuardia to Chicago O'Hare route about as close to a shuttle-like service as possible. With at least hourly service between 6am and 9pm on weekdays and a meal service carve-out, it sure feels like a shuttle.
Granted, the perks that make a shuttle a shuttle aren't present. But to be fair, they really aren't present on the shuttle-branded flights by competitors. Things like reduced minimum check-in times and free standby on earlier flights are unimportant or nonexistent on the Delta and American shuttles, so the playing field is nearly level between United and the "shuttles", regardless of branding.
My flight would be operated by an Airbus A320, featuring the airline's relatively new First Class seat. A pre-departure beverage was offered as boarding progressed and wrapped up about ten minutes early. Unfortunately, due to a technical issue with some paperwork we pushed back about 20 or so minutes late.
I got better acquainted with the First Class seat as we waited to push back. While there is a solid amount of storage space I found a good bit of it to be oddly placed, such as the "laptop" slot on the left side. It's probably tricky to clean inside this slot and I wonder if smaller items are difficult to retrieve if dropped inside.
The recline mechanism on the seat was cradle-like, where both the seatback and seat pan moved. I found it plenty comfortable for this flight.
I loaded up the United iOS on my iPad to browse the extensive and free entertainment options. The system was not available during boarding at the gate, but went live during taxi.
While United's new First Class seat has a device holder built into the tray table, I opted to hang my iPad from the back of the seat in front of me by wedging the case in the headrest mechanism. Having to look down at a screen for two hours didn't appeal to me as I fear neck strain, and the screen can become blocked by other items on the table.
The seat makes one power outlet available to each passenger but does not include a USB port, limiting passengers to charge one device at a time unless they have a multi-port adapter. This seems like a silly decision for such a new seat, hopefully one United will revisit in the future.
I took a pass on the $18 full flight Internet offer, powered by Panasonic Avionics' eXConnect Ku-band satellite service. United brands its Panasonic Ku system as "basic" connectivity, stating that it is best suited for web browsing, email and messaging.
United is now taking delivery of used A319s which will be equipped with Viasat's Ka solution, which the airline allows video streaming on.
This flight would typically be too short for a full meal service, but United offers one to stay competitive on this business traveler-heavy route.
The options presented were an oatmeal and fruit platter or a ham and egg sandwich with a side of fruit and yogurt. I picked the egg sandwich, which was perfectly fine and better than a similar offering by Delta on the Airbus A220 inaugural flight to Dallas a few months earlier.
The real star of the meal, however, was the warm and terribly unhealthy but absolutely delicious cinnamon bun.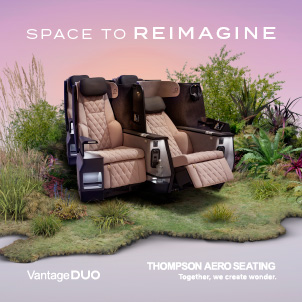 I'd pay to have that served as a standalone item in Economy as long as I wasn't counting calories.
Despite the late pushback from the gate we touched down in Chicago as scheduled, taxing around the airport for a bit before finally finding our gate.
It's great United realizes that it has to offer an elevated level of service on this route, even if it doesn't brand it as a shuttle. My expectations were met or exceeded in most respects.
Note: United provided the fare of an Economy Plus ticket for the author, and the author upgraded to domestic First Class using a Global Premier Upgrade