As airline seats become more complex, more customized and more detailed in terms of color, material and finish, keeping them fully functional for every flight — and looking as intended — is an increasingly difficult task.
As a rule, that's true for anything that comes into contact with passengers, and no matter how much seatmakers test for robustness, at some point the seat will need immediate line maintenance.
Even beyond the simple failure of a component that leaves a seat immovable in one position, a passenger might drop their passport down the side of the structure, for example, or a mobile phone might slip into the mechanisms and risk an onboard fire.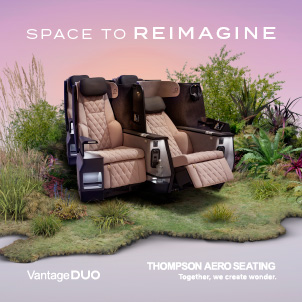 The production of a gaggle of cabin crewmembers all trying to remember their training on how to open up the seat to fix it, to retrieve a phone or pluck out another lost item is not only wasted time but a disruption to the rest of the cabin — and also risks further damaging the seat if the steps for disassembly are carried out incorrectly.
Seatmaker Jamco has a solution: mixed reality, which it demonstrated impressively at last month's Aircraft Interiors Expo.
"Mixed reality," John Cornell, Jamco's manager of product research and development, tells Runway Girl Network, "is when you're combining the physical touch — actually touching an object that's real, but using augmented virtual reality, overlaying with the HoloLens over the physical plant that you're touching. That allows you to move the object, place it exactly where you need to place it on the aircraft, for what we would consider optimal maintenance."
Jamco is demonstrating the technology using Microsoft's HoloLens smart glasses, which project additional instructions, diagrams and demonstrations onto their lenses.
"You want a lean maintenance process?" Cornell asks rhetorically. "How do you consistently perform that at any maintenance facility around the world? You give explicit, clear instructions, visually, so in any language you can understand exactly where to place it."
As one example, Jamco suggests that using mixed reality can reduce the amount of consequential seat damage — all the way down to eliminating scratches caused by internal mechanisms coming into contact with the surface materials during maintenance. As an example, if disassembling a seat midflight to retrieve a cellphone, the system visually shows crew exactly how to "place the seat pan against the cushion so that you don't scratch the paint. You're never going to have scratched paint because we're telling you exactly the optimal maintenance procedure," Cornell says.
Crew can feel more confident carrying out rare but necessary tasks without having to dredge up training from their memories or flip through paper (or, increasingly likely, electronic document) versions of their procedures.
"Something that rarely happens can be performed perfectly without having to remember training that you had twenty years ago, ten years ago, whatever it is," Cornell notes.
Jamco is clear that the technology isn't restricted to the HoloLens platform. Augmented and mixed reality are already happening on personal electronic devices like phones and tablets, with Apple's ARKit framework enabling everything from the Ikea Place app (view furniture at real size inside the room) to a variety of gaming applications.
Could the technology extend to crew PEDs? "Certainly," Cornell says. "It doesn't have to be a head device that you're wearing. This gives you a hands-free methodology to do the augmented reality maintenance, but you could also have augmented reality in the iPad, and it's pointing arrows: this is where you need to check, check this, check this. Maybe some troubleshooting steps to get you to an open seat again."
The end goal, says Cornell, is shared between airlines and seat manufacturers: "we don't want to have any blocked seats."
Related Articles: