Roughly three years after signing a definitive agreement to acquire Emerging Markets Communications (EMC) for $550 million with the aim of benefitting from "significant" network and operational efficiencies, Global Eagle has announced it is considering divestiture of various business assets including the potential sale of its Maritime, Enterprise and/or Government (MEG) business units as well as equity interests in joint ventures.
"This process is the result of repeated inbound interest from numerous parties over the last year," said CEO Josh Marks during a  conference call to discuss the company's first quarter results.
Pertaining to the potential divestiture of MEG units, Marks said: "We are being opportunistic in our evaluation, as there is no certainty that we will transact as we have positive momentum in the MEG unit. We are seeing significant improvement in profitability and cash flow performance from the actions taken over the last year."
Should Global Eagle proceed with divestitures – and Marks insists there is no pressure to do so, noting that Global Eagle has "adequate liquidity and numerous liquidity levers" – it would be quite the pivot for a company that in 2016 had very grand designs on being a power player in multiple mobility markets under then-CEO Dave Davis. Yet, following the EMC acquisition, Global Eagle said it had to perform triage in several areas, including in accounting.
Paul Rainey, who was appointed CFO in 2017 and who helped with that triage will leave the company on 31 May, as Global Eagle has appointed former Ciber and Hewlett Packard executive Christian Mezger to the position. Rainey was credited by Marks for, among other actions, improving accounting and remediating "important material weaknesses" in Global Eagle's internal controls.
Global Eagle's acquisition of EMC – which at the time added over 1,500 vessels – was executed one year after competitor Panasonic Avionics bought ITC Global. Both firms talked economies of scale after their purchases. But in contrast on the call, Marks spoke of the uniqueness of aviation, noting that Global Eagle's aviation business is presently Ku and increasingly HTS in nature, while the MEG unit uses global Ku and C-band service. Modem infrastructure, baseband-wise, is also separate, he said.
Yes, Global Eagle has taken advantage of certain joint procurement between aviation and maritime in the past, such as bandwidth, said Marks, but "for the most part, we have kept the legal and operational structure of the entity separate. And you know, philosophically, part of that is driven by the fact that aviation connectivity continues to be a very unique business, one that requires a very significant amount of engineering knowhow and I think an area where we have differentiated ourselves in program execution. It's very, very challenging to drive aviation connectivity from concept through to certification and then successful live passenger service."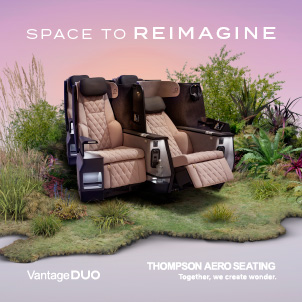 Listeners on the call might perhaps be forgiven for mistaking it for a sales pitch for MEG. If the unit has "very strong trajectory right now in terms of cash flow and improvements", with Global Eagle doubling TV revenue since acquiring EMC and growing continually at a mid-teens pace, why not stay the course?
A leaner organization might prove attractive to would-be MEG asset buyers. Global Eagle, which has been in cost-slashing mode in a bid to become cash flow positive by year-end, is eliminating 23 VP, SVP and EVP-level roles throughout its entire organization. It is also consolidating facilities, and will have exited 18 by the end of the year.
During the first quarter, MEG revenue (derived from wifi connectivity, global TV broadcasting and equipment services) was $41.3 million, comprising 48% of Global Eagle's total connectivity revenue and 25% of its overall company revenue.
By 31 March, Global Eagle was providing services to 285 cruise and large ferry vessels, 230 yachts, and 457 ships and rakes in the commercial shipping and energy field. Cruise revenue, specifically, was $16.2 million. "In the context of our cruise contract reset in the fourth quarter of 2018, this was good performance," said Marks.
Going forward, revenue from the shipping and energy segment is expected to be flat this year, as Global Eagle focuses on cruise and yacht business where it can leverage its entertainment and service capabilities.
On the inflight connectivity front, Marks said the firm saw quarterly revenue of $45.3 million for the quarter, representing an increase of $8.4 million over the prior year, with Air France and Southwest aircraft installs cited.
It reported a consolidated net loss of $37.6 million on "record first-quarter revenue" of $166.6 million, representing a $10 million improvement year-over-year. This 6.5% year-over-year growth was driven by aircraft installations in Global Eagle's connectivity segment and commencement of media and content contracts announced in previous quarters. Global Eagle finished the quarter with liquidity of $51 million and is at about this level today, according to management.
Full-year 2019 revenue could be adversely impacted by Boeing 737 MAX program issues to the tune of approximately $3 million to $4 million, with about half of that impact potentially dropping to the bottom line, said Marks. He expects the MAX to return to service in August.
As previously reported on RGN, Global Eagle has secured a new inflight connectivity program, though it did not disclose the EMEA airline's identity. The company expects the award to become "our second largest fleet, serving both Boeing and Airbus single-aisle aircraft", said Marks, noting that its existing content relationship with the operator played a significant role in helping to win the business.
Related Articles: