With deliveries of new CRJ regional jets featuring Bombardier's updated Atmosphère cabin to Delta, American and other carriers progressing apace, the Canadian airframer is seeing much demand from airlines for retrofit options for their current fleets — so much, in fact, that it decided to send its cabin mockup to a customer rather than to the Aircraft Interiors Expo earlier this month.
Suggesting wryly that "we need two mockups with the success we've had with it," vice president and head of marketing Patrick Baudis told Runway Girl Network in Hamburg that, as a result, "our presence will be a bit limited in terms of booth this year because of that, but hopefully we can come back with something next year."
Eight aircraft with the new cabin are already flying with launch customer Delta, and in the coming month American and certain unnamed customers are also expected to take delivery of Atmosphère, featuring bigger bins, a more modern design and the option of a lavatory suitable for people with reduced mobility. (There is currently no regulatory requirement for single-aisle aircraft to have accessible lavatories.)
"The big picture at Bombardier," said Baudis, "is that the C Series went to Airbus, in a great partnership there, and in the meantime we had the transition that we are currently doing, the Q400 to Longview, and we are now focussing entirely on the CRJ at Bombardier."
A key part of that focus is on the retrofit market for Atmosphère. "That's what we're gauging at the moment, to be frank. Everything can be done in aviation, right? Technically it is fully retrofittable. Is it making sense from a business case from an airline standpoint? That's what we are gauging at the moment. I think the bins are the big catch there," Baudis explained, in a message similar to that from Airbus about the larger Airspace bins on the A320, which are now being delivered to launch customer American.
"Looking at the fitted equipment, like fixed monuments, galleys, there's plenty of new cool things in there on the Atmosphère cabin, but is this something where airlines will see value to retrofit? It's not necessarily cheap when we start to touch on the monuments in the cabin," Baudis said. "We'll see what we do. We have an established base of CRJs out there. We have a fantastic solution now. We designed it to be retrofittable. Of course we're going to start looking at it now that it's entering into service."
But are airlines beating down the door, or is Bombardier having to work hard to drum up the interest?
"Airlines are asking questions," Baudis said. "It's gradual in this industry, particularly for cabins. You can do any presentation of the cabins, any photo — but the best photo will not describe as best as being in the cabin and feeling it."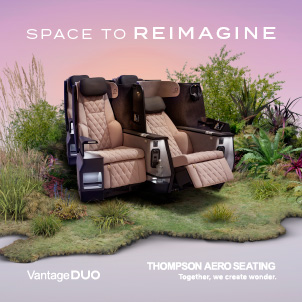 He continued: "In North America in particular, where we have a very big established base of CRJs, you start to see a phenomenon of people focussing a bit more the attention from an airline standpoint into the regional space, moving single-class airplanes into two- to three-class airplanes in this segment. There's a big attention focus that is put on that space at the moment."
Indeed there are some #PaxEx improvements like bigger bins that fit modern suitcases from long-haul to medium-haul and now to regional aircraft, with airlines keen to think about which of the benefits from a new cabin make the most sense to port over to an existing fleet.
"The question comes naturally, particularly when they realize that technically speaking it's feasible," Baudis concluded. "The sweet spot is really, as usual, making something that is attractive from a functionality standpoint, from a cost standpoint — and also from our side in terms of a production standpoint, something that makes sense so it's easy to distribute and bring to the marketplace."
Related Articles: