A huge amount of technological change is occurring in aerospace today. New engine programs are underway to support everything from the return of supersonic flight to the introduction of urban air mobility. The pace of change is such that stakeholders must be fast, flexible and able to quickly execute on key partnerships to build product demonstrators. NDAs need to be signed within days, not months. Appreciating this need to be nimble, United Technologies Corporation (UTC) recently launched a startup-like organization that, in its own words, "disrupts from within".
Known as United Technologies Advanced Projects (UTAP), the organization boasts a dedicated technical team comprising experts from Pratt & Whitney, Collins Aerospace, United Technologies Research Center and certain as-yet-unannounced external institutions. Primarily based out of a Pratt & Whitney facility in Montreal, and a Collins Aerospace facility in Rockford, Illinois, UTAP is working on its first ambitious initiative, called Project 804.
Named thusly because "804" represents the straight-line mileage between the Montreal and Rockford facilities, Project 804 will see UTAP leverage UTC's full engine, electrical, and subsystems integration capabilities to construct and fly a hybrid-electric "X-plane" demonstrator with the aim of opening a new paradigm in aerospace propulsion whilst reducing aircraft noise, improving fuel consumption, reducing carbon dioxide emissions and slashing airline operating and maintenance costs.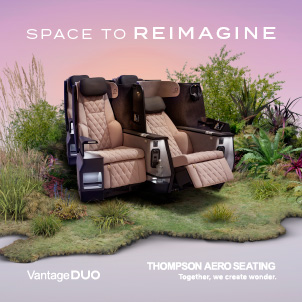 Through Project 804, UTAP will re-engine and fly a Bombardier Dash 8 Series -100 regional turboprop powered by a 2 megawatt-class hybrid-electric propulsion system. "Its configuration will consist of an engine optimized for cruise efficiency augmented by a battery-powered electric motor to assist during the missions' 20-minute take off and climb," stated UTC in a recently published white paper.
"The engine and electric motor will each generate about 1 megawatt of power in a parallel hybrid configuration. While the battery cells are off-the-shelf, the packaging and battery management system (BMS) are custom-designed for efficiency and to meet necessary safety requirements. This approach could be suitable for a clean-sheet regional design as well as a retrofitted option for existing airframes."
A Dash 8 has already been acquired for the project, and UTAP is doing some preliminary scans and working through the preliminary design process, confirmed UTAP executive director Jason Chua to Runway Girl Network. He admitted that the timeline for first flight – in late 2021 – is aggressive, though all parties see it as achievable.
Pulling on talent from Rockford to Montreal
During a ceremony earlier this month in Rockford, Collins Aerospace executives revealed plans for The Grid – a $50 million high-power, high-voltage lab which will design and test systems like high-power generators for the next generation of more electric aircraft. Project 804 is its first customer, with The Grid tapped to help design and test the 1 megawatt motor, motor controller and battery system that will be retrofitted to the Dash 8.
Pratt & Whitney in Canada is, of course, also uniquely positioned to facilitate Project 804. "One of the advantages are they are bringing the engine side" to what UTAP is doing, explained Project 804 director of program management Greg Winn, "so a new UTC engine will be developed in support of the project, that we'll hybridize. They've got the engine expertise for the class of engine we're looking at."
Moreover, Pratt & Whitney holds delegated authority from Transport Canada to operate experimental aircraft. This authority is used, for instance, when the company does engine testing on its 747SP flying testbed aircraft "so they have the ability to do experimental flight and leverage that capability to fly that [X-plane] airplane under that delegated authority", Winn told RGN.
Safety is top of mind
Due to their relative maturity and availability, Lithium-ion (Li-ion) batteries have been deemed the most promising short- to mid-term solution for the combination of power and energy densities that aviation's hybrid- electric systems will require. Addressing safety concerns, the two UTC executives emphasized to RGN that safety "is our number one priority" as Project 804 progresses, and Winn noted that there has been a lot of progress in recent years to improve Li-ion battery safety, though UTAP hasn't firmed up what exactly it will use on the Dash 8. For its initial flights, Project 804's X-plane demonstrator will consider both current performance as well as future promise when selecting cell chemistries.
Proving the economic viability of hybrid-electric propulsion is crucial to the project. So too is improving industry's environmental credentials. Project 804 is very much a 'green wing' initiative, confirmed Winn to RGN. "Yes, that's our primary focus is being able to demonstrate that on this type of aircraft we can demonstrate a fuel consumption reduction of almost 30 percent [during an hour-long mission], so yes, we very much view it as a green application of these technologies coming together and reducing our environmental footprint…"
Asked by RGN if UTC might look to ultimately build a hybrid-electric aircraft from the ground up, Chua said:
So no, we are not trying to become an aircraft OEM. We're working closely with our customers to make sure we're creating capabilities so that when they're ready to put hybrid-electric on their aircraft, we'll be ready so this project is part of what we're doing to make sure we're advancing state-of-the-art technology.
In short, the Project 804 X-plane is intended to create a "certifiable pathway" for hybrid-electric aircraft.
Near-term readiness is key because, as Collins Aerospace CEO Kelly Ortberg predicted earlier this month, "In the not-too-distant future, hybrid-electric and fully electric aircraft will revolutionize air travel as we know it – opening up new markets like urban air mobility, while re-invigorating others like regional service to underutilized airports. They will help support a greener planet by reducing carbon emissions, and will help our airline customers by reducing operating costs and fuel consumption."
Indeed, work is afoot elsewhere, with Diamond Aircraft Industries GmbH in collaboration with Siemens AG last year announcing the first flight of their multi-engine hybrid-electric aircraft.
Fresh projects
While Project 804 represents UTAP's first initiative, the organization intends to build out its portfolio with other disruptive technologies.
Neither Chua nor Winn would divulge specifics, but assured that any new initiatives will have very clear, discreet objectives and will generally be publicly shared, as the startup-like organization seeks to deliver "best-in-class" products and services.
Related Articles: