The Dream Feather brand concept developed by PriestmanGoode for HNA's Hainan Airlines is as light as it is versatile and elegant. Its iconography flows whether represented in the CMF (color, material and finish) of cabin hard product, soft product, aircraft livery or ground services. It is being rolled out across Hainan's entire brand.
Hainan's traditional icon – the abstracted mythical bird creature Garuda – inspires the Dream Feather concept, which was then used as baseline for fabrics and finishes, in red and gold and complemented by shades of grey and charcoal, delivering a soothing cabin environment that is both distinctively Chinese and appealing to international passengers.
Since the project began in early 2017, PriestmanGoode has designed over 200 items. Hainan incorporated some of the new designs in late 2017, but the first new aircraft fitted with complete Dream Feather cabin interiors, a Hainan Boeing 787-9, had its first flight this month. The Dream Feather ground services and signage are already deployed at airports in China and abroad.
RGN asked PriestmanGoode director Chris Parker to share the thinking behind the Dream Feather concept and the challenges of deploying holistic design.
"It's an interesting challenge as it requires a wide range of skills," Parker said. "We have a big team with specialist departments for design, branding, CMF, etc. On a project like this, each of our departments will work closely together, to see how the colors, materials and patterns will translate between for example a seat fabric, a bulkhead foil, an information desk monument, graphic items or digital screens. Rather than designing something that is the same across all platforms, it's about creating a family of colors and materials, a series of shades and patterns that can translate to 2D, 3D and digital applications."
The Dream Feather concept creates a sense of place, representing Chinese culture at all touch points.
"Working for national airlines is just as much about reflecting national culture as it is about brand identity and values," Parker said. "The key element that is emblematic of Chinese culture here is the gold in business and VIP class, and the red in economy. Both colors are important in Chinese culture."
The interior and also reflects sensory values related to the Dream Feather. There's a certain lightness in the combination of elements. There was also a deliberate effort to ensure that, just as feathers refract light to create color, the CMF would respond to the lighting themes which transition gradually from a warm, golden tone for dinner service, through shades of pinks and purples to deeper blues for nighttime.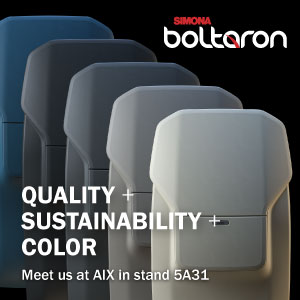 Onboard soft product, including food packaging and menus, have already been replaced with the new designs. PriestmanGoode also designed new Dream Feather tableware, cups, and sleep items which are already in use on some international flights. The natural qualities of feathers are also found in the eco-friendly design of service items.
"Though the focus was more on using the Dream Feather concept as a visual tie with the rest of the cabin, we did look at ways in which we might be able to reduce weight or waste," Parker said. "For instance optimizing the volumes of the glassware items to reduce size and weight; in economy class the lunchboxes were also designed to unfold to create a place mat, minimizing waste."
We can expect to see more of the elegant Dream Feather concept as Hainan introduces new brand elements. "Because the project is so broad, the update is ongoing," Parker said.
Related Articles: