As airlines seek to extend the range and missions of both their widebody and narrowbody aircraft, lightening the load with new technologies is a hot topic — as, indeed, is aircraft lighting, which requires not only power, wiring, harnesses and backend equipment, but also heat sinks. Collins Aerospace's steerable micro-LED lighting system was enough of a gamechanger to take this year's Crystal Cabin Award in its Material & Components category, and the system is indeed impressive not just in itself, but in the way that it can free up often constrained onboard power systems for other uses, including charging opportunities for passengers.
Collins Aerospace's general manager of lighting solutions, interiors, Steven Scover, sat down with Runway Girl Network at the Aircraft Interiors Expo in Hamburg to demonstrate the product. "Basically, it's what the name connotes," Scover said. "It's a much smaller version of the prior generation of LEDs we were using. The difference in terms of our usability of it is that the efficacy in terms of light output has increased, so while size has decreased the ability to get more light out of it has increased greater efficiency that allows us to put it into more traditional style products."
Steerable and shapeable light beams emitted from the LED also enable customization of the lighting #PaxEx.
"Essentially we are taking an LED array, which is inside the reading light and we are steering the white beam by software control to specific portions within the internal portion of the reading light assembly. It then passes through the customer designed optic which will also assist in the steering," Scover explained. "Don't just consider it as a steering mechanism, it's also a shaping mechanism, so you can go anywhere from a round spot of variable sizes to square, to rectangular, to multiple spots and all of that is accomplished through microprocessor control of those individual elements."
Compared with a standard commercial product, the micro-LED is approximately one fourth the size, and is the same element that Collins uses in its flexible lighting systems. In addition, for a like-for-like product, since less heat is produced by smaller LEDs, it follows that a smaller heat sink would likely be required.
The efficiency and means that Collins expects to swap out three regular reading lights and replace them with just one micro-LED, Scover told RGN. "So, don't really think of it in regards to the light — think of it regards to all the ancillary that goes with it, cables, harnesses, cable clamps, et cetera. All that backs out at the same time so you do save quite a bit."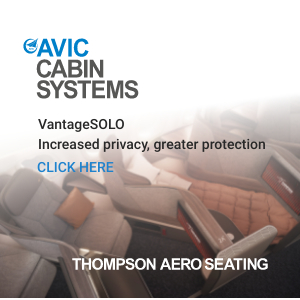 The supplier suggests a 66 percent weight saving over traditional systems, as well as a lifespan for each light that more than doubles from its current 35,000 hours to 75,000. In addition to this business case, Scover suggests, removing a major power requirement from the cabin frees the power allocated to lighting to be used for other purposes: overhead USB power, perhaps, which was demonstrated this show by Lufthansa Technik.
As an example of power reductions using LEDs, Scover pointed (quite literally) to a 48"x54" (122cm x 137cm) flat panel Secant wall display, which contains thousands of diodes and requires less than a hundred watts of power — the same as a bright traditional tungsten home lightbulb.
Collins, Scover said, has plans to expand the use of micro-LEDs as well into other areas of the aircraft. "I think at some point this will transition further into ancillary lighting, meaning emergency lighting systems, fasten seat belts signs, that type of thing: where you don't have a tremendous amount of space to get a large amount of light out of it."
Related Articles: