Steven Greenway, the CEO of WestJet subsidiary Swoop, is convinced that new LCCs or "ultra LCCs" such as his, have ample room to grow in Canada even though the country is not a typical low-cost carrier market. There are large seasonal swings between domestic and international travel while geography dictates stage lengths of up to 6.5 hours. These factors shape a passenger experience that Greenway is already adjusting and open to further change.
"It's an under-developed market in a developed country," Greenway says of Swoop's opportunity. The airline was born from 100% owner WestJet identifying opportunity to stimulate travel; this was partially a reflection of WestJet's own positioning: rising costs but also pivoting to a more full-service, premium platform as it operates Boeing 787s.
Greenway finds WestJet to be a hands-off shareholder about Swoop establishing a position without major risk of cannibalization. "With WestJet moving up-market, that's easy to do," Greenway says. But he also understands Swoop and WestJet have to "make sure we don't trip on each other."  There is also physical separation: Swoop has moved out of WestJet's offices.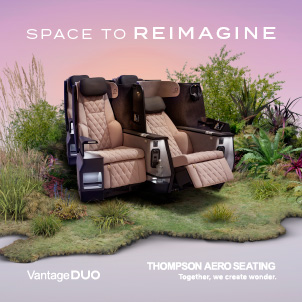 WestJet has transferred to Swoop two-to-four year old Boeing 737-800s that WestJet owned (not leased). Swoop does not operate the now-grounded Boeing 737 MAX, and on 13 March touted its MAX-free fleet on Twitter.
Planned growth will see Swoop continue to take narrowbodies from WestJet. The carrier put its initial 737-800s into an all-economy 189-seat configuration. It inherited the Panasonic Avionics inflight Internet and wireless IFE on these twinjets, as well as in-seat power. And it initially offered all three #PaxEx services.
But RGN can confirm that the carrier has since deactivated the for-purchase streaming entertainment, with Greenway determining that Swoop could not make a business case for the solution, offered via its app. The reasons why are unclear, but RGN reminds readers that the cost of licensing content – even older content for wireless systems in support of BYOD – is not immaterial.
Take rates for paid Internet packages are in the low single digits on Swoop, but Greenway sees an opportunity to adjust the business model and improve take-up even though Swoop's passenger profile is almost entirely leisure-based without business passengers who must have wifi, and can perhaps expense it.
Swoop rationalizes the decision to offer Internet in a statement on its website, saying: "We know Canada is HUGE and flights can be long. Now you can always stay connected for work or play with our onboard WiFi packages."
Even if starting from scratch, Greenway says Swoop would offer powerports at a minimum. "Having power is necessary," Greenway says. "Our average sector is three to four hours."
Meanwhile, Swoop's longer sector lengths see more passengers paying for seat selection. That will contribute to the year end-2019 target of C$40 ancillary revenue per passenger, twice WestJet's amount.
Swoop's new Edmonton-Orlando flight will stretch to 6.5 hours. That raises the passenger expectation – and ancillary revenue opportunity – for hot food. The former WestJet aircraft Swoop uses do not have ovens, but Greenway expects Swoop will trial installing an oven on a sub-fleet for advance-purchase hot food. Greenway says that when he was previously CCO of Singapore-based Scoot, he saw the benefits of pre-ordering to eliminate waste from loaded but unsold meals.
The original medium/long-haul focus of Singapore's Scoot has helped Greenway in his decision-making at Swoop. While Swoop is a narrowbody operator, its flights stretch onto the border of medium-haul and are well beyond the typical 1.5-2 hour sectors for a short-haul LCC. But Greenway does not have plans to Scoot-ify Swoop by taking widebodies.
What is of interest in the long-term are "good narrowbody aircraft with longer range" to reach new markets without the risk and cost of a new aircraft type, he says.
More immediately, Swoop wants to have a greater number of year-round routes. Swoop's network swings from an international, warm-weather destination focus in winter to a summer network that is 100% domestic. "In summer, no one wants to leave – it's a great country," Greenway says.
Swoop will grow into some international summer flying, partially to generate year-round routes that will help ease financial performance from opening and closing seasonal stations. While some airlines stomach winter losses for summer profits, Greenway wants year-round profits at Swoop.
Although North America is considered the birthplace of the low-cost-carrier with the late Herb Kelleher's Southwest Airlines, Greenway sees Asia innovating some practices. One area Asian LCCs are excelling compared to LCCs in Europe and the Americas is in the range of payments, flexibility and installments, he notes.
Related Articles: