Honeywell Aerospace recently partnered with Curtiss-Wright Corp to reinvent the aircraft cockpit voice recorder (CVR) and flight data recorder (FDR) using inflight connectivity. Now Honeywell tells Runway Girl Network it is working "very closely" with satellite operator Inmarsat, a long-time partner, to ensure this 'black box in the cloud' solution delivers on its promises to the commercial airline, cargo transport and business jet markets.
Having provided the aviation industry with traditional black boxes for more than 60 years, Honeywell is eyeing both triggered black box transmissions and true streaming throughout the flight with its new Connected Recorder-25, which uses Curtiss-Wright's recently certified Fortress hardware – a 25-hour CVR/FDR recorder – as its foundation.
"We look at it a lot of different ways," said Honeywell Aerospace vice president and general manager, software and services John Peterson in reference to taking black boxes from their present passive state to a real-time connected solution. One option is to set "a data frame and a frame rate that makes sense until a certain event, and then you accelerate it. It's kind of like, 'hey you're pulling a whole chunk of data every five minutes or every 15 minutes, then all of a sudden an event occurs and you'll be pulling it every 100 milliseconds.' That's one way they're looking at it." A defined trigger event could be an unapproved course deviation, for example.
"Another way is why not take a subset of the data and take that as a continuous stream? And that's another method," explained Peterson to Runway Girl Network. "As it is with data, there are a lot of different ways to do it, and costs associated, and what aspect of that is the most valuable."
Inmarsat's SwiftBroadband-based cockpit communications solution SB-Safety (SB-S) – which runs over the firm's L-band satellites, via onboard avionics hardware produced by either Honeywell or Cobham – is a natural conduit for the 'black box in the cloud' application as it is safety services-approved by regulators, noted Peterson. Moreover, Airbus is already offering SB-S as a preferred line-fit service on multiple aircraft types, and the airframer understands Inmarsat's technology path for the offering includes 'black box in the cloud'.
But while the secure SB-S service would be a natural option for black box transmissions, Inmarsat's broadband cabin connectivity service, Global Xpress (GX) – for which Honeywell is an exclusive terminal unit provider – could also be employed in the event of an emergency.
Said Peterson:
We can already run data over multiple pipes, so you look at what we do today on the Bombardier Global Express, we can run data over L- and Ka-band at the same time on different channels and then we can use Ka, parse up that spectrum and set up a separate pipe in Ka that's just 100 kilobits per second, just doing aircraft type data to the ground, and not interrupt the 5 megabits per second that everyone else has.
In short, Honeywell is effectively already "set up to handle that and manage that in any way they want to", added Peterson.
There are, however, regulatory hurdles to surmount before industry sees real-time black box transmissions over cabin connectivity pipes. "The reason why I mentioned the regulatory front [is] it's hard for airlines to know the exact best ways to invest until they have some guidance as to the solution," said Peterson. Think of the traffic collision avoidance system (TCAS) on aircraft, he urged. It's great technology that "has been fantastic" for the industry, "but if it wasn't for the regulatory people defining it from the beginning", it wouldn't have enjoyed such robust adoption.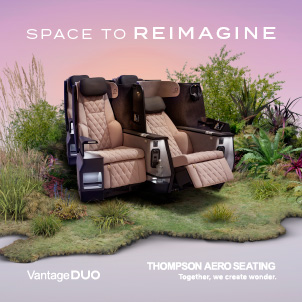 In the near-term, Honeywell's Connected Recorder-25 hardware will surpass the requirements of the upcoming 2021 European Aviation Safety Agency (EASA) minimum 25-hour cockpit voice recording mandates, supporting more efficient operations.
"With the new regulatory requirement, we saw an opportunity to evolve our recorder technology to not only meet the conditions of governing agencies, but also make this product more powerful and better connected, providing aircraft operators with another source of data collection that can be used to improve aircraft maintenance and performance," said Honeywell president, services and connectivity Ben Driggs when the firm announced its agreement with Curtiss-Wright in February.
But ultimately, the hardware can also  support 'black box in the cloud', with Peterson telling RGN: "We are working very closely with Inmarsat in terms of how we handle that, and the data – getting the data off of the aircraft and getting it stored in containers for the airlines. It's a complex offering, a complex solution, and sometimes it's easier to get the hardware done, and the data off the aircraft than to get the rest of it sorted out. We're very closely aligned at the regulator level, hardware level, service level and network level in terms of working to get an actual [final black box in the cloud solution]."
He did not have a timeframe to share with RGN, but stressed "there is a lot going on" at the regulator and network level to make 'black box in the cloud' a reality.
Related Articles:
Featured image credited to istock.com/ozgurdonmaz