Multiple inflight connectivity vendors have contributed equipment to the Seamless Air Alliance's new research laboratory located at facilities provided by alliance member Sprint, Seamless CEO Jack Mandala tells Runway Girl Network.
In a bid to pull together a skunkworks-type of team, Mandala during a December members meeting requested resources and time specifically from members that are actively participating in the group's specification work. "Eight or nine companies" said yes, Mandala says. "We now have this great testbed to validate the ideas we're coming up with."
The Seamless Air Alliance was specifically created by Airbus, Delta, Sprint and others "to enable passengers to use their connected devices in a seamless way" ensuring that they can connect without login or credit cards as enabled by their current mobile operators. In the alliance's view, the 5G passenger experience of tomorrow requires standards that can be adopted industry-wide today.
The standards-based organization is already "testing out what's possible" with the unnamed vendors' hardware at the Sprint-provided space, ensuring Seamless has the "street smarts" to take its specification work "further, faster", says Mandala.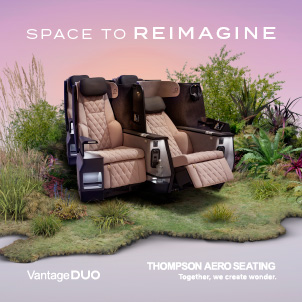 Seamless' growth trajectory is simply remarkable, with long-standing competitors now working together. Over 120 executives from member companies are participating in the alliance's three working groups, according to Mandala. While members are not sharing proprietary IP, "I think people are beyond the skepticism of 'what's this alliance about?' Now we have Etihad, for example. They are not a Delta/SkyTeam partner, but they're in as part of the alliance. And any standards-type of effort is supposed to be for the good of the industry and that's really what people are starting to realize here."
Given its long-standing work in inflight cellular communications, SITAONAIR's recent decision to join the alliance makes a lot of sense. An early member, Panasonic also has a legacy in inflight GSM via its AeroMobile unit, and AeroMobile CEO Kevin Rogers is "excited about what we're doing", says Mandala, acknowledging – perhaps for the first time publicly to press – that these two firms have already "done a part of what we're trying to do" at the alliance.
Two notable IFC stakeholders which have not yet joined the alliance include Gogo (despite early reports to the contrary) and Global Eagle. Both companies have faced various challenges in recent years. During Gogo's fourth quarter earnings conference call, CEO Oakleigh Thorne said the firm is now less likely to sell one of its divisions. Addressing the remaining portion of Gogo's $162 million convertible notes due March 2020 is now key, with management saying Gogo is pursuing several good solutions, including involving potential investment. For its part, Global Eagle as expected is implementing a global workforce reduction (committing recently to roughly a 15% reduction). Some well-known aero industry executives have left the firm.
Asked by RGN if Mandala has an update on Gogo and Global Eagle's plans for joining the Seamless Air Alliance, he says: "I have nothing to share but we are talking to them. We are talking to them periodically. [I] hope they will join, nothing to announce."
As previously reported by RGN, Seamless has published a 'version 1' specification document that covers network architecture, onboard radio access and authentication, definitions and requirements, roles and entities, and regulatory constraints. These areas have been identified as core building blocks for each of the working groups to address.
The alliance's next member meeting is in mid-March in the US (it has agreed to hold meetings once per quarter and alternate between face-to-face meetings in the US and internationally). It will have a presence at AIX in Hamburg, the Paris Air Show and the APEX EXPO.
Related Articles: