For its forthcoming flagship Boeing 777-9 seating program — and to a smaller extent the less ambitious Airbus A321neo aircraft arriving for regional China-market subsidiary Cathay Dragon — Cathay Pacific is working markedly more closely with suppliers to reduce risk, even in advance of the usual early milestones, general manager customer experience and design Vivian Lo explained to Runway Girl Network during an extensive and wide-ranging interview at the airline's Cathay City headquarters.
"What we've done with the 777-9X program is that we've done a lot more co-creation," Lo said, referring throughout the conversation to the Boeing jet's previous pre-design-freeze moniker, suggesting just how long Cathay has been working on the project.
"We've had many months of co-creation even before ITCM [the initial technical coordination meeting], so we bring together ourselves, the seat suppliers, the IFE providers, and the airframe provider. Every month we get together, churn out issues, foresee problems, think about maintainability, think about execution, think about program risk, think about delivery risk." The outcome, Lo summarized, is that "every month you're coming to conclusions and agreements about certain elements, all of that agreed even before ITCM."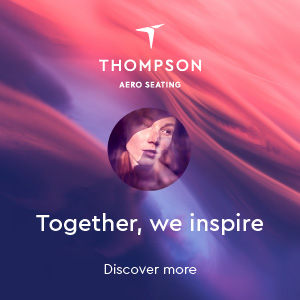 The goal is to "space out and envisage possible risk" from throughout the aircraft, particularly from an interiors standpoint.
This approach, Lo said in the frank and open interview, comes "instead of just taking a product either off the catalogue and doing customization — or, in the past, I think a lot of my predecessors working with designers would come up with a blue sky design that could be a vision on the ground, that can't be implemented in flight, and then you go to delivery and you meet a lot of delivery issues because you can't foresee downstream issues."
Those issues created the extensive, ongoing and well-documented set of quality, production, reliability and look-and-feel problems with Cathay Pacific's Airbus A350 business class product, manufactured by Safran Seats (formerly Zodiac Aerospace) based on the Cirrus III model.
"What we believe is that a lot of the issues that we saw in the A350 were actually a lack of appreciation of downstream risk," Lo said, and suggested that in the new process these "would be avoided, because all these partners are being consulted at the same time, and on a monthly basis are making agreements to say 'this can be done, this cannot be done'."
"You want to stretch the boundary of what is the best customer experience, not just at design stage, but at delivery stage," Lo explained. "There's really a lot we've learned from the A350 experience, much better collaboration between ourselves, engineering and inflight services in terms of knowing how to provide service as well as downstream maintainability, and a choice of materials that can be maintained over time. It's useless to choose materials that look perfect on the day of launch but cannot be maintained. That's a very big thing that we've done very differently, especially for the 9X program."
This engagement does not, however, stretch as far down the value chain as the thermoplastic manufacturers, Lo confirmed.
"We don't talk with the sub-suppliers directly, but we have a lot of conversations about the choice of the materials. When we have that discussion, it is in collaboration with my team, the engineering team, and the seat supplier, as well as our industrial designer, so you're really envisaging a lot of the downstream issues, also banking on a lot of the expertise that our industrial designer has, as well as a lot more discussions about the seat quality, especially for first class."
Cathay Pacific provided flights to enable this interview.
Related Articles: