After just 18 months, an ambitious Build-A-Plane project in rural Scotland has seen its first student "builder" take flight, helping young people in the area realize the opportunities provided in STEM fields.
The Build-A Plane project represents a collaboration between Scotland's Kinross High School and Aero Space Kinross, a subsidiary of the Aero Space Scientific Educational Trust (ASSET), a co-operative community benefit society.
Starting in November 2017, a team of Aero Space Kinross volunteers began immersing students in STEM learning through the construction of an AeroPro Eurofox kitplane.
On 1 March of this year, George Ross, an instructor with more than 4,000 flying hours, lifted off at Fife Airport, Glenrothes, with 14-year old Aaron McKay in the passenger seat of the Eurofox.
"I was proud, nervous and excited in equal measure when the plane took off," Sarah Brown, head teacher at Kinross High School recalls. "Proud of the young people, the staff and Aero Space Kinross volunteers who had seen the project through. Nervous for Aaron, because I knew he felt a great responsibility as the first pupil to fly in the plane, although I knew he was more than capable of coping with the pressure. And excited because this was a unique project that our young people would be recognised for."
McKay was selected as the first student to fly for his unstinting dedication to the project. For him and his fellow students, it was a celebration of their involvement in the remarkable Aero Space Kinross Build-A-Plane project. "It was a truly brilliant experience. Hectic as we got ready to take-off, but once we were up and I had a chance to take the controls – amazing," he says.
"When we started the project, I was stunned to find out it was a real plane that we were building. The fact that we were fully involved in the whole process really made the experience a brilliant one for me." So much so, he says: "I can really visualise taking forward my interest in STEM subjects and perhaps going on to a career in aviation engineering."
Proving yet again that there's nothing like a plane to stimulate aviation awareness, Brown says: "There has been a lot of community interest in the project, demonstrated in particular by a parent who works at W.L. Gore & Associates, a company expanding in aviation and which sponsored a trailer for the plane.
"The idea of building a plane has inspired young people who were not immediately attracted to science and engineering to consider different paths. It has been a remarkable achievement that demonstrates to our pupils that with hard work, perseverance and support, anything is possible."
ASSET chairman Alisdair Stewart says a group of seven shareholders has responsibility for keeping the Eurofox airworthy under its Light Aircraft Association Permit to Fly. The maintenance routine will also provide learning opportunities for students. An ex-Royal Air Force aircraft engineer of 28-years' experience is assisting the project and Stewart says he will explain and demonstrate the servicing tasks and documentation requirements.
Winning the services of a veteran engineer was an unexpected bonus, but far from the only one. Stewart explains: "A young avionics engineer volunteered to help. He turned out to be a former Kinross High School pupil. The fact that he's based in Reno, California, working on Formula One Air Racing aircraft provided a great example to the pupils of the life opportunities the aerospace sector potentially offers."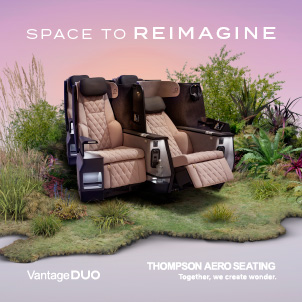 Going forward, Aero Space Kinross aims to introduce as many Kinross High School students as possible to the sheer joy of flight – and give them a fresh perspective on the beautiful Scottish landscape," Stewart says. It's an intention Brown applauds.
"The project has shown me there are many highly skilled and enthusiastic members of the wider community who want to share their passion with the next generation. Talking to the pupils involved, I've been struck by how many are now considering a career, or qualifications, directly related to aviation."
The cooperative also has grand ambitions to construct a world-class aerospace centre in the beautiful heart of rural Scotland, with education and inspiration among its primary aims.
Related Articles: