Panasonic Avionics' vision for streamlining customs and immigration processing using inflight entertainment systems "serves as the perfect example of possibilities" for using cameras in IFE, posits Airline Passenger Experience Association (APEX) chief executive officer Dr. Joe Leader. Other applications include seat-to-seat video conferencing, inflight wellness monitoring, gaming, and security.
But before the technology can be fully exploited for these and other applications, airlines will want to receive "explicit customer permission", Leader stresses.
Concerns about the presence of IFE cameras arose after a Singapore Airlines passenger observed a camera hole on the carrier's Panasonic Avionics seatback IFE, and a tweet to the carrier went viral.
Panasonic Avionics IFE systems are purpose-built in Osaka, Japan for airlines. These are not tablet-based IFE systems, such as found on Delta Air Lines' new Airbus A220. So the cameras on Panasonic Avionics IFE are purpose-built as well. Passengers quite rightfully asked – am I being watched?
"I have to do what my daughter does with her iMac, sticker over lens," quipped a regular reader.
Singapore Airlines responded directly to the passenger on Twitter, explaining that the cameras are disabled and that it has no plans to develop any features using them.
Stressing that it takes airline passenger privacy "very seriously", Panasonic Avionics released a formal statement, assuring that while cameras are included as part of its IFE systems, "at no time have these cameras been activated or used in any manner by either Panasonic Avionics or its customers. The cameras have simply been included to support potential future applications like seat-to-seat video conferencing."
In tight seating configurations, one might see the benefit of seat-to-seat video conferencing functionality, perhaps especially when friends and family members are not seated together. "Communicating by voice alone typically triggers customers to speak more loudly in a noisy aircraft environment. Communication via screen provides a visual aid to customers that prefer less high-volume communication," notes APEX in a press release detailing potential future applications for IFE cameras.
It's a twist on various IFE technologies that have already been developed. Virgin America offered seat-to-seat messaging via its IFE system (without using video). And in 2017, Emirates and Panasonic announced a host of new innovations for the carrier's newest Boeing 777-300ERs, including a "Room Service Video Call" feature to enable first class passengers to communicate in real time with cabin crew using video chat functionality from a tablet controller.
But seatback immigration is arguably one of the more intriguing use cases for IFE cameras.
The notion was first teased in the fall of 2017, when Panasonic and biometrics solutions company Tascent announced plans for a strategic partnership.  Tascent founder and CEO Alastair Partington later explained: "With customs and immigration clearance being a common touchpoint in all international journeys, we believe that it makes sense to offer passengers a range of convenient choices to expedite these processes. In-seat clearance could well be one of those options: different traveler demographics have different preferences and different privacy concerns, and these will be best accommodated by offering them different clearance options. For example, my mother would feel extremely uncomfortable using a smartphone app to clear customs and immigrations, but she'd more than happily follow clear instructions on a trusted seatback unit at 38,000 feet!"
Not everyone is thrilled with the idea.
Yes let ICE have access to the camera, sounds awesome.

— Liem Bahneman (@Liembo) February 24, 2019
There are, of course, myriad regulatory, privacy and technology hurdles to surmount before such a scenario is feasible. But in the meantime, Panasonic Avionics is promising it will never activate any feature or functionality within an IFE system without explicit direction from an airline customer.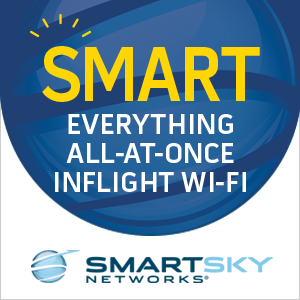 "Prior to the use of any camera on a Panasonic Avionics' system that would affect passenger privacy, Panasonic Avionics would work closely with its airline customer to educate passengers about how the system works and to certify compliance with all appropriate privacy laws and regulations, such as GDPR," states the company.
Leader agrees with this approach, telling Runway Girl Network: "For airlines and their suppliers, these cameras provide a perfect example for our industry to lead on providing genuine explicit concern and disclosure."
He continues: "For future applications, there is no environment quite like an airline seat for eye control of a screen if desired. The passenger sits in a defined area where airlines could serve as technology leaders. Just think about all of the hand controls in use today across airlines rather than touch screens. The airlines have been burned before by not being prepared for the future. Cameras allow them not only to prepare for the future, but set the example."
Related Articles: