Panasonic Avionics' pivot to sell Inmarsat GX as a primary offering for new inflight connectivity business is broadly creating fresh opportunities for Viasat, the head of Viasat has confirmed to Runway Girl Network.
In divulging its fiscal third quarter earnings, Viasat revealed it has won expanded IFC contracts with United Airlines – an additional 34 used A319s which are joining United's fleet – and Aeromexico, which increased options for Boeing 737 MAX connectivity from 18 to 60 planes. The United deal in particular came as a surprise to industry observers, given that Panasonic connects United's current A319s and recent reports suggest service is improving as Panasonic rolls out its third generation network.
Without going into detail about any particular airline program, Viasat chairman and CEO Mark Dankberg told RGN: "You sort of need a constantly growing supply of bandwidth, that's how we look at it. Over time, there will be more demand for more bandwidth, more passengers per plane [using IFC]. You need a steady flow of bandwidth, and if you don't have a future in it, it brings into question what will be."
Noting that airlines "in general are pretty professional about not complaining about or denigrating the other providers", Dankberg added in reference to the new opportunities stemming from Panasonic's pivot that, "you can certainly see that's the obvious conclusion".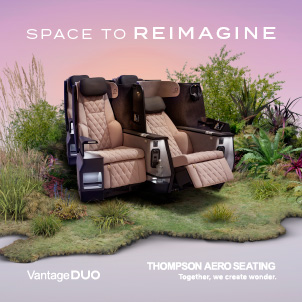 If Viasat was asked to rip and replace any particular Ku or Ka-band system for an airline, would it be able to oblige the carrier fairly easily? Would it seek to retain a certain amount of kit?
"So, that question comes up all the time, and for us, we started in this business with Boeing, on Connexion by Boeing, so one of the very first issues was, Boeing said 'we're going to exit the business,' and they had 200 or 300 planes at the time with Lufthansa and Japan Airlines and they wanted someone to take over. And our equipment was on the planes. We have been involved in these discussions of how much you can save, keep, we've done that exercise for over ten years. We're pretty good at it," said Dankberg.
Key to determining if a rip and replace makes sense, he said, is understanding what an airline is trying to achieve – does it want a differentiated service, for example – and what are the contractual terms that the previous supplier had, and the timing of retrofits. "But I would say it's doable."
A total 1,123 commercial aircraft are now flying with Viasat inflight connectivity, according to the Carlsbad, California-based firm. A new Valour Consultancy report suggests Viasat has the greatest momentum in the market. And Viasat is now laying claim to being the fastest growing IFC provider.
A big chunk of Viasat's growth has come from American Airlines, whose senior director marketing customer experience, onboard products & partnerships Brian Richardson said at the recent APEX TECH conference that 455 American aircraft now carry Viasat Ka, and that over 800 domestic aircraft will offer the service in the long-term. All will offer free access to Apple Music for passengers.
Does Viasat see opportunities to equip long-haul aircraft at American Airlines, as it builds out the ViaSat-3 constellation (American is a Panasonic IFC customer for long-haul aircraft)? "Yes, and that's pretty much what we said on the call," said Dankberg, noting that the main attraction for American is Ka-band coverage.
Also during APEX TECH, American's Richardson said the US major might offer Apple Music on Gogo 2Ku-fitted aircraft, which would indicate that 2Ku is similarly capable to Viasat Ka. And indeed, Routehappy by ATPCO ranks Viasat Ka and Gogo 2Ku service in the same Netflix-streaming-capable category. But unsurprisingly, Dankberg doesn't see the services as being on par, saying the passenger experience on 2Ku-fitted aircraft will be based on how many people use it.
"The big issue I think for us or anybody is you've got to ask the question – will there ever be enough Ku bandwidth to make it work at scale when you have a large fraction of passengers engaged," said the Viasat CEO. Moreover, he suggested that nobody is talking about new Ku spotbeam satellites, with Intelsat's Epic buildout complete, Telesat not focused on Ku GEO, and SES doing O3b mPOWER. Its SES-17 satellite is Ka-band, he noted. Meanwhile, there are several Ka spotbeam projects – "ours and others".
Your author pointed out that the APSTAR-6D satellite – which will be used by Panasonic over China and on high-density routes around East Asia – is still a go.
"I would call it a one-off. I'm not sure that's enough to build a business around," responded Dankberg.
In terms of securing more long-haul IFC business, Dankberg noted that Viasat has "done pretty well so far" in being able to make arrangements with other people's satellites. "We do it in Australia, Europe. Hopefully [we will] be able to talk about doing that in Brazil and other places in the world where we can expand our coverage."  To wit, Italian leisure carrier Neos will offer Viasat Ka on its 787s, and exploit KA-SAT, which is a jointly-owned satellite between Viasat and Eutelsat.
Viasat has also made longhaul connectivity gains using its own satellites; it announced today that EL AL Israel Airlines is launching Viasat Ka-band inflight connectivity on key transatlantic flights, leveraging the ViaSat-2 satellite.
But Viasat also expects to secure business for its hybrid Ku/Ka-band connectivity solution, with Dankberg telling RGN that airlines are "absolutely" interested in the hybrid, as they'd rather have 80% of their seat miles covered by Ka and "blow away what others can do", and offer Ku on the other 20%, which "will be no worse than what others can do".
"Those are the kind of conversations we're having," he said.
Driving fresh interest in the hybrid in commercial aviation is the success of Viasat's government contracts, with Dankberg noting that, "We already have global service, a demanding customer, that customer is happy with us, extending our contracts for eight years". Moreover, the hybrid worked on a cluster of Virgin America aircraft before the carrier was acquired by Gogo 2Ku customer Alaska Airlines, and it offered "really good coverage to Hawaii at a time when nobody really had Hawaii coverage at all".
The Viasat CEO said he expects some IFC providers are growing desperate, and that their bids to airlines reflect that. Does he really believe that some providers will continue to pursue sweetheart deals with airlines?
"Yes, until they're dead," he said flatly.
He added that Viasat is "still seeing what we would consider to be well below cost offers".
Given the PaxEx.aero report that Gogo plans to pursue a more formal split of its business aviation and commercial aviation divisions, RGN asked Dankberg if there are any assets in Gogo's portfolio that Viasat finds interesting.
He said: "Well, their business service seem to be a good service."
Related Articles: