Personalized, targeted advertising has changed the face of online advertising on the ground, but it hasn't yet been exploited in ways that enable airlines to meaningfully monetize their in-seat and wireless inflight entertainment and connectivity (IFEC) systems and content.
That's why the Airline Passenger Experience Association (APEX) has formed a special committee to elevate advertising opportunities in aviation, including through programmatic ad buying for inflight consumption. In creating the new committee, APEX has also embraced the opportunity to amplify more diverse voices, as advertising has made great strides in improving female representation in recent decades.
"The truth is part of the reason why we started our Airline Advertising and Ancillary Revenue (ARC) committee was to actually bring a breath of fresh air and new people to the forefront of aviation using advertising monetization as something that needs to be included in our conferences…", explains Global Eagle VP global advertising, sponsorships and partner marketing Kimberly Creaven, who chairs the ARC committee, and who is all too aware that some experts in this particular field "are outside of the aviation space".
Women who are involved in aviation and advertising are well represented in the APEX ARC committee. In addition to Creaven, Spafax media sales director Mary Rae Esposito, North Coast Technologies director Susan Tran, Global Eagle director of advertising and sponsorship Kaye Smith, and Safran staff program manager Mrudula Yalamanchili are listed as participants.
"That was important for me and the group to include diversity," Creaven tells Runway Girl Network.
ARC is a neutral platform in that IFEC competitors Spafax, Gogo, Global Eagle, Panasonic Avionics, Thales, and Safran (formerly Zodiac) are working together to build the advertising and ancillary revenue side of the industry, something they have not collectively done before but which is sorely needed as these stakeholders ready to roll-out targeted advertising for IFEC systems.
"We compete every single day in the form of advertising contracts, CSP contracts, etc, but we put that all aside to focus on how we are going to make this ARC committee more formal in the aviation industry," notes Creaven.
The first step for the group is to bring together terms and terminology to ensure all players are speaking the same language, especially as content service providers (CSP) look at bringing programmatic advertising buying to IFEC, and ergo accommodate new technical requirements to certify ad impression reporting systems.
"For instance, if you're an airline and you're talking to a connectivity provider, what is a take rate? We all have different definitions of what a take rate is, so our number one goal was to bring a whole different element of people together, include diversity and bring new people into the APEX community, and use advertising as a reason why," says Creaven.
She continues, "Once we get the glossary of terms, and put this language together, we'll have airlines globally take a look at the glossary and share it, and hopefully that will a big step to bringing it under the APEX umbrella too."
The ARC is aiming to deliver the glossary of terms in the next 60 to 90 days. "It's happening very soon," assures Creaven.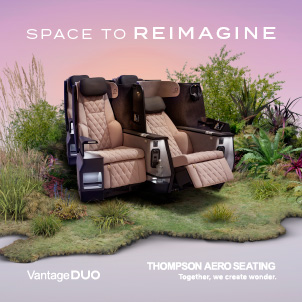 On the ground, Ad-ID is the industry standard for identifying advertising assets (broadcast, print and digital) across all media platforms. The Ad-ID system generates a unique identifying code for each advertising asset digitally, and applies that code to all media. It is billed as greatly improving communications between agency, advertiser, media and their associated vendors.
Participating in a panel alongside other advertising heavy hitters including Google at the recent APEX TECH conference in Los Angeles, Ad-ID executive director Harold Geller urged the aviation industry to adopt the same terminology as already used in the ad industry, noting that airlines "need to think about themselves as media publishers".
Ad-ID's work is certainly being studied, with Creaven saying, "I think we are aligned with Ad-ID in that they'll come to us when they need the information in terms of what does the world want, what does the advertising community want, and are we there yet with the technology side of it [in IFEC]. So yes, we do work together."
This fall's APEX EXPO in Los Angeles will be ARC's venue to share the glossary. "If everyone hasn't seen the glossary, we'll make sure they see it. We have a working strategy document that we're putting together. It looks at the big picture of advertising going on in the world, and narrows it down to our world [IFEC]. We'll have all of that ready to share, likely during an educational session at the APEX EXPO," says the APEX ARC chair.
The ARC committee is also challenging industry leaders to provide better and faster data, analytics and best practices to improve the efficiency and revenue generation of airline advertising and sponsorship. The reason is simple: within five years, advertising opportunities in aviation will be really big, according to Creaven, and the cloud will play a pivotal role in delivering content.
"When you look at the 4 billion passengers going up to 6 billion passengers in two years, this is cool and fun and not to be silly, it's in the air, it's exciting, it's sexy, and I think more and more brands will make programmatic advertising more of [a] priority for them but our airline channels will always have that 'human' touch to deliver strategic campaigns to global branding partners," she says.
"Airlines are coming with partners and we're coming with partners, but it's our job to bring different brands to airlines. Once our strategy deck is put together for the ARC, I'm going to have some agencies and brands take a look at it. Because there are a few travel initiatives that airlines do take today. I'd like to take this on the road to those agencies to make sure the brands know how to get in front of the audiences. So, it would be more of a proactive campaign for the industry."
Aiding in IFEC's monetization would be a feather in the cap for APEX TECH, whose members meet regularly to advance standards and best practices in the industry. "That room is full of intelligent experts who know how to build airplanes and launch satellites and they too love aviation. But what they do struggle with is the advertising side. Instead of it being an afterthought, it's something we need to think before we build portals, screens and wireless seats. It needs to be much more proactive instead of reactive, which is how it's been handled for years. This was the perfect setting to introduce the topic and how we can come together as a community to deliver highly sought after media assets," notes Creaven.
It's heartening that the public face of such a meaningful committee is that of a woman executive with ample experience working with airlines (Creaven previously worked at Delta Air Lines and American Airlines). But during the APEX TECH conference, Creaven was the only woman on the panel dedicated to discussing advertising opportunities in aviation. It didn't sit well with her.
"There should be some sort of standards of equality. That whole entire two days skewed men. I think I was the only woman on Day 1," she says. "I really don't like the direction this is going and plan to address this with APEX and suggest having more equality representation on each of the discussions."
Joe Leader, the CEO of APEX and the International Flight Services Association (IFSA), agrees that APEX has a responsibility to continuously advance the airline industry in every way possible, and believes the association has made great strides on this front.
"For women in aviation, I believe that we are leaders. As APEX/IFSA, we are the second largest global aviation association proudly leading with a  majority female senior staff, media leadership team, and overall team. The same holds true for IFSA as an integral pillar of APEX for inflight service," says Leader.
"With APEX TECH, we are fortunate to have a growing number of women in leadership roles. Kim Creaven's founding of the ARC committee serves as an excellent example. APEX TECH Connectivity Working Group leadership features best-in-the-industry co-chairs including Lufthansa Group's Dr. Stephan Schulte, APEX Board of Directors' Mary Rogozinski, and Boeing's Laurel Matthew. The newest member of the APEX TECH Leadership Team is KLM's Linda Bos. She is an advanced technology and blockchain expert that will be featured at our next APEX TECH in May."
But the all-male and nearly-all-male panels at myriad aviation conferences should not be ignored.
For his part, Leader is eager to invoke more positive change. "In my time as CEO, the APEX Board of Directors proudly advanced from one woman to four women on our 11-person board. APEX EXPO 2019 has three female CEOs and Presidents confirmed already as keynotes and for the APEX/IFSA Board of Governors. On a personal level, I believe that it is my social responsibility as CEO to positively advance our world for women, minorities in our industry, and LGBTQ community members. Anything less simply looks back to the past rather than proudly towards the future," he says.
Related Articles: