Air Tahiti Nui has four brand new Boeing 787-9 Dreamliners set to fly between Tahiti and Auckland as well as Tahiti and Los Angeles. And where there are new Dreamliners, there are bound to be #PaxEx particulars to discuss. So what has Tahiti Nui done?
The first of the Tahitian Dreamliners took off in November and the most obvious change – the one passengers will notice most while waiting in the airport – is the livery which is now a deeper ocean blue incorporated with two lighter blue shades representing the lagoon and skies over Tahiti. The white Tiare flower, the airline's logo, is now surrounded with a collection of native tattoos.
Vaihiria Kelley, Air Tahiti Nui's director of marketing and sales for North America, said the tattoos were handpicked for their meaning and symbolism. "The Tiare flower is encircled by ripples on the water with a flock of birds which represents friendship and helping others," she explained.
"Ocean waves represent our ancestral home, life and continuity, while the manta ray represents wisdom, protection and elegance. These are just a few examples of the symbols that adorn our fuselage, but they are a strong representation of our bond with our culture and our desire to share it with the world."
Other tattoos include a seagull which represents freedom and an elevated perspective, a whale that represents strength and abundance, a Tiki and Tiki eye to watch over the flight, and fish hooks which symbolize prosperity, abundance and luck.
The two red lines on the lower side of the plane have been carried over from the old livery and represent the flag of Tahiti, itself a symbol of the 118 different islands of French Polynesia and its people.
Like most 787 operators, Air Tahiti Nui touts the unique wellbeing features of the Dreamliner. "The Dreamliner offers three attributes which other aircraft currently do not have: a lower cabin pressure (pressurized at 6,000 feet), cleaner cabin air featuring an innovative purification system known as 'gaseous filtration' and lastly, more moisture in the cabin air which has shown to reduce symptoms of dryness and increase comfort," noted Kelley. She also highlighted the "extensive" seat selection the airline undertook when configuring the cabins.
Key attributes of the Air Tahiti Nui 787 interior, including in 2-2-2 business class and 3-3-3 economy class, have been previously reported by Runway Girl Network. But your author would like to draw your attention to premium economy. Bridging the comfort canyon between business and economy, the Tahitian Dreamliners come with a new premium economy product called Moana.
The Zodiac (now Safran Cabin) Z535s seats are 20.4″ wide with an installed pitch of 38″ and an additional recline of 8″. The Panasonic Avionics inflight entertainment monitor is 13″. An amenity kit comes with each brightly colored turquoise seat in premium economy, and includes a blanket, pillow, and toiletries.
Inflight connectivity, via Panasonic Avionics' eXConnect satellite broadband system, is available to passengers.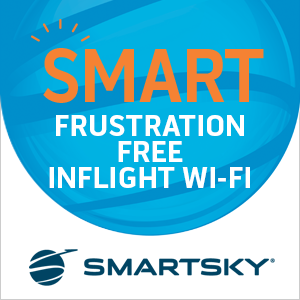 But some other new and fun perks Kelley highlighted include espresso machines, an excellent wine list, prints from Gaugin's Tahiti period, the colorful print selections for cabin pillows which represent traditional Tahitian arts and crafts, and the palm leaf wallpaper in the cabins.
Additionally, the Dreamliner will be more fuel-efficient than the previous fleet of Airbus A340s and will use wheat straw cutlery and recyclable plastic on board.
"But the real show stopper, in my opinion, is the beautiful mural on the outside galley wall showcasing Bora Bora's Mount Otemanu," Kelley said, "which immediately transports passengers to a relaxing, vacation state of mind as soon as they board the aircraft".
Air Tahiti Nui only has one Dreamliner making the trip from Papeete to Los Angeles and Auckland but another one will begin a route from Papeete to Tokyo next month. Eventually, the airline will phase out its older Airbus A340s by September, which is not-so-coincidentally, the airline's 20th anniversary.
Related Articles: