When Air China vice president and general manager, North America, Zhihang Chi, this spring told attendees at the Global Connected Aircraft Summit (GCAS) that his carrier hadn't yet been able to make the business case for adopting inflight connectivity, despite the fact that passengers – especially millennials – want to be connected, some industry veterans may have experienced a case of deja vu.
Three years earlier, during a China IFEC Summit, executives from Air China and China Eastern talked openly about the difficulty of advancing IFC initiatives when the return on investment is unclear.
The ROI challenge is especially acute given that China engages in some of the most extensive Internet censorship in the world, and only this year started allowing passengers to use their smart phones in-flight.
"I've had conversations with my chairman, my CEO and the person I hate the most, my CFO – and I never win that ROI battle," Chi joked at the GCAS event in June, as reported by Via Satellite.
Months later, in September, Chi doubled down on his comments during Euroconsult's World Satellite Business Week conference in Paris, where he cited the carrier's fiscally conservative nature, its continued inability to calculate the ROI for IFC, and China's regulatory environment as among the reasons why it had not equipped its fleet, as highlighted in a Space Intel Report.
Apparently, nobody in the audience saw fit to remind Chi that Air China had in fact selected Panasonic Avionics eX3 in-seat IFE and global connectivity services for 10 Airbus A350s to ensure passengers can "keep in touch with friends, families, co-workers and current events everywhere these aircraft fly", as detailed in a press release published by Panasonic in 2017.
The first Air China A350-900 – which was delivered in August and initially placed into service on domestic routes – carries the signature connectivity antenna radome, photos of the twinjet show. Pricing and other particulars have not been divulged by the carrier, and it is not clear if the service is live yet. But Chi's statements about not seeing a business case for IFC certainly create confusion, particularly given that he expressed them a full month after the first IFC-equipped A350 was delivered to the carrier.
The Air China executive can, however, be forgiven that the A350 deal was not top of mind. After all, the carrier has participated in multiple trials with various inflight connectivity service providers and their requisite Chinese partners for years.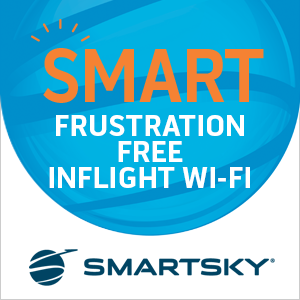 In 2013, Air China tested Inmarsat SwiftBroadband on an Airbus A330 flying between Beijing and Chengdu. One year later, on the very same route, Air China tested air-to-ground (ATG)-supported connectivity using kit from ZTE (perhaps best known in IFC as supporting Gogo ATG in the US).
In 2016, the carrier launched a commercial trial of Global Eagle Ku on a Boeing 777, with China Unicom and China Satcom listed as partners on the project.
Air China also agreed to trial Inmarsat's Global Xpress Ka-band service, under a MOU signed in 2014 with Honeywell. In fact, the carrier was expected to be the first to launch GX on an A330, according to Honeywell. But by 2016, as Inmarsat and the Beijing Marine Communication & Navigation Company Ltd. (MCN) announced their intent to create a JV to provide cabin and cockpit connectivity solutions to the Chinese aviation market, it was apparent that the GX trial had not yet taken place.
Financially challenged HNA Group's dance with multiple inflight connectivity partners has been no less dizzying, with various deals brokered through the years with Global Eagle, Gogo and Thales.
Gogo's former CEO, Michael Small, in 2016 warned that Gogo might walk away from its agreement with HNA affiliate Beijing Shareco to equip 2Ku to 50 aircraft in China, after Global Eagle announced it would form a joint venture with Shareco and become an exclusive provider to HNA aircraft. Though the proposed JV was ultimately thwarted by US regulators, it is notable that Gogo does not list HNA airlines as customers.
One keen industry observer quips half seriously to Runway Girl Network, "I personally consider anything related to connectivity in China over the years, especially with Hainan, DOA."
Given the raft of collaborations that started with a bang and ended in a whimper, it's understandable why the market is confused about China's near-term IFC opportunities.
"In China we've seen a lot of shopping going on, but not a lot of buying. You see a lot of trial activity, very loud public comments from the CEO of Air China saying, 'I don't need connectivity solutions today.' But that doesn't mean that they are not shopping, and they might change that position if the right offer appears in front of them," CarlisleIT director of product management, integrated products Jeff Behlendorf tells RGN.
"What you see there is three main airlines and they are owned by the Chinese government, China Eastern, China Southern, and Air China. They are all trialling various systems, but they never seem to make a decision," adds CarlisleIT director, sales – IFEC/interiors Kris Samuelson.
An exception, of course, is Panasonic, which continues to have a firmer foothold in China than other inflight connectivity providers. Enjoying linefit offerability across most aircraft types, Panasonic benefitted for a spell from being the only provider authorized to offer inflight connectivity on flights over the mainland in partnership with China Telecom. China Eastern, for example, more than tripled an IFC order with Panasonic  in 2016.
When Panasonic announced in March of this year that it would be anchor client on the high-capacity APSTAR-6D satellite, which has been jointly designed by China's APT Mobile Satcom Limited and Panasonic, the IFEC giant also gave a clearer picture of its contract wins in Asia. No fewer than 21 Asian carriers – including Air China, China Airlines, China Eastern, China Southern, and EVA Air – will benefit from the Ku XTS capacity, as their aircraft fly routes to and over Asia, said Panasonic.
Yet, this fall Panasonic followed its XTS announcement by declaring it will sell Inmarsat GX Ka-band connectivity as "a primary offering for new business" and that GX would be positioned "to serve both its current and future customers" in what seemed to be a tacit admission by Panasonic that it personally sees Ka connectivity as the future despite its own significant investment in Ku systems and satellite capacity for well over a decade, and despite its recent efforts to vastly improve data rates in the face of airline and passenger complaints. Panasonic's inflight connectivity pivot begs questions about its future plans for China.
In total, about 3% of Chinese aircraft are equipped with inflight connectivity, according to a Global Times report quoting Inmarsat. Routehappy by ATPCO crunched the numbers, and finds the 3% figure to be roughly accurate, if even a tad low.
Is there another reason for the sluggish pace of IFC equipage? Amid growing concern in the aviation industry about industrial espionage by China, do inflight connectivity stakeholders have any reason to believe China is simply trialling multiple IFC solutions in order to gain knowledge of the systems and build them itself?
Your writer posed this question to multiple IFC companies, yet only a few provided answers.
"Global Eagle has no reason to believe that China is trialling multiple IFC solutions, including ours to gain knowledge of the systems in order to build it themselves," states newly appointed president, Per Norén.
We have invested in building up our presence in China for several years, because it is evident that the growth in the Chinese aviation market is huge, and we are convinced connectivity will be allowed and approved by the government and regulatory agencies in the future. We pioneered investments in China early, to gain a first mover advantage. We are convinced it will pay off. Timing is however still not clear.

We are excited about the results of our 9 Air trial. It is showcasing that our technologies, our portal and our network is strong and performing well. The take rates on the 9 Air trial are very high (over 50%). The passengers are ready…
Does Global Eagle have any concerns about IP theft in China? "No, Global Eagle does not have any concerns about IP theft in China. Had we had concerns we would never have started the journey, to capture the huge market opportunity China represents. We believe the market will open-up in the future," says Noren.
Astronics has also been moving forward with a number of initiatives in China, including but not limited to its Air Esurfing arrangement; plus the opportunities that will present themselves now that China has certified the Astronics Flitestream F-310 Ku  connectivity system (which happens to power Gogo's traditional Ku on Delta longhaul).
But like Global Eagle, Astronics doesn't believe China is simply on an IFC fishing expedition. "We don't have any indication of this and don't have any additional comments," Astronics AeroSat president Matthew Harrah tells RGN.
Aircraft interiors stakeholders are similarly unperturbed about the potential risks, as RGN deputy editor John Walton discovered on the APEX and AIX Expo show floors.
"There are plenty of Chinese satellite/antenna manufacturers. There are plenty of people in that space that are very capable, they do a lot of terrestrial antenna applications and, you know, it's not a big stretch to go to the airborne model. I think they are a little under-equipped or under-experienced about airborne applications from a regulatory standpoint more than a technical standpoint but … we certainly get approached by those groups. We'd like to do a new system, and we'd like to talk about it. We have every discussion and keep an open mind," says Carlisle's Behlendorf.
Yet, it's also true that the Chinese have a lot to gain in doing the various trials.
Photo at top credited to Airbus
Related Articles: