Additive layer manufacturing is playing an increasing role in the development of aircraft interior parts. Until now, however, these parts have been largely hidden from view because it is difficult to make them aesthetically pleasing. But this looks set to change.
One UK-based 3D printing specialist is optimistic that advances in technology will enable it to make products that are easier on the eye and can occupy a more prominent position in tomorrow's cabins.
"All the parts we make are invisible and behind the galley. They're not beautiful but they're doing a great job," Tony Flanagan, business development manager at FDM Digital Solutions, tells Runway Girl Network.
The Burnley, Lancashire-based firm describes itself as having the "largest commercially available 3D printing capacity in the UK". Its facility in the northwest of England is home to nine Stratasys printers and a Hewlett Packard Multi Jet Fusion machine.
"HP is working on a roadmap that will hopefully see aerospace-certified materials within two years," says Flanagan. Multi Jet Fusion machines are "much faster, more accurate and cheaper to build" than other models and can produce materials that have "a natural, better finish", which would "revolutionize what we can do for aircraft interiors", according to Flanagan.
A more commonly used thermoplastic 3D printing material, SABIC's Ultem 9085 – used by Airbus to make plastic parts for the A350 XWB – "has a tan color with a natural, granular finish". While "you can make it aesthetically pleasing", this requires "lots of work" and "lots of priming", says Flanagan.
There are size considerations, however. Multi Jet Fusion machines are significantly smaller than those used to produce Ultem 9085 products and will not be capable of printing large aircraft interior parts "unless HP can increase the size of the machine massively".
Despite the size limitations of the 3D printers available today, airframers such as Boeing are confident that larger aerospace parts will be able to be manufactured in this way in the future.
"Boeing sees opportunities to use additive manufacturing to create large-scale parts and tools, and we've already made some progress in this area," says Kim Smith, vice-president and general manager at Boeing Commercial Airplanes Fabrication, and Boeing's leader on additive manufacturing.
"In 2016, Boeing and research partner Oak Ridge National Laboratory achieved the Guinness World Record for the largest solid 3D-printed item – a 17.5-foot-long tool used to secure composite materials during drilling and machining operations."
However, challenges remain when it comes to producing large aerospace parts in this way.
"In today's market, for example, machines big enough to print large parts can be expensive and, in some cases, not available," says Smith. "In addition, the volume and rate at which 3D-printed parts can be produced can be a challenge. Boeing's effort to accelerate the use of 3D printing is aimed at dealing with these challenges to enable a clear path for growth within the company."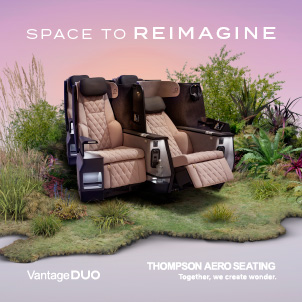 Size challenges aside, FDM Digital Solutions is "very optimistic" about the future for visually-pleasing 3D printed aircraft interior parts, and expects strong demand from the private jet and maintenance, repair and overhaul (MRO) markets.
"Next year we're going to see an uptick in demand for visible parts," says Flanagan. "What's going to drive that demand is the private jet market, with lots of bespoke products, and the MRO market, where we're seeing lots of interest."
The advantage of additive manufacturing for MRO companies is that spare parts can be printed on demand, reducing the need to store large numbers of pre-fabricated items in warehouses.
"If you don't want to invest in holding stock, the cheapest way to make it is to print it," says Flanagan.
Related Articles: