Maria Cardenal started her career in aviation in 2007 as head of ancillary revenue and product development at Clickair, and spent nearly nine years at Spanish low-cost carrier Vueling as head of innovation and product development. Her experience with each airline's ancillary and branding strategy – as well as with the IAG Hangar 51 accelerator – have helped her develop strong technical and strategic marketing skills as well as an appreciation for the needs of air travelers.
Cardenal recently transitioned to fast-growing wireless inflight entertainment specialist Immfly, where she serves as product director of digital services, innovation, strategy and design thinking. She shares her thoughts with Runway Girl Network about IFE innovation and the role of women in aviation and technology.
One of the attractions of a new career at Immfly, she says, was the opportunity to be involved in passenger experience innovation from the ground up. "The situation right now around IFE and connectivity is in its early days. Some people might think that it's not, but it's just the beginning of a huge change. My goal was to participate from the core of it."
Having worked on the airline side of the business, Cardenal's own experiences help her appreciate the challenges that airline decision-makers face. It also makes Cardenal aware of some of the opportunity gaps in product and ancillaries which airlines have yet to capitalize on. "Airlines are facing a lot of challenges for the future and one of them is the customer experience onboard. That has to improve a lot. I think that will be key for the next decade," she tells RGN.
Some airlines are more sophisticated in the way they use inflight entertainment to support their ancillary and product strategy. Immfly, for instance, offers the flexibility to dynamically deliver a broad range of digital content and innovative tools to effectively engage passengers. One of its airline customers, easyJet, says it has seen customer satisfaction improve since implementing the wireless IFE trial.
But Cardenal believes all airlines can benefit from guidance to get more out of their onboard technology. "It's not just one strategy in terms of inflight entertainment. There are many strategies. Onboard is another big opportunity, both for selling and revenue generation, and for improving customer experience. But also there's a huge opportunity to continue having digital operations. It's filling the gaps that are still there in the digital relationship between airlines and their customers. Other airlines have a higher state of maturity around this, using connectivity capabilities to deliver even for more efficient onboard processes," she explains.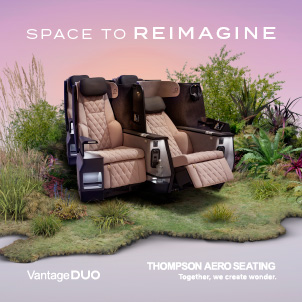 Keen to see better representation of all genders, cultures and backgrounds in aviation, Cardenal observes that many women are now pushing the airline industry towards greater diversity "and claiming their place".
She notes that there are very few airline CEOs who are women. "There are a lot of women in middle management in the industry, but the higher positions are still challenging," she says.
"I guess it's related to the airline industry having a very engineering side and a very technical side, but this is changing … in Europe I am seeing more and more women come to these technical areas. The percentage is not well balanced … the ratio of women to men in management may be of one to seven and this is not because there are no women who are capable of having those positions. I think women are as prepared and well educated and trained as any other male colleague. It's not a matter of that. This is still a cultural matter and something that has to change little by little in our culture. We are living a moment where a lot people are waking up to that reality in our society."
Cardenal reckons we may be reaching a tipping point, but changes in corporate culture and corporate mindset is needed.  "Society as a whole needs to realize and start thinking in a different way," she says.
In the meantime, she plans to make the most of the opportunities to innovate at Immfly. "I have the opportunity to visit many airlines at the same time, have conversations and learn from them how they manage different situations, what are their needs and expectations, their plans," she says. "It really impressed me to contrast my previous knowledge and have good conversations with executives in the different airlines and exchange experiences. It has been very interesting."
Related Articles: