Working hard behind the scenes to bring its nextgen air-to-ground (ATG)-supported inflight connectivity service to US aircraft operators, SmartSky Networks expects its LTE network to shortly go-live with its first business aviation customers.
The company, which is using unlicensed spectrum, has been doing a tremendous amount of flight testing on three business aircraft, and providing demo flights to OEMs, aircraft operators, and members of media, including RGN contributor Paul Eden this morning at the big NBAA convention in Orlando.
Tweeting with @SmartSky4G from 22,000ft over Florida isn't something I expected to do today!

— TwoDrones (@twodrones) October 18, 2018
Speaking to RGN at the recent APEX EXPO in Boston, SmartSky president, director and co-founder Ryan Stone said the demos "are coming in consistent, the user experience is what people expect. It's not almost what they expect, it's exactly [what they expect]. They're able to do gaming. They're able to do anything that they do on the ground in the air." That includes VPN, webinars and other high-bandwidth applications.
The company believes its low-latency, high-speed connectivity service – which will compete with Gogo's ATG offerings in the US – will prove to be a game-changer, with newly appointed Chief Commercial Officer Nancy Walker saying:
Part of what we really offer in the marketplace is that ability to get very high-speed data off of the aircraft in real-time. And that's a game-changer and will create a paradigm shift with the airlines and the operators because they can do so many things that they couldn't do before …

I relate it to trying to drink a smoothie through a coffee stirrer versus a smoothie straw. They're trying to get data through this little coffee stirrer and we're coming along with the big smoothie straw and going, okay now that really changes the game.
The connectivity solution will first launch on a variety of different business aircraft types, including a Gulfstream G550, which has just been fitted with the hardware, as reported on the show floor of NBAA.
But SmartSky has several other supplemental type certifications (STCs) either in progress or about to begin. "When we say 'in progress', that can mean from submitting into the FAA, those [certification packages] are being done, and then actually cutting holes in the aircraft," explains Walker. She notes, for instance, that an Embraer ERJ145 is under contract, and aircraft installs can take place in a single overnight.
Are SmartSky's customers fitting their aircraft with connectivity for the first time, or are they replacing older systems? "We have some that have satellite connectivity and they're adding ours on to augment the capacity over the continental United States and we have some that don't have any connectivity at all," says Walker.
As previously reported, SmartSky also intends to crack into the commercial airline space. Some carriers are "in the process of exploring" the SmartSky solution, says Walker, but the timing is such that SmartSky believes business aircraft operators will be more heavily using the network before airlines join the fray.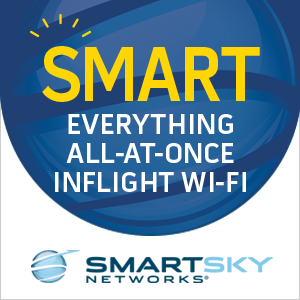 The current push by airlines to have multiple inflight connectivity suppliers bodes well for SmartSky's opportunities in the commercial space, however.
"By having multiple suppliers, that creates an avenue for us to actually make it easier to be successful because there's a recognition that you don't have to have one mousetrap to solve a problem. Maybe you have a solution on your widebodies for your longhaul flights that's different than domestic. Or even if it is the longhaul flight, if you're over the continental US for three hours, maybe you should use our services too, not to mention other high-density flight corridors around the world," notes Stone.
SmartSky expects its network to reach roughly 90% coverage in the US by the first quarter of 2019, representing a small delay to its prior target. Thereafter, SmartSky will keep building out its network until it reaches full CONUS coverage.
Gogo, meanwhile, has also been eyeing its own an entry into nextgen ATG using unlicensed spectrum, though it ran into challenges earlier this year when ZTE, a Chinese supplier to the program, ran afoul of US government rules concerning illegal shipments to Iran.
During a second quarter earnings conference call, Gogo CEO Oakleigh Thorne said there were still questions about the feasibility of the system, pointing to the noise floor for the 2.4 GHz of unlicensed spectrum which will support the service, and indeed that of SmartSky's offering. "If we should see competitive pressure," he said, presumably referring to SmartSky's competitive solution, "we'll be ready to deploy quickly".
Related Articles: