AKKA has strengthened its leadership as a pioneer in onboard connectivity integration thanks to the contract with Global Eagle Entertainment Inc. – a leading worldwide provider of inflight entertainment, media content, technology and connectivity solutions to the airline industry.
AKKA was responsible for the development of a Supplemental Type Certificate (STC) to integrate GEE's Airconnect system on board the 113 Airbus A320 Family aircraft, which are operated by Air France.
Today's airline passengers want to stay connected during all phases of their journey, surfing the web, sending emails and texts, or watching TV and movies. It has become an important onboard service differentiator for airlines. The integration of Global Eagle's Airconnect system will allow Air France passengers to enjoy fast inflight satellite broadband for short- and medium-haul flights.
The program involves new technology aboard 113 aircraft, including A318s, A319s, A320s and A321s. Orange Business Services takes the role of Data Service Provider. The first installation was approved by EASA on Monday, the 15th of October 2018.
AKKA is responsible for the design and certification package along with the development and manufacturing of the structural, mechanical and electrical interfaces which enable system installation. The design is compatible with Extended Services Goal requirement, it was built in accordance with ARINC 791 standards to allow standardized installation, ease of maintenance inspections and to optimize the cost of operations. Global Eagle's Airconnect system offers highspeed Gate-to-Gate Internet services to all passengers via their own devices including smartphones, tablets and laptops.
Network services are based on Global Eagle's latest generation of aircraft hardware, with Jupiter HT modem infrastructure capable of 500 Mbps for each aircraft and a new three-axis Ku-band antenna that delivers superior efficiency. Orange Business Services provides an enriched connectivity through its high-performance network (ground and satellite), its expertise in project management, cyber security and local support to the mix for a complete solution offering.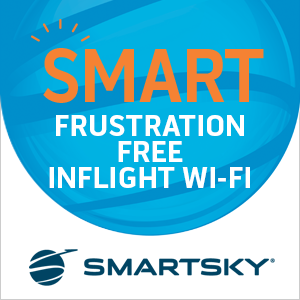 Pierre-Yves Lazies, Aircraft Support & Operations Business Unit Director, comments : "We are proud to support our long term partner Global Eagle for such a great inflight connectivity program involving two major French industry players, Air France and Orange. This is another great example of how our teams have managed to deliver a complex technology integration program that makes a real difference in passenger user experience."
About AKKA
AKKA ranks as the European leader in engineering consulting and R&D services in the mobility sector. As an innovation accelerator for its clients, AKKA supports leading industry players in the automotive, aerospace, rail and life-sciences sectors throughout the life cycle of their products with cutting edge digital technologies (AI, ADAS, IoT, Big Data, robotics, embedded computing, machine learning, etc.).
Founded 1984, AKKA has a strong entrepreneurial culture and is pursuing is its fast-paced growth and international development in line with its strategic plan CLEAR 2022. With 16,300 employees in 29 countries, who are passionate about technology and dedicated to advancing the future of industry, the Group recorded revenues of €1.3 billion in 2017.
Featured image credited to istock.com/JakeOlimb