Editor's note: Since publication of this AirFi press release, company CEO Job Heimerikx has clarified that the firm will use the current Iridium service – not Certus via NEXT – to initially connect the box. This will be the solution that launches on Atlantic Airways in the fourth quarter.
AirFi, a leading provider of flexible wireless IFE systems and cabin retail technology, announces the launch its first inflight connectivity services into the airline marketplace.
AirFi LEO is the company's first solution for low-cost inflight connectivity combining the simplicity of another walk-on, non-certified system with connectivity services that enable a host of new real-time passenger experience features.
AirFi LEO connects to the global Iridium NEXT network via one or a number of patent-pending internal cabin antennas, allowing the same 'offline' AirFi Venus Box to become online, combining multiple channels into one meshed network.
"We have been researching new technologies to enable AirFi boxes to use ultra low cost connectivity to enhance the range of features we can offer our airline clients. In the bus and coach market we can readily do this via cell modems integrated into each box and now with AirFi LEO we can enable real-time availability & booking confirmation, digital wallets & online payments, instant messaging & social media for airline passengers," explains Eli Atiya, COO of AirFi.
"As with AirFi boxes, the additional AirFi LEO component needs no STC or aircraft downtime. There is high demand for basic connectivity across our client base –  more so than high-speed internet for streaming or browsing. AirFi LEO delivers an extremely important addition to our portfolio and meets our criteria for safe, rapid deployment.."
Iridium NEXT is still a relatively new technology that promises upload and download speeds of 350kbps and higher.
"Next year, Iridium will launch the Certus network and speeds to the consumer are set to double. For the majority of our use-cases, Iridium provides the perfect backbone to enable more onboard ancillary revenue generation while retaining the passenger within the AirFi local, captive portal."
Faroe Islands based Atlantic Airways has been a first-mover in adopting new cabin technologies to enhance their passenger experience and has been announced as the global launch partner for AirFi LEO.
"We are hugely excited to bring onboard connectivity services to our passengers by the end of this year. AirFi LEO is simply an additional walk-on component alongside the AirFi Boxes we load every day, so we are able to roll out these new services almost overnight. Passengers will be able to message their friends and families at 35,000 ft, check their social media feeds and complete last minute transactions like renting a car or booking a hotel room, from the comfort of their aircraft seat." comments Johanna a Bergi CEO Atlantic Airways
AIRFI LEO: at a glance
Now available for the aviation market, launches Q4 2018 with Atlantic Airways
One additional walk-on component connects to each AirFi Venus Box
Enables a wide range of passenger and operational inflight connectivity services
Operates over the Iridium network being upgraded in 2019 to 350 mbps up/down
Patent-pending internal (cabin) antenna and proprietary multiplexing technology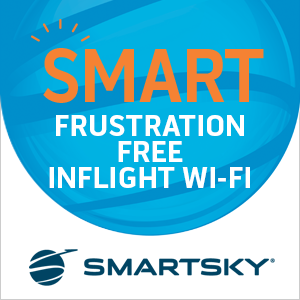 About AIRFI.AERO
AirFi is the leading provider of flexible Wireless IFE system and mPOS cabin technology to the aviation and other mass-transport markets. Our world's first and best-selling carry-on Wireless IFE streaming system – AirFi Box – has become THE benchmark equipment for an industry. AirFi is a full-service provider with highly configurable proprietary hardware, software and an expanding suite of customer success services covering content, connectivity, e-commerce and ancillary revenue generation.
AirFi's interoperability with a multitude of onboard platforms – from our own "Connected Crew" mPOS technology powering many of the world's crew onboard retail systems, to installed, connected steaming hardware – underlines our commitment to be a leading global partner for onboard digital transformation programs.
Designed to effectively and securely bridge the digital information gap between each client, their remote crews and millions of consumers on the move. AirFi is supported by Mainport Innovation Fund, founded by KLM Royal Dutch Airlines, Schiphol Group, Delft University of Technology and Rabobank.