Using RFID tags and scanners, Airbus is working with Fujitsu to virtually eliminate the time required for flight attendants to check for the presence of key emergency equipment, replacing it with a crew-operated scanning system.
Airbus' Smart Emergency Equipment Manager uses commercially available radio-frequency identification scanners to sweep the cabin in a matter of minutes to ensure that crucial items like lifejackets are present (Delta Air Lines has worked with another provider on a similar program for years).
The new system from Airbus and Fujitsu, nicknamed S-EEM, is currently flying on jet aircraft operated a by major international carrier in the Asia-Pacific region. Patrice Marin and Kais Makhlouf, Internet of Things Services directors within the airframer's Interior Services division, demonstrated the handheld scanner to Runway Girl Network at the APEX EXPO, and the simplicity and benefits of the system were impressive.
"Airlines currently have to do a lot of inspection task visually and what we are providing is a fast digital inspection tool for that," Marin tells RGN. "We have made some proof of concept, and also we have feedback from our customers, and what they say is we can go up to 95%, 99% of time saving."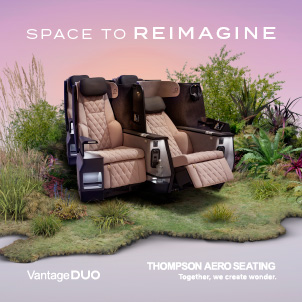 Key emergency equipment has an unfortunate habit of going missing from aircraft as the result of passengers swiping an inappropriate souvenir of their trip, with leisure-focussed and low-cost carriers in particular finding themselves at the sharp end of ensuring that items are present and replacing them if necessary.
"In minutes you can say that — for an inspection that today takes more than one hour, an hour and a half — you go for less than five minutes, a few minutes," Marin says, noting that "we are just talking here about minutes of inspection but you have to add some administrative work behind that, a lot of PC work, paperwork, this is not taken into account."
The technology behind the system is passive RFID tags for the equipment being checked. The passive RFID tags mean that there is no electromagnetic interference on the aircraft. A sticker, for example, might be affixed to a life jacket or other item, although in due course the tag might be included at the time of manufacturing.
A flight attendant (or, potentially, another airline employee) then passes a handheld scanner through the cabin, and the software on the device attached to the scanner then determines and displays on a screen whether the correct items are present.
Beyond the clear benefits of this particular system, Airbus is continuing in what feels like an ongoing mission to become a service provider to its airline customers.
Working with a major technology player like Fujitsu, together with integrating the product and certifying it via major international aviation safety certification authorities, seems a step towards Airbus' wider goal to play a larger part in the integration game — which is growing in importance alongside the digitalisation of aircraft and their cabins — while leveraging its strengths in certification and regulator management.
"What we have done — and this is something that we aren't the only one to be doing — is we provide the service, the software, but we also do all the due diligence beforehand, Makhlouf explains. "So when we come to discuss with the local authority, we have hundreds of pages of due diligence in order to justify how we manage that kind of deployment and how we go from visual inspection to something which is more technological."
"[The United States] FAA has provided their agreement for this solution and we have no technical objection from EASA," Marin says, "but we are working with EASA to improve this and have a formal agreement."
For the airline already using S-EEM, Airbus worked with the carrier's national regulator to demonstrate the system's safety through the FAA technical agreement documentation.
Related Articles: