Having made a strategic decision to focus on its proficiencies in aircraft cabins, Panasonic Avionics recently sold its Panasonic Weather Solutions unit to FLYHT.
The move represents a change in course for Panasonic, which in 2013 acquired Morrisville, North Carolina-headquartered AirDat, a long-time Iridium value added reseller and equipment provider that was best known for its patented Tropospheric Airborne Meteorological Data Reporting (TAMDAR) system, which collects highly sophisticated weather data.
Renamed Panasonic Weather Solutions, AirDat served as a sort of gateway drug for Panasonic to make its foray into cockpit avionics.
But a lot can happen in five years. Panasonic was hit with large fines from the US government stemming from violations of a federal anti-bribery law, prompting a reshuffle of upper management and with it some fresh thinking about where the firm should focus its efforts.
As the leading provider of embedded IFE in the world, and a major inflight connectivity player with both Ku-band and now Inmarsat GX service on offer, Panasonic sought "a soft landing" for the Panasonic Weather Solutions business, and found a solution in the super-synergistic FLYHT, according to FLYHT CEO Tom Schmutz.
A Panasonic spokesman says, "This sale is part of our efforts to refocus on our core strengths within IFEC. We will no longer sell PWS [Panasonic Weather Solutions] services or be a VAR for their activity."
Is Panasonic exploring collaboration with Inmarsat in the cockpit (outside of its collaboration to sell GX for the cabin) and ergo saw little reason to pursue the Iridium path? "Right now, our relationship with Inmarsat is for GX Aviation only. It does not include L-band satellite services or safety services," says the Panasonic spokesman.
He adds:
Our agreement around GX Aviation was simply about offering our airline customers a choice. We are still moving forward with enhancements to our global Ku-band network including our XTS investments.

In addition, our decision to sell PWS is unrelated to our connectivity strategy including our recent deal with Inmarsat for GX Aviation and our future plans to enhance our Global Ku-band network.
FLYHT's footprint
You might recall that FLYHT's distress flight-data streaming capabilities gained fresh market attention following the tragic disappearance of Malaysia Airlines Flight MH370. The Canadian company offers a so-called Automated Flight Information Reporting System (AFIRS), which operates over Iridium satellites and boasts over 70 customers, including strong positioning in China.
FLYHT holds a licensing deal which sees L-3 Aviation Recorders buy its satcom systems from St. Petersburg, Florida-based contract manufacturer Jabil, and then sell them as an option on the Airbus A320 and A330. Until the Panasonic Weather Solutions acquisition was inked, this work constituted "about 30% of our revenue", notes Schmutz.
A further 30% of revenue has entailed selling satcom functionality directly to customers, says Schmutz, and then thirdly, FLYHT offers airtime service, monitors the data in real-time, and sells the information on an 'a la carte' basis, including flight log data, location positioning, and increasingly engine trending data for engine warranty purposes.
FLYHT also collects and processes warnings for exceedances. "So in real-time we can identify when there is an out-of-bounds condition, create an exceedance report and send it via satellite to Uptime [our cloud web portal] and show the operator 'you have a problem on your aircraft'," notes Schmutz. With Panasonic Weather Solutions in its portfolio, FLHYT will now add raw weather data to the data mix.
"So this will be adding a new revenue vertical," he tells Runway Girl Network. "We'll add it to the software-as-a-service vertical, and we'll provide raw weather data observations from TAMDAR, developed as part of the Panasonic Weather Solutions product line."
Crucially, FLYHT will take a different approach to the market than Panasonic Weather Solutions, according to the FLYHT CEO:
The business approach that Panasonic and AirDat before them had taken was primarily to use the data through TAMDAR to create their own weather models and essentially compete against government agencies doing forecasting and they consistently lost money doing that.

When they decided to exit the business, we decided to simply sell the weather observations, and rather than forecast, we'll sell to the forecasters so I'm forging agreements with weather industry players.
Panasonic's spokesman says: "Panasonic Avionics Corporation simply sold the assets of the PWS division as part of its efforts to refocus on its core strengths within inflight entertainment and communications. Decisions related to business operations of the former PWS division are strictly under the purview of FLYHT and we cannot comment on those decisions."
The purchase of Panasonic Weather Solutions includes a $2 million per year contract with NOAA "and we plan to expand that contract", says FLYHT's Schmutz. FLYHT also hopes to soon announce new relationships regarding the sale of weather data.
Supporting SB-S
Separately, FLYHT is developing a strategy for supporting Iridium NEXT service, though it stresses it is not one of the VAMs. "FLYHT didn't pursue that position. There are some secondary positions that Iridium is discussing, variances of their modem that we're looking at and so that's very much part of our planning now," reveals Schmutz.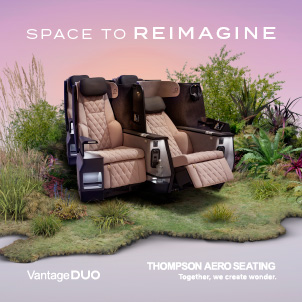 But FLYHT is also eager to see its hardware support Inmarsat SwiftBroadband-Safety service. After successfully participating in the Boeing ecoDemonstrator Program which saw its satcom systems transmit over SB-S and Iridium and showcased their flight-data streaming capabilities, FLYHT shared the results of the trial with Inmarsat.
The result was that FLYHT became the first participant in Inmarsat's Certified Application Provider Program for SB-S, which is like "the Apple Store for SwiftBroadband-Safety", says Schmutz. "We're real proud of that. We see our relationship with Inmarsat as the enabling for black box in a cloud that they're promoting."
He notes that an Inmarsat white paper suggests the London-headquartered satellite operator will partner with third parties to access flight info "and we like to think FLYHT is the ideal partner for that element of the black box in the cloud theory".
For its part, Inmarsat confirms it is impressed with FLYHT. John Broughton, VP, safety and operational services at Inmarsat Aviation tells RGN that the ecoDemonstrator trial went "very well" and attests that FLYHT is indeed one of the first companies through the CAP Program.
Related Articles: