Having studied the possibility of entering the portable wireless streaming market for the last couple of years, inflight entertainment and connectivity hardware specialist Kontron has finally taken the leap with the introduction of its portable Cab-n-Connect P100 platform for commercial airlines.
The decision to penetrate this hotly competitive part of the industry was not taken lightly by Kontron, which previously confided to RGN that safety would be top-of-mind if it developed a solution, especially after EASA flagged up concerns about battery-powered, carry-on-board wifi boxes.
During an interview with Runway Girl Network at the recent APEX EXPO in Boston, Kontron VP system & program management, avionics, transportation and defense Andy Mason said in reference to the new P100. "We're applying the same type of standards, even though they [airlines] are not doing the qualification to DO-160, we're still applying the same safety standards to the box."
Kontron believes the P100 offers a good entry point into wireless entertainment for an array of different airlines, "especially customers that want to roll something out quickly without going through the full certifications and STC [supplemental type certification] process". The P100 also serves as a sort of stop-gap for operators until they're ready to physically install a wireless IFE solution on their aircraft and/or ultimately adopt inflight connectivity.
Noting that there are three levels of investment for airlines and their software partners, Mason says the first is to adopt the portable P100 with dual radios to support both wifi content streaming for up to 100 devices and some retail applications. This helps the airline "get the feel for the system".
The next level up is embedded wireless IFE inclusive of Kontron ACE Flight servers, CWAPs and installation kits. This is the type of Kontron package that digital solutions partner Immfly selected for its customer, Turkish-based low-cost carrier Pegasus Airlines' Airbus A320s and Boeing 737s.
"The next one beyond that is to add the inflight connectivity, which is the biggest step in terms of commitment in dollars," notes Mason. "Some customers skip #1 and #2 and go right to #3. Some skip #1 and go to #2. Some start with #1, phase into #2 and maybe in two or three years – and I'd say this is a lot of the customers – are looking at going to connectivity after things settle down." By settling down, he means after the industry has a clearer picture of which connectivity providers and solutions are deemed viable for the long-term.
Interestingly, Kontron's long-time partner for installed wireless IFE, Lufthansa Systems, has selected the P100 for its newest BoardConnect Portable solution, which company head of passenger experience products & solutions Jan-Peter Gaense says "is a real revolution from the old design".
Adds Gaense, "We've now had the experience of two years of operating portable boxes on board almost 200 aircraft and we've learned a lot about what airlines really need to make it operationally efficient, like how to charge batteries, how to make it run autonomously, how to know which device is in which aircraft to name a few of the things. And all of that is tackled in the new box. It also comes with extended battery, it has a much bigger CPU in it, and when you connect it to aircraft power it actually is a real data center in the cloud." The solution still fits in the small bin space that Lufthansa Systems utilized for its prior-generation BoardConnect Portable.
Most of Kontron's customers for the P100 don't want to develop the hardware themselves, notes Mason. And this is certainly the case for Lufthansa Systems, as Gaense suggests. "If our customers have their own software package, it can be ported on this and installed and later transitioned onto the embedded wireless IFE platform," explains Mason. Kontron is also coming out with an avionics OS package that will allow software companies to put their applications into a virtual machine running on the hardware, and it will enable portable boxes to connect to aircraft power, as hybrid offerings, including from Lufthansa Systems, are growing in popularity.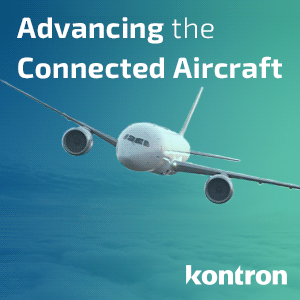 Meanwhile, Kontron continues to innovate for its other IFEC hardware in aircraft cabins. It is working on a new wireless access point that will support 802.11ax to improve performance over the current 802.11ac standard. And its strategic partnership with Carlisle Interconnect Technologies is bearing fruit.
Under the arrangement, which was first announced last year at the Aircraft Interiors Expo in Hamburg, Kontron and Carlisle are providing turnkey cabin wifi system hardware solutions, aircraft installation kits and STCs. Their target customers include "airlines", in addition to system integrators, connectivity service providers and software media companies.
The relationship is going "very good, very good," Mason tells RGN. "We've been working with them for a couple of years. And our strategy is basically you can come to Kontron or you can come to Carlisle and we are treating it like a virtual company.
"In other words, it's a one-stop-shop. Okay, I want to buy the embedded IFE hardware, get the embedded software, and get the STC and the services that allow you to install on the aircraft and you don't have to establish two separate contracts, you can establish a contract with Kontron or you can establish a contract with Carlisle and it's like dealing with one company."
The two firms are broadly seeing the most growth in Europe and Asia. They've witnessed an acceleration in adoption in Southeast Asia, specifically, and in China, adds Mason.
Related Articles: