Fresh off of winning the Best Inflight Entertainment Innovation at the APEX Awards in Boston for Bluebox's Accessible IFE (aIFE) platform, Bluebox business development director and board member David Brown told Runway Girl Network that future plans include further rollouts of accessibility features, and a focus on the company's onboard streaming IFE solution, Wow.
"We were delighted to win the award last night," Brown said during the show; it adds to Bluebox's Crystal Cabin Award from earlier in the year. "Hopefully it will encourage interest from other airlines" for the Accessible IFE platform, which runs alongside standard programming on iPads that can be used for service recovery for sighted passengers when inflight entertainment screens go down.
Bluebox is also expecting that its other iPad customers, too, will be interested. "From now on, we're going to be giving the accessible user interface to all our existing customers — or offering it to all our existing customers — as they renew their contracts and update the iPads. Any new customers, we'll offer it as part of the service, because we can swap between the two easily enough. We're doing that for the greater good."
Apart from that rollout, Brown said, Bluebox is focussing on bringing more accessibility to its Wow (walk-on wireless IFE) product, which streams inflight entertainment from an overhead bin or galley. "We'd love to do more on the accessibility front. We may be able to do something on Wow to make it more accessible, with versions of the browsers and all that. It's more difficult because you haven't got any control over the end user's devices. That's the challenge."
Wow, Brown said, is seeing substantial interest from airlines, even within the context of numerous competing streaming-IFE-in-a-box products on the market. Some 200 boxes are already deployed, with that number is set to double over the next six months,. Bluebox is adding some two airlines a month. Further improvements, including public address pausing, are also in the pipeline.
"It's taken a while to get there, working out all the regulations, how to put these things onto aircraft, and a little bit of education for airlines as well with what you can and can't do" Brown explained. "We've been able to build on our experience with the iPads and the portable. We've got a big advantage over some of the other people you'll see come and go: we've been doing it for years. It's almost trivial to stream video from a box, but the real trick is all the studio approvals that we've got, the logistics and being able to support the customer long term."
On the studio approvals front, browser-based streaming is still in the works, and Brown estimates that the browser DRM system will be in play within the next twelve months, noting that there is no performance hit on the Wow system with the DRM engine. In the meantime, both standalone and integrated apps for airline customers are available.
Interestingly, while many airlines start out keen on the version powered by a 15-hour battery, as they become used to the system they realize that the logistics of battery swapping are less efficient than installing a power outlet for the box.
"Right from the beginning we provided for a 12-volt input," Brown said, which he characterizes as "basically a laptop adaptor. We have a certified 110V outlet in the location where the Wow box is, typically in the overhead bin or the galley area. There's a number of people like Astronics or digEcor that can give us a certified package to do that. Increasingly the airlines we're talking to are saying, 'we still have to change the battery. We know it lasts 15 hours, but there's the logistics: someone has to go in, and take it off.'"
Next up is connectivity, with the narrowband Iridium systems looking attractive for many of the airlines that have yet to jump to onboard broadband. The benefit from online credit card transactions, Brown says, may well pay for the installation costs of the system.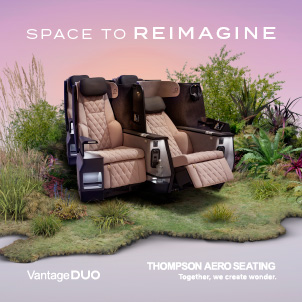 "We're quite excited about the prospect of the new Iridium NEXT system coming on stream. We are working on that. In the background it would be great to have a little bit of connectivity," Brown said, noting that "it'll pay for itself with the credit card transactions" — a different point of view from some on the payment supplier side of the industry who have previously suggested that the theoretically low-hanging fruit of live credit card transactions is not as ripe as thought.
And while speaking of return on investment, Brown suggested that the Wow box will earn back its cost in "months. We'll facilitate all the revenue generation stuff, we'll take part in it if that's what's wanted."
With numerous airlines still undecided on light IFE such as streaming to passengers' own devices, and no clear winners emerging in the space, if Bluebox can capitalize on this market niche it will put itself in a very interesting position indeed.
Related Articles: