As Qatar Airways continues to roll out Inmarsat's Ka-band GX inflight connectivity system, it appears to have faced a small hiccup in the form of new aircraft deliveries.
Because GX has not yet been linefit certified for installation on Boeing aircraft, Qatar Airways has been taking delivery of new Boeing 777s without GX connectivity.
In early August, however, this appeared to change. A Qatar Airways 777-300ER was spotted at the Boeing delivery center with various hardware installed, before the aircraft's registration number was even applied.
Inmarsat has confirmed that while GX is still not linefit offerable, the work of installing the radome and satellite antenna equipment was competed at a "modification post line".
Mysteriously, the Qatar Airways tweet that alerted your author to this story has disappeared, but I can confirm I have seen others emerge since then.
In the past, Qatar Airways had the Thales TopConnect system (Inmarsat SwiftBroadband-based connectivity) installed on its Boeing 787s at the Boeing CAS facility in Victorville, but other modification houses such as Everett-headquartered ATS are obviously closer to the 777 line.
While the details of whether Boeing or a third party installed the GX equipment on Qatar Airways' 777-300ER remain at bay, the good news is that the carrier is now able to take delivery of new Boeing aircraft without having to immediately take the aircraft out of service for installation or operate it without connectivity.
Delta had taken a similar approach to the installation of Gogo 2Ku on its Airbus A350 aircraft, opting to have the system installed post-assembly by Airbus Corporate Jet Centre before bringing that installation work in-house.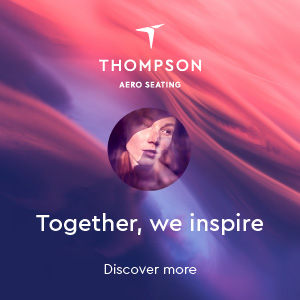 RGN has posed a series of follow-up questions to Inmarsat, including whether the retrofits are being supported with Inmarsat's own STC for GX on the 777 (per Inmarsat's stated efforts to go more direct on this front). And we've sought a timeline for when Inmarsat believes GX to be fully offerable – factory-fit – on Boeing aircraft, and on what types.
In September of last year, Inmarsat told us it is "in the process of becoming offerable on all of Boeing's aircraft types, except the ones they're retiring like the 767″.
The questions are worthwhile; Panasonic Avionics has enjoyed a tremendous advantage over its competitors in that its Ku-band connectivity system is linefit across Boeing types. So for instance, while El Al wants Viasat Ka, its 787s are understood to be delivered with provisions, but no antenna under the hump, as highlighted last year.
Related Articles: