While United Airlines has adopted a wide variety of connectivity solutions, ranging from Gogo air-to-ground, Panasonic Ku and Thales/Viasat Ka, the carrier has historically strived to offer a consistent passenger experience across those systems.
United unified the various user interfaces by layering its own portal over the existing Gogo portal. It has also limited the functionality of its speedy Thales/Viasat Ka system – with Thales as the prime contractor – to match the experience of both its Panasonic and Gogo systems. It blocked Netflix, YouTube, Hulu and pretty much any other streaming video service on its flights.
Yet when Viasat Ka is fully unleashed, as seen at JetBlue, it provides an excellent streaming experience. With Viasat serving as prime for Ka installs on the 737 MAX 9 fleet, United has finally unlocked the full capability of the Viasat system on the MAXs, RGN can reveal. (We asked in February if the carrier would 'unleash the beast' on these birds; now we know the answer is 'yes').
In an update to its inflight Wi-Fi documentation page, the question is posed: "Can I use Netflix or other streaming video websites?" United's answer confirms that passengers on the 737 MAX 9 aircraft connected with the Viasat system – and only on the MAX – can stream to their heart's content. As for the rest of the Wi-Fi equipped fleet, video streaming services will remain blocked.
The 737NG aircraft managed by Thales use a very similar system to the Viasat 737 MAX system (same satellite right now, even) so what accounts for this change? A United spokesperson tells RGN:
We've always been interested in offering a Premium Wi-Fi service, which supports streaming and is currently only available on our MAX aircraft via Viasat. We introduced streaming on Viasat equipped aircraft because they have the right service using the latest technology to support streaming.
Does United expect this to expand to other aircraft in the future?
We are currently focused on improving our Wi-Fi's reliability, which is a priority before adding other enhancements. However, we do know that customers value being able to stream on board, and we are looking into ways to expand this capability to more aircraft.
As to whether there is any messaging on the aircraft to alert passengers that Netflix and streaming is allowed, the United spokesperson says: "When customers visit the Wi-Fi portal on our MAX aircraft, they are alerted that streaming is supported when purchasing the premium Wi-Fi option."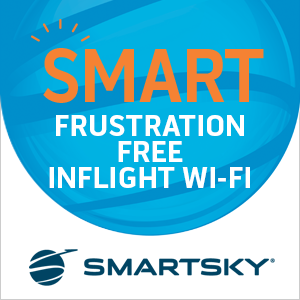 The frequently asked questions page also confirms that the MAX aircraft will sport Wi-Fi on international flights before the end of the year. "Our new 737 MAX 9s equipped with Viasat Internet are currently entering service and do not have Wi-Fi internet capabilities for international flights, but will begin offering Wi-Fi service on international flights by the end of 2018."
In February, United signed a deal with Viasat for connectivity on more than 70 aircraft, at least 58 of which will be for the MAX.
The airline has not announced an upgrade path for the hundreds of existing 737NGs with Thales as the prime contractor, though Viasat management has intimated on earnings calls that it is gunning for prime on those birds as well (after winning prime with JetBlue).
Related Articles: