Danni Stoney is a Phenom 300 captain. She gained her PPL at 17, before she could drive a car. Through a combination of determination, passion and talent – and contrary to her school vice-principal – Stoney is realizing her piloting dream every day.
Stuck for a 15th birthday gift, Danni Stoney's parents gave her a flying lesson. She had no interest in aviation and there was no family tradition to follow, but Stoney reckons they were keen to expose her to flying as a random possibility at a time when she was considering career options.
Stoney doesn't remember her reaction to receiving the gift, but says it was truly 'love at first flight'. "I hadn't realised I'd be handed control. Being able to control an aircraft when I wasn't old enough to legally drive a car was amazing. Mum says my eyes were shining when I came back, she'd never seen me so excited."
Soon after turning 17, Stoney gained her private pilot's licence (PPL), becoming Ireland's youngest PPL at the time. The local press picked up on the story and her first passengers were a reporter and photographer. "I think they were a little nervous. They'd never flown in a light aircraft before and they saw mum drop me off at the airport because I couldn't drive yet!"
Stoney was already determined to become a professional pilot when her school vice-principal called her into his office for a career advice session. "What do you want to do when you leave school?" "Be a pilot." "Can girls even do that?"
He was not the inspiration for the career that followed.
With a global financial crisis breaking, there were few jobs with the airlines, business aviation was in decline, and even the military was laying pilots off. "So, I decided to do a degree in mechanical engineering. It's not critical to becoming a pilot, but I think it helped with my ATPL [airline transport pilot license]. I also wanted a back-up plan, just in case an industry decline happened again.
"I chose Edinburgh University so I could join the University Air Squadron at nearby RAF Leuchars and carry on flying in my spare time. It was amazing – I was lucky to complete the elementary flying course, including aerobatics, formation and low-level flying, giving me a broader experience than I might have had going straight into an ATPL. It was also great being in a group of like-minded people; it brought me out of my shell and I made great friends."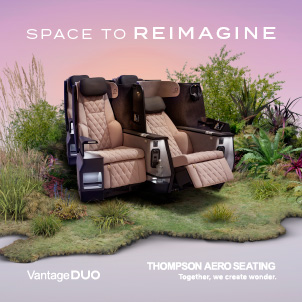 Quick to take an opportunity with the CAE training school at Oxford Airport in 2009, Stoney took on a variety of tasks, including running a flight simulator, while building her piloting experience on occasional aeromedical flights. Oxford was the place to be, because in 2010, FlairJet began flying the Phenom 100 from the airfield and Stoney had her first pilot job – in business aviation.
"I worked across the company, in the office and in the air, booking flights, managing operations and doing everything except accounts. I think that helped me become a much better captain."
Moving to London Executive Aviation, now Luxaviation UK, Stoney started flying the Phenom 300, becoming a captain on the type in November 2016. Now her ambition is to move onto a larger, longer-ranged aircraft, for global operations. She was single-mindedly determined and self-motivated in her ambition to fly, so there's little doubt she'll achieve this latest goal.
Stoney tells Runway Girl Network that feels lucky every day. "Each time I take off I'm excited about doing it again and I love that every time I go to work I see the sunshine, because I fly above the clouds."
She says the crucial element to her success was the determination to achieve her goal, adapting and reacting as the path to the final result changed. With supportive parents behind her and 'some great, passionate instructors', Stoney proves that girls can, in fact, do anything they're determined to do.
Related Articles: