This summer's prolonged heat wave in the UK resulted in flight disruptions at London City airport, where airlines were forced to offload passengers to ensure their aircraft were light enough to take off in the unusually high temperatures.
It follows a number of flight cancellations in Arizona last summer when it became too hot for certain regional jets to operate.
A British Airways spokeswoman confirms that "quite a number of flights" operated by BA CityFlyer out of London City were affected, including one incident in which 20 passengers had to be offloaded from an Ibiza-bound flight. The carrier operates a fleet of Embraer 170 and 190 aircraft from the airport.
London City's short runway and requirement for aircraft to make a steep climb to clear tall buildings at nearby Canary Wharf means that flights are particularly susceptible to the changes in air pressure caused by very hot weather. The higher the temperature the lower the thrust, so passengers had to be offloaded to ensure the aircraft could still generate enough lift under these conditions.
BA's spokeswoman says the carrier had "seen nothing like this summer before" and describes the recent heat wave in the UK as "unusual".
But as global warming continues to take hold, the aviation industry is bracing itself for the possibility that operational disruptions caused by higher-than-average temperatures could become the new norm.
For instance, Bombardier announced in July that its CRJ700 and CRJ900 aircraft have now been certified to operate at a higher temperature.
The airframer obtained a new International Standard Atmosphere certification – ISA+40ºC – from Transport Canada and the US FAA. This is equivalent to a ground temperature of over 50ºC.
Antonio Ficca, director of product marketing at Bombardier Commercial Aircraft, tells Runway Girl Network that the move was necessary to prepare for the "evolving" effects of climate change.
"Over the past decades, the topic of climate change has been on our everyday agenda. Last year it was a stronger summer in North America, and in Europe as well temperatures are going up," says Ficca.
"Things are evolving every day on the environment and, as aircraft manufacturers, we have to anticipate what the impact could be on airplanes and aviation."
Every aircraft type is "designed to operate within a certain envelope", says Ficca, but as the climate changes "the envelope that used to be sufficient in the past may no longer be so". Bombardier "looked to determine if we could accommodate an expansion of the envelope" and found that it could do so without making any physical changes to the aircraft.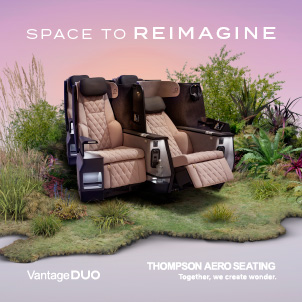 After working with suppliers to see if key aircraft systems, such as the auxiliary power unit (APU) and avionics, were affected by higher temperatures, Bombardier determined that none of the systems required any upgrades. This meant that it could "expand the capability of the aircraft without any specific changes", says Ficca.
Airlines that wish to upgrade to the higher temperature certification – which is available as an optional feature for both new production aircraft and retrofits – are simply provided with an upgraded manual to reflect the change.
So far American Airlines, which saw many of its flights out of Phoenix Sky Harbor airport affected by last summer's high temperatures, is the only airline that has taken advantage of the upgrade. However, Bombardier is "in discussions with a number of airlines as we speak", says Ficca.
Bombardier is "looking into" the possibility of following similar action on its Q400 and CRJ1000 models. The CSeries, now known as the A220 following Airbus's acquisition of the program, was "designed at a time when climate change was more of a hot topic, so it is already certified to operate at those temperatures", says Ficca.
"I'm afraid things will keep degrading temperature-wise, so anticipating these requirements will become more [necessary]."
For its part, Embraer says it has offered an expanded temperature envelope option of ISA+39 on the E170 and E190 E-Jets since 2007 and 2009, respectively, with certifications by the FAA, ANAC and EASA.
Adds the airframer: "The baseline for the E-Jets is ISA+35. Rising temperatures have been an important design consideration for Embraer. Such was the case in the development of the new generation of E-Jets, the E-Jets E2, which already have a higher temperature envelope baseline of ISA+39 (ISA +39 means 54ºC/129F at sea level or 52ºC/125F at 1086ft – Phoenix altitude). The E190 E2, the first model of the new generation, entered service in April with Wideroe of Norway with the expanded temperature envelope."
Related Articles: