Thales InFlyt Experience has revealed it has global aspirations for delivering high-capacity Ka-band-supported inflight connectivity to airlines.
Last year, Thales forged an arrangement that sees SES leasing Ka-band capacity on in-orbit Hughes satellites to support Thales connectivity on aircraft in North America. Spirit Airlines is the launch customer. Coverage for Thales' North American offering will grow in 2021 with the addition of SES-17, a Ka-band satellite that SES and Thales are building together.
But "step by step", Thales is working "to have a worldwide offering" because, whilst the US is far more advanced on the inflight connectivity front, other regions will eventually catch up and the company realizes "we need to have a global solution covering all the value stations", Philippe Carette, the newly appointed CEO of Thales InFlyt, tells Runway Girl Network in a one-on-one interview.
Such a solution would compete with Inmarsat's Global Xpress (GX) service, for which Thales is a value added reseller (VAR), as well as ViaSat-3. Is there really room for a third high-capacity Ka-band connectivity provider in the market?
"For sure," says Carette. To be clear, Thales will continue to sell GX to airlines, and is announcing new customers to boot, "but definitely we need to anticipate further needs from other customers. And when we look at the presence and the volume of business in North America, we could imagine for Asia, for Africa, for Europe and so on, the need will be there soon."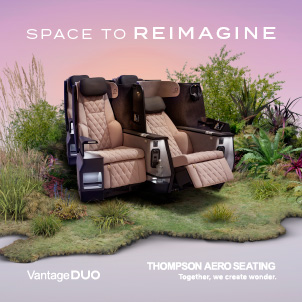 Eutelsat recently said it will not invest in the ViaSat-3 satellite that will provide coverage over Europe and the Middle East, and instead it tapped Thales to build a high-capacity Ka satellite. Would Thales envisage exploiting that high-capacity Ka service over Europe for a global push out?
"I don't know. Honestly," says Carette. "I've not yet jumped on it."
Last week, in a surprise announcement, Panasonic Avionics and London-headquartered satellite operator Inmarsat agreed a strategic collaboration that will see Inmarsat become Panasonic's exclusive provider of Ka-band inflight connectivity in commercial aviation, though Panasonic insists it will continue to invest in its Ku-band network to support its many legacy airline customers
Carette sees this arrangement as a sign that Thales has been on the right inflight connectivity track all along.
For sure … The first thing, as I said, Thales is a technology company. And when we look on that agreement, that means that we did the right choice six years ago. That means honestly, that is to us a decision we took and it is not today a big surprise for us because we were convinced a couple of years ago that Ka was a solution for the future based on the volume of information, volume of data we have to manage and so on …

That means for sure Inmarsat is one of our key partners. We have seen the agreement they have signed with one of our competitors [Panasonic]. Nevertheless, it's not something we are considering badly.

As you said, we are on other journeys with other partners and definitely we see … that that market is moving very quickly and really … we are much more focused on the next steps.
Thales traditionally has had a bit of a lower profile in the inflight connectivity market because it initially offered Inmarsat's low-bandwidth SwiftBroadband service and graduated to offering GX along with other GX VARs. Though it also supported high-capacity Ka connectivity as an integrator for JetBlue and United, Viasat won the headlines, as its service powered the actual connections at both carriers.
Now Thales – which in addition to being a satellite-maker is also an aircraft avionics provider – wants to offer a global, high-capacity solution of its own. Though the exact details on how that will transpire are not yet available, Thales is ready to assume a much higher profile in the inflight connectivity sector, not only to ensure passengers have an at-home experience in the sky, but also to support communications to the cockpit, such as pilots' electronic flight bags.
Related Articles: