Lest there are any questions about whether or not Global Eagle is second-guessing its decision to focus on providing inflight connectivity to narrowbodies and regionally-flying widebodies versus spreading itself and its satellite capacity thin on international widebodies, the company tells Runway Girl Network that its strategy remains very much in play.
In 2017, Global Eagle first announced it is not pursuing linefit offerability for its connectivity solutions on new twin-aisle aircraft, in a clear departure from its competitors in the space.
"I get that others have a different approach but our IFC business makes money and when you look at the economics of powering widebody aircraft, the bandwidth requirements are extreme. How do you light up enough bandwidth to cover a widebody wherever it flies? If a widebody is operated in a regional environment, we have interest in supporting it," says Global Eagle CEO Josh Marks.
He points to Icelandair as an example of a widebody operator that meets the firm's regional network exception; the carrier's Boeing 767s as well as its 757 narrowbody twinjets are fitted with Global Eagle's Ku connectivity system. And Boeing 777 widebodies operating domestically in China also fit the bill. But Marks stresses that, when it comes to inflight connectivity, Global Eagle does not have an interest "in aircraft flying five different continents". Such routes might suit the likes of the near global Inmarsat GX service, he says, but not Global Eagle.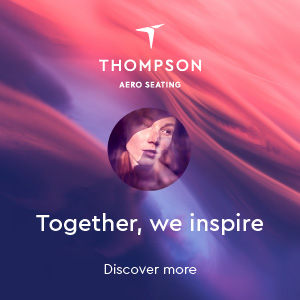 Global Eagle is not the first IFEC company to preserve capital by not seeking offerability on twin-aisle aircraft, which is both an expensive and time-consuming process. In 2006, after encountering years of challenges with its so-called TES in-seat entertainment product, Rockwell Collins famously opted not to develop embedded IFE for the Airbus A380 and Boeing 787, which effectively pulled the manufacturer out of the twin-aisle market for IFE, and reduced competition for new aircraft models to Panasonic and Thales, and later Zodiac Inflight Innovations. Rockwell Collins did develop seat-centric IFE for narrowbodies, however (in addition to its drop-down systems).
Is Global Eagle ceding the twin-aisle connectivity market to corporations with deeper pockets?
Marks suggests that Global Eagle's connectivity system "is optimized and very powerful for those regional routes where there is a high density of aircraft", whereas the likes of GX, by contrast, "is optimized for lower bandwidth, across the globe".
He continues, "You should see some natural segmentation, focusing on different fleets, and taking a different approach to linefit and retrofit based on aircraft they [IFE service providers] are going for."
Global Eagle holds linefit offerability on the Boeing 737NG and 737 MAX, and would ultimately like to obtain offerability on the Airbus A320 family. Its new European customer – rumored to be Air France, but as-yet-not-confirmed – has adopted Global Eagle's new three-axis Ku HTS antenna. But Marks isn't wedded to obtaining linefit with Airbus for this system.
"I think the interesting question on the A320 front is going to be what antenna platform is the right one for longer term. We have very good capability for installing A320s today; there is value in linefit but it's not as essential as Boeing. So the investment we make with Airbus will be more focused on a next generation antenna platform." He is referring to the hardware (likely electronically steered) which will talk to the Telesat LEO constellation or other LEOs/MEOs.
Though he doesn't refer to Air France specifically, Marks broadly assures that we'll see radomes on airplanes flown by the new European customer "by end of the quarter". He says that "things are doing very well there" and that the customer "wants a very controlled rollout".
Marks is also running a tighter ship these days. RGN was alerted to a number of layoffs at Global Eagle, and sought to understand the level of reductions being executed at the firm.
"What you're probably seeing is what's now a shift of resources," explains Marks, as the firm seeks to match management and line teams to its project objectives. Global Eagle also pointed us to the list of job openings at the firm.
Says Marks:
I think the way we look at it is – do we have the right staffing on the right projects? We have a couple of vertical markets in our land business that we're phasing out, [and] taking head count that was on that and moving that to aviation and maritime that is fast-growing. There [are] certainly areas of company getting more efficient with staffing.
That's an essential transformation for a firm that has seen its share of struggles in the recent past, including with protracted delays to its SEC filings, which have finally been resolved. "Now that we're back into a more normalized environment, filing on time and things are working well, we don't need as many staff members there," notes Marks.
Global Eagle previously coined a new word, "contentivity", to describe how it delivers fresh entertainment content to embedded and wireless entertainment systems via inflight connectivity, and the melding of entertainment and connectivity. And this too has seen connectivity and content teams within the firm working far closer together, which is "driving good results", says Marks, as previously reported.
He adds, "[We've had] good validation thus far, it's the right answer for Global Eagle and our approach may be different from others in the space, and that's okay. We're looking at what's best for single-aisle aircraft and expand from traditional IFE to include wireless streaming and other services."
Related Articles: