While inflight connectivity is advancing, the experience in the air cannot keep up with the consumer experience at home, especially as countries adapt 5G technology. So said Jan-Peter Gaense, head of passenger experience products & solutions at Lufthansa Systems, a partner to the European Aviation Network (EAN).
In an interview with Runway Girl Network at the Aviation Festival in London, Gaense argued that strategic onboard caching of key web sites would not only help airlines satisfy passenger needs, but also give them greater opportunities to maintain their digital and marketing connections to customers.
Smart caching is used to improve application experiences by shortening data access time and reducing latency. "I think you need something on cached status on board the aircraft. Because, whatever way you look at it, the aircraft will lag behind what is happening on the ground," said Gaense.
He added:
We see with EAN that it will bring more capacity and more speed but, at best, we will have 4G speed by the time we move to 5G on the ground.

Then you are, again, a generation behind. You need to have something on board that allows [airlines] to cache and to make [the connectivity experience] seem quicker for passengers …

Another thing that will never go away is latency. When you have a satellite, it's going to … have this latency [and] you need smart caching.
Gaense is not alone in thinking that EAN will not match the connectivity experience that consumers are coming to expect. Immfly co-founder Jimmy Martinez van Korff said something very similar to RGN during the Aviation Festival. The core message from both men is the same: the future entails better managed content and connections that don't break the link between airlines and their passengers. "You want to fill the cache with something that the airline wants to be quicker," said Gaense.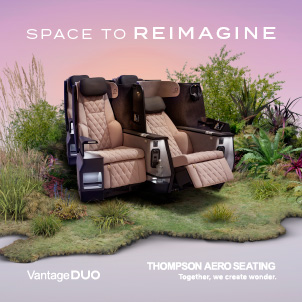 Lufthansa Systems' BoardConnect wireless entertainment solution offers a predictive algorithm which can help airlines decide what to cache. But, noted Gaense, "On an aircraft with only two hundred people, it's not going be enough to promote smart caching. You want to steer [passengers] through a portal, to services and websites and solutions that you have cached and that you think bring value to your brand."
The features offered via the portal could help airlines sell ancillaries, support passenger services, or deliver other value to passengers. "You want to steer that process. Not making it an open caching, but owning the platform," said Gaense. Or as Immfly's Martinez suggested, "What we really don't recommend is that the airline buy connectivity and let the passengers go direct to Amazon or to Facebook. Then, Facebook and Amazon are getting the money and the airline is just investing [in the Wi-Fi]." The model touted by both execs differs significantly to that which Viasat promotes, for instance.
In what sounds akin to the walled garden approach first espoused by IFEC stakeholders nearly two decades ago, Gaense suggested to RGN that airlines can effectively create trusted marketplaces that give passengers options related to the airline's own marketing partnerships, including facilitating and promoting ancillaries like car rental partnerships or hotel bookings. Preference could be given to partners who pay a premium to appear on the platform.
Obviously that is an airline decision of what they might do. We give them the technology. If they want to use the technology for a marketplace, for your own company — like Lufthansa World Shop, for example — that is an airline choice.  [Whatever] they think works best for their brand strategy and their digital strategy … All of the things that the airlines' think fit their business model and tie into their overall model.
The portal should be consistent with the airline's consumer interactions throughout the journey, he said. "They shouldn't make the mistake of looking at the inflight piece as a separate piece. Why should it be? Air travel starts when you book on the webpage, when you check-in, when you go to the kiosk, you go to the lounge, you go onboard, and when you leave again. The aircraft shouldn't be different from the entire travel chain."
Handling the travel chain in-flight can, of course, include managing service disruption. "I think a digital platform, if done well, is a great tool to handle irregularities. Just think about the possibilities once you've identified the passenger who uses the portal. There are two things that you get from that. One, it increases customer satisfaction – because they know that you will do something about it – and at the same time it reduces the work-flow of the call centers. So it's a win-win for everybody."
Gaense suggested that airlines are starting to wake up to the possibilities. "We announced the digital platform last year at AIX and it took a long time until people picked up on it, what does it really mean. Now we see more and more airlines ask for the flexibility. I think all the more up-to-date [IFEC] companies are going in that direction, making it flexible for airlines to bring their services on board using that technology."
Speaking of competitors, Gaense still predicts some consolidation ahead in the space, even if it is taking longer than expected. "There has to be consolidation happening. Let's look at the ones who have more than one airline, then it narrows it down significantly, but even with those it's a very competitive landscape with too many players. I see consolidation happening. I said at AIX that it would happen before APEX. I guess now I have to say it's going to happen before AIX, but it has to come soon."
Gaense does not expect such consolidation to affect the Lufthansa Group companies which are today putting their best foot forward on the  FlyingLab flight to the APEX EXPO in Boston. Guests on board are being treated to special programming including speeches by industry experts on passenger experience. And the high-data requirements of passengers are very much part of the discussion.
"As a technology provider, we want to show everyone how, as Lufthansa Systems, we are at the forefront of improving passenger experience. The Lufthansa Group itself is much closer together. We are thought leaders on so many things," said Gaense.
British Airways, meanwhile, will be the first carrier to launch EAN-supported inflight connectivity for passengers, though the service entry has moved to the right.
Related Articles:
Featured image credited to istock.com/ozgurdonmaz