Smooth flight is critical to a comfortable ride. Top quality furnishings, broadband connectivity and detailed design count for nothing if your bizjet's 'bumpy'. It's a quality Gulfstream seldom mentions, but looking ahead to next month's NBAA show in Orlando, we asked, "How smooth is a Gulfstream?"
A business jet is a carefully considered investment for the majority of operators. It's a crucial enabling tool that has to perform as specified, typically delivering senior individuals or executive teams over considerable range. There's an expectation that the cabin will facilitate work and deliver high-quality rest in equal measure. In short, a bizjet ought to deliver its passengers prepared and refreshed, ready to justify its investment.
Creating a space suitable for the disparate needs of work and rest within the confines of an aircraft cabin presents a unique aesthetic and engineering challenge, the solutions to which Gulfstream epitomizes in its range of large-cabin jets. But comfort ultimately relies on a complicated characteristic less obvious than a sumptuous cabin – ride quality.
It's a parameter achieved through aircraft performance, careful engineering, finely honed aerodynamics and efficient soundproofing, among other factors. And it's a quality Gulfstream takes very seriously yet rarely, if ever, discusses. Perhaps there's an assumption among its sales team that customers take the quality of a Gulfstream's ride for granted? In fact, the company invests heavily in testing ride quality and works in detail with its Customer Advisory Board, demonstrating smooth flight capability in the lab and then proving it by flying some of the industry's most experienced passengers.
Steve Cass, vice president, sales development and support, confirms: "We go through rigorous ground and flight testing to develop and verify the comfort of our cabins, including measuring vibrations and vertical accelerations in-flight. Gulfstream uses an iterative and multidisciplinary design process that includes hundreds of engineers and thousands of hours of laboratory and flight testing."
The recently certified G500 exemplifies the process, employing the latest technologies to optimize passenger comfort, speed, range and efficiency. Which is good to know. But how does it fly? "A key driver to providing a smooth ride is to fly at very high cruise altitudes, where the air is less dense and the probability of turbulence lower," Cass explains.
"The G500 typically flies 4,000ft to 10,000ft higher than other business jets or commercial airliners. It also has the latest fly-by-wire flight control system, which dampens out the effects of turbulence more quickly than the mechanical flight control systems found on older-generation business jet aircraft.
He continues, "The control laws and responsiveness of the flight control system are just two of many parameters that affect ride quality. Other important parameters include wing flexibility, the size and shape of the wing, the size and location of the control surfaces, the weight and inertia of the aircraft, the aero-elasticity of the structure, and the aircraft's speed and altitude."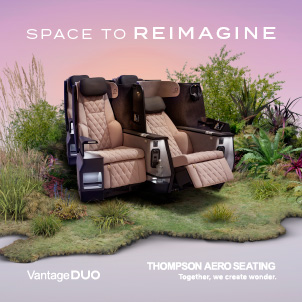 The G500 is barely in service, of course, but Gulfstream has in excess of 850 G550, G650 and G650ER aircraft flying with customers around the world and proving their ride quality every day. What do these users say about how the manufacturer's jets fly? Predictably, Cass reports: "Our customers have been very complimentary of the quality and comfort of our cabins."
But then he points to a less obvious Gulfstream application that really proves the point.
"Several of our large-cabin jets are used for medical evacuation flights. Beijing 999 recently took delivery of a G550 and signed an MOU for a G650ER. This new aircraft will revolutionise inflight medical care with onboard equipment to sustain and stabilise critically ill patients. It will also be equipped for doctors to perform minor surgeries in flight – you need an incredibly smooth, stable aircraft to support that type of mission," says Cass.
Related Articles: